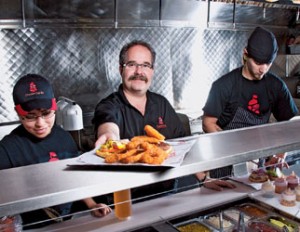 Bill Pratt, 48, found himself in an enviable position in 2008 when, after a 27-year career as a navy chef, he retired. Only 44 at the time, he had a solid pension, no debt and a fully paid-off home in Dartmouth, N.S. He'd been shrewd and savvy with his investments, too. In short, he was financially set for life. What to do now? The answer struck Pratt last summer when he got the idea to open his own restaurant. His eatery, Cheese Curds Gourmet Burgers & Poutinerie, opened earlier this year to immediate critical and commercial success. The restaurant offers something Pratt thought the area was lacking: unique, upscale comfort food (demi-glace with those fries?) made with fresh, local ingredients and served at reasonable prices.
For Pratt, the financial rewards of his new business have been an afterthought. After decades spent abroad with the navy, it was time to settle down, he says, but he knew he wouldn't be content staying idle. "It's a work ethic I learned in the military. I'm happiest when I'm busy." What he enthusiastically calls his "hobby" can have him working 90-hour weeks—to his delight. "Find something you love," says Pratt, "and do it for the rest of your life."
MAKING IT HAPPEN: Starting a business that feels more like a hobby is a great way to enjoy retirement, says Toronto financial planner Jason Heath. Just bear in mind that tax planning will be important to maximize government benefits. "Also be cognizant of lawsuits that can result from the new business and be sure to protect retirement assets. It might be as simple as setting up a corporation or having liability insurance," says Heath.
Meet other retirees profiled in 7 New Retirement Strategies, the MoneySense Summer 2012 cover story. The Expats left Canada to retire in beautiful, affordable Costa Rica.