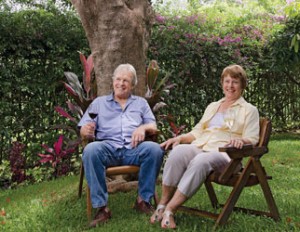 A family vacation To Costa Rica in 1989 was all it look to convince Lyn Statten, now 70, and her husband Fred Boden, now 75, that they should move there when they retired. Awed by the small country's diverse geography, weather, flora and fauna, and excited by the prospect of immersing themselves in a different culture and language, they moved to Costa Rica 10 years later, knowing their golden years would never be boring. A great climate, fun activities like zip-lining and whitewater rafting, and the low cost of living don't hurt either. With the proceeds of their one-bedroom condo in Toronto, they were able to build a three-bedroom home on a 11,000-sq-ft lot in their adopted country. The property taxes are just $300 annually and their home and garden are maintained inexpensively by hired help. "We would never have been able to afford the lifestyle we enjoy here if we had stayed in Canada," says Boden, noting their biggest expense is private health care, which can cost $2,500 to $10,000 annually. But there are precautions to be taken in Costa Rica, he adds. "Our gated community has 24-hour guard service. We feel safe and looked after."
MAKING IT HAPPEN: "Costa Rica has a high standard of living and is one of the more expensive places to live in Latin America, but it's still a bargain for most Canadians," says financial planner Jason Heath, estimating that a luxury lifestyle would run couples $25,000 annually. Those thinking about making a permanent move should rent for a year and see how it goes before committing, he suggests. Moreover, anyone considering retiring out of country needs to consider the tax implications of leaving Canada.
Meet another retiree profiled in 7 New Retirement Strategies, the MoneySense Summer 2012 cover story. We call him The Entrepeneur.