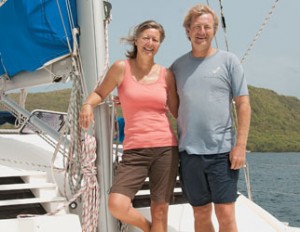 Since he was a teenager, Ross Haggart always dreamed of sailing around the world. So last year, with his kids out of school and independent, the retired engineer and his partner Diana Hill, both 54, made the fantasy a reality: they downsized their four-bedroom Ottawa home for a three-cabin, 40-ft catamaran. "Sailing can be physically demanding so I wanted to start in my early 50s rather than waiting until I was 65," says Haggart. "If I need to work later I will." For now, he quips, "I tell people that I'm on a five- to 50-year sailing sabbatical."
With an annual budget of $30,000, the duo have travelled from the Bahamas up to Chesapeake Bay, and most recently to Dominica and Grenada. They typically stay in secluded anchorages, living "a simple lifestyle ensuring that the boat is well maintained and that we are healthy and happy," says Haggart. The catamaran itself cost $250,000 and Haggart estimates he put another $100,000 into it. "But you could spend quite a bit less if you buy a smaller monohull sailboat and don't equip it as extensively," he says.
MAKING IT HAPPEN: This lifestyle can be less expensive than it sounds, says financial planner Jason Heath. Many international ports have fairly low prices for food, drink and supplies compared to those in Canada. "Plus, it's hard to spend lavishly when you're floating around in the middle of the ocean." One drawback, he cautions, is that boats, unlike homes, tend to continuously depreciate in value. Keep in mind that most provincial health insurance expires after six months out of country, so don't forget to look into supplemental health coverage before setting sail, Heath says.
Meet other retirees profiled in 7 New Retirement Strategies, the MoneySense Summer 2012 cover story, including The Entrepreneur and The Expats.