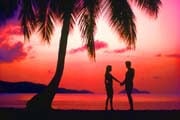 Fraser Rea likes getting value for his money, but he isn't the kind of guy who's going to scrimp on luxuries. That's why he and his wife Shary, both in their mid-60s, came up with an idyllic retirement solution that allows for winter getaways in tropical luxury, without stressing their pocketbook. While many Canadians are still reeling from the stock market's battering and lowering their retirement expectations, Fraser and Shary are enjoying a lavish lifestyle on less than $2,000 a month — including massages twice a week, eating out at least once a day, having a maid service six days a week, and of course, a glass of evening wine by their private plunge pool at night.
How do they do it? Simple. It all comes down to location. Rather than scrimping and saving to spend their winters in Florida or Arizona, the Reas opted for a more exotic destination: the idyllic island of Bali in Indonesia. Yes, it's a long way to fly, but once there, Fraser finds that his hard-won retirement dollars go much, much further. Which means they can enjoy five-star opulence on a budget that would provide a rather meagre existence back in their home town of Sidney, B.C.
Since Fraser's first visit to Southeast Asia 20 years ago, he's discovered a plethora of gorgeous winter escape destinations that deliver sunshine on a budget. In addition to Indonesia, there are thriving retirement communities in Thailand and Malaysia. Each allows Canadians to profit from the high exchange rate on the loonie, plus low local labour costs, without sacrificing access to Western-style amenities.
Southeast Asia may not be for everyone, given the long flights and the unfamiliar setting. But the Reas and many others have discovered little pockets of like-minded Western retirees who form welcoming social circles, as familiar groups of part-time expats gather to escape the North's winters every year. Plus, some find the exotic nature of Southeast Asia part of the appeal. The retirement enclaves of Indonesia, Thailand and Malaysia offer not only well-appointed villas with modern kitchens and private swimming pools — some are only a short drive away from wild pygmy elephants, monkeys swinging in the trees, and the world's most spectacular beaches.
Bali bargains
Before he retired, Fraser used to work in the marketing and sales department of a B.C. electronics firm. He first came to Southeast Asia on a business trip in 1988, and since then he has made frequent, progressively lengthier holiday visits. Finally, he decided to buy a Balinese villa near the beach last year, in the quiet seaside town of Sanur, where he and his wife spend six months a year. (Staying longer could have an impact on your provincial health insurance coverage, depending on what province you are from.) A 15-minute drive to an international airport, Sanura's shoreline boasts an endless sandy beach and year-round 30°C water.
Foreigners ca't own land in Bali, but they can buy a home and lease the property. Fraser decided to buy a villa that included a 17-year renewable lease on the land in the purchase price, and charges a $150 per month maintenance fee. "Our villa complex is managed by a Balinese company, owned by a professional Indonesian and her European husband who live, work and are raising a family in the local community," Fraser explains. "This combination of East and West brings a lot of value and expertise to the management of our complex." Fraser paid a small fraction of what a similar property would cost in B.C., and the best part is that while the Reas are back in Canada during the summer, their management company rents out their villa for them.
In total, it costs the Reas about $2,000 a month to stay in Bali during the winters. But if you're on a tighter budget, there are even more reasonable options. The neighboring Indonesian island of Lombok, for instance, offers more of an undiscovered feel. A man we'll call Denis Leroux, a doctor and former resident of Quebec, has lived on the lush, volcanic island for seven years. An enthusiastic bike racer in his 50s, he joins a pack of local racing cyclists for regular 140-km cycling rides around the beautiful island and enthusiastically supports Lombok as a retirement destination. "The lifestyle's fabulous," he says, "And you can rent a house in Lombok for just $250 a year." He just laughs and gives me a funny look when I ask if that price includes a hot shower and flush toilets. Of course, it does, he says. In fact, most homes at that price have two or three bedrooms. They're simple and clean and roughly 1,000 square feet.