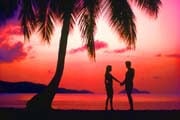 Fraser Rea likes getting value for his money, but he isn't the kind of guy who's going to scrimp on luxuries. That's why he and his wife Shary, both in their mid-60s, came up with an idyllic retirement solution that allows for winter getaways in tropical luxury, without stressing their pocketbook. While many Canadians are still reeling from the stock market's battering and lowering their retirement expectations, Fraser and Shary are enjoying a lavish lifestyle on less than $2,000 a month — including massages twice a week, eating out at least once a day, having a maid service six days a week, and of course, a glass of evening wine by their private plunge pool at night.
How do they do it? Simple. It all comes down to location. Rather than scrimping and saving to spend their winters in Florida or Arizona, the Reas opted for a more exotic destination: the idyllic island of Bali in Indonesia. Yes, it's a long way to fly, but once there, Fraser finds that his hard-won retirement dollars go much, much further. Which means they can enjoy five-star opulence on a budget that would provide a rather meagre existence back in their home town of Sidney, B.C.
Since Fraser's first visit to Southeast Asia 20 years ago, he's discovered a plethora of gorgeous winter escape destinations that deliver sunshine on a budget. In addition to Indonesia, there are thriving retirement communities in Thailand and Malaysia. Each allows Canadians to profit from the high exchange rate on the loonie, plus low local labour costs, without sacrificing access to Western-style amenities.
Southeast Asia may not be for everyone, given the long flights and the unfamiliar setting. But the Reas and many others have discovered little pockets of like-minded Western retirees who form welcoming social circles, as familiar groups of part-time expats gather to escape the North's winters every year. Plus, some find the exotic nature of Southeast Asia part of the appeal. The retirement enclaves of Indonesia, Thailand and Malaysia offer not only well-appointed villas with modern kitchens and private swimming pools — some are only a short drive away from wild pygmy elephants, monkeys swinging in the trees, and the world's most spectacular beaches.
Bali bargains
Before he retired, Fraser used to work in the marketing and sales department of a B.C. electronics firm. He first came to Southeast Asia on a business trip in 1988, and since then he has made frequent, progressively lengthier holiday visits. Finally, he decided to buy a Balinese villa near the beach last year, in the quiet seaside town of Sanur, where he and his wife spend six months a year. (Staying longer could have an impact on your provincial health insurance coverage, depending on what province you are from.) A 15-minute drive to an international airport, Sanura's shoreline boasts an endless sandy beach and year-round 30°C water.
Foreigners ca't own land in Bali, but they can buy a home and lease the property. Fraser decided to buy a villa that included a 17-year renewable lease on the land in the purchase price, and charges a $150 per month maintenance fee. "Our villa complex is managed by a Balinese company, owned by a professional Indonesian and her European husband who live, work and are raising a family in the local community," Fraser explains. "This combination of East and West brings a lot of value and expertise to the management of our complex." Fraser paid a small fraction of what a similar property would cost in B.C., and the best part is that while the Reas are back in Canada during the summer, their management company rents out their villa for them.
In total, it costs the Reas about $2,000 a month to stay in Bali during the winters. But if you're on a tighter budget, there are even more reasonable options. The neighboring Indonesian island of Lombok, for instance, offers more of an undiscovered feel. A man we'll call Denis Leroux, a doctor and former resident of Quebec, has lived on the lush, volcanic island for seven years. An enthusiastic bike racer in his 50s, he joins a pack of local racing cyclists for regular 140-km cycling rides around the beautiful island and enthusiastically supports Lombok as a retirement destination. "The lifestyle's fabulous," he says, "And you can rent a house in Lombok for just $250 a year." He just laughs and gives me a funny look when I ask if that price includes a hot shower and flush toilets. Of course, it does, he says. In fact, most homes at that price have two or three bedrooms. They're simple and clean and roughly 1,000 square feet.
Both the Reas and Leroux find that while medical services for much of the Indonesian population are primitive compared to Canada's, there are excellent medical services available for both wealthy Indonesians and visiting Westerners. "There are reasonably priced, international medical clinics servicing tourists and expatriates in Bali," Fraser says. "And they can adequately stabilize serious injuries." Insurance policies are available to cover medical evacuation to Singapore or Thailand if higher levels of care and facilities are required, but most retirees find that it's simpler and cheaper just to pay out of pocket.
Thai delights
Don Tetley is originally from Toronto, but the 65-year-old now calls Cha-am, Thailand home. A quaint seaside favorite for expatriate retirees, Cha-am is about a two-hour drive south of Bangkok, on the eastern coast, and roughly 25 km from Hua Hin, where the Thai King has a palace. With quiet streets and a lengthy pristine beach for walking or water sports, Cha-am is an attractive place for European and North American retirees to live luxuriously on a fraction of what it would cost at home.
Tetley says he decided to retire in Thailand seven years ago mainly because of the world-class medical facilities, the friendliness of the Thai people and the perfect weather. Then he adds with a laugh, "I also got tired of trying to keep up with the Joneses back home. And here, I get to be Joneses." With two- and three-bedroom townhouses with air conditioning renting for just $300 a month in Tetley's seaside town, it's gentle on a retiree's pocketbook.
Thailand may be on the other side of the world, but Tetley was delighted to find a thriving community of retirees from Western countries, some of whom have become close friends. His hobbies now include running weekly with Hua Hin's Hash House Harriers, a local running club that boasts about 100 members, most of whom are from Britain, Scandinavia and Germany.
It's not hard to see how Tetley can afford a lifestyle in Thailand that he never could in Canada. At one of his favorite Thai restaurants, it costs less than $5 a person for a three-course meal, including beer. To get around, he drives a 2009 Toyota pickup, a cheap ride as fuel costs are 25% less than Canada's, and the cost of servicing a car in Thailand is about 75% less. He enjoys paying as little as $5 to have his truck fully washed and detailed. "Massages and maid services are also cheap," he says.
Beyond Cha-am, other popular spots for retirees in Thailand include nearby Hua Hin. There, $3,800 a month gets you a three-bedroom beach-side condo in a more upscale retirement community. The condos feature an imported Swiss kitchen, a private swimming pool, a rooftop swimming pool, a Jacuzzi, and a beach that you share with guests of the neighboring five-star Sheraton hotel.
If that's a bit rich for your budget, you may prefer settling further inland, perhaps in another of Thailand's big cities, Chiang Mai. The city is a coveted location for travelers, boasting a lively night market, nearby elephant safaris, jewelry-making classes and fabulous guided, multi-day eco-treks into the mountains. House rental prices are enviably cheap. Modern four-bedroom houses with covered garages and fenced yards can be found for less than $320 a month. In fact, the most expensive rental house we could find in Chiang Mai is a 4,000-sq-ft, four-bedroom, four-bathroom home with a backyard gazebo and palatial entrance for just $2,040 a month.
Thailand's growing reputation for first-class medical facilities has also helped it become the most popular Southeast Asian retirement destination. Many of its doctors hold a U.S., U.K. or Canadian medical board certification. Bangkok showcases six medical facilities with U.S. hospital accreditation. And the prices for treatment are very reasonable: First-class Thai hospitals charge about $15,000 for a coronary bypass graft, and just $7,800 for a hip replacement.
Still, Tetley admits that a few things are changing in paradise. The political climate in Bangkok has been unstable this year, even causing a brief closure of Thailand's largest international airport. And the world economic downturn has affected Thailand as well. Some expatriate retirees are being forced to leave because the reductions in their retirement portfolios have reduced their income. If you can't prove that you have an income of at least 80,000 Thai baht a year ($2,500 Canadian) then your annual visa won't be renewed.
Magnificent Malaysia
Peter Burstow first discovered Malaysia in 1965 when he visited from the U.K. Now he's retired there, and he enjoys the warm, year-round weather, eating out four days a week, and the fact that living costs are 75% less than what he was paying in England.
Malaysia is a good bet for retirees because it boasts a stable government, most of the population speaks English, and it allows foreigners to buy their own homes. In a bid to usurp Thailand as the leading destination for Westerners to spend their golden years, Malaysia now offers everything from world-renowned golf courses to first-class shopping in Kuala Lumpur. In Borneo, there's an impressive eco-tourism industry where you can climb Mt. Kinabalu, view pygmy elephants in the wild, and watch the human-like proboscis monkeys swinging from vines in the jungle as you head down the river in a small boat. Malaysia also offers some of the world's most beautiful islands and beaches — perfect for snorkeling,diving or just soaking up the sun.
A government-initiated organization called "Malaysia My Second Home" can make settling down a breeze. Joining the program costs a one-time fee of $3,000, which includes assistance with acquiring a 10-year visa. They help you find a medical insurance policy and set up a bank account, and they can guide you through the acquisition of a car and housing. The program allows foreigners to buy homes as cheap as $75,000.
Compared to most parts of Canada, buying a house in Malaysia is unbelievably reasonable. In the popular vacation destination of Penang, you can snap up a luxurious three-bedroom, two-bathroom condominium with a beautiful pool and a weight room facility, including tennis courts, for just $100,000. Or you could settle into a two-storey, four-bedroom semi-detached house with three bathrooms for less than $110,000.
However, there are some restrictions. According to Adrian Lim, a representative from Malaysia My Second Home, before purchasing a winter home, you are required to take out a Malaysian medical insurance policy. For the average 50-year-old retiree it costs roughly $300 a year, but it offers quite comprehensive coverage. As well, if you're age 50 or above, you need to deposit a minimum of $46,500 into a Malaysian fixed deposit account or demonstrate a retirement income of roughly $3,000 per month. There are also limits on what you are allowed to spend to purchase a property. A year ago, you were restricted to properties costing between $75,000 and $110,000. But the maximum price you can pay has since risen to $156,000.
Still, if you want to live like royalty, there's no limit to what you could pay for a palatial rental property. And regardless of where you end up, retiring in Southeast Asia can make you feel like a king or queen — even on a middle-class Canadian income.