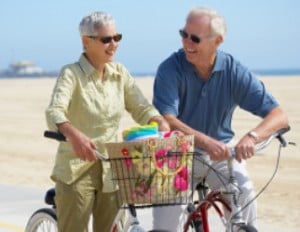 Nothing is more frustrating than trying to figure out how much to save for retirement. You know the amount you'll need to save depends on what kind of retirement lifestyle you want. But how can you decide that without having some idea of how much it will cost? Is dreaming of endless vacations and a 44-ft yacht realistic? Or should you be aiming for walks in the park and the occasional meal out? Many people have no idea what they're aiming for—and after a lot of sweating and calculating, they end up right back where they started.
We can help. While many retirement plans use complex formulas to calculate what you'll need, we find that many Canadians just want a ballpark to aim for. If your retirement is still quite a ways off, it's often good enough just to know what you'll need to save to achieve each of three levels of potential retirement: a bare-bones basic retirement; a middle-class retirement with two cars, some restaurant meals and vacations every year; and finally, a deluxe retirement complete with a vacation home or regular jaunts around the world. Interested to know what kind of dent each of these three scenarios will make on your nest egg? Read on and we'll price them out for you.
No-frills retirement
This is the worst-case scenario, but it's good to know what you'll need if you just want to scrape by, if only because it gives you a starting point to build from. For this scenario, the costing has already been done for us in a recent study, called Basic Living Expenses for the Canadian Elderly, by three University of Waterloo researchers. The study describes a no-frills retirement as one in which a couple rents (rather than owns), has no vehicles (so they take public transit), and it doesn't include spare cash for even minor indulgences such as cable TV or alcohol. This is not the stuff of most people's retirement dreams, but the study does budget for three nutritious home-prepared meals a day, a one-bedroom apartment plus utilities, along with typical health-care costs and other essentials like clothing and personal-care products.
How much do you need?
The study's authors conclude that the annual cost of such a retirement in five major Canadian cities ranges from $20,200 to $27,400. Here's the good news: to achieve this bare-bones scenario you don't have to save a penny. The combination of full Old Age Security (OAS) and the Guaranteed Income Supplement (GIS) program for low-income seniors pretty much covers all your basic needs, at least outside the highest-rent cities. If you and your spouse are at least 65, those government programs would provide you with a combined $22,750 a year if you have no other income. "We've kind of made sure the Canadian elderly don't live in poverty but we've given them, like, 50 cents more than the poverty line," says study co-author Robert Brown.
Canadians who have worked most of their lives can also usually count on substantial Canada Pension Plan payouts in retirement. A couple which receives the average CPP payout, plus maximum OAS, and maybe a little bit of GIS, can expect to receive almost $30,000 a year. So you can relax about the worst-case scenario: Even if you don't save at all, you're not going to have to live off cat food.
Middle-class retirement