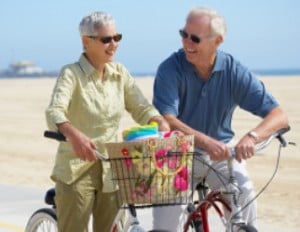 Nothing is more frustrating than trying to figure out how much to save for retirement. You know the amount you'll need to save depends on what kind of retirement lifestyle you want. But how can you decide that without having some idea of how much it will cost? Is dreaming of endless vacations and a 44-ft yacht realistic? Or should you be aiming for walks in the park and the occasional meal out? Many people have no idea what they're aiming for—and after a lot of sweating and calculating, they end up right back where they started.
We can help. While many retirement plans use complex formulas to calculate what you'll need, we find that many Canadians just want a ballpark to aim for. If your retirement is still quite a ways off, it's often good enough just to know what you'll need to save to achieve each of three levels of potential retirement: a bare-bones basic retirement; a middle-class retirement with two cars, some restaurant meals and vacations every year; and finally, a deluxe retirement complete with a vacation home or regular jaunts around the world. Interested to know what kind of dent each of these three scenarios will make on your nest egg? Read on and we'll price them out for you.
No-frills retirement
This is the worst-case scenario, but it's good to know what you'll need if you just want to scrape by, if only because it gives you a starting point to build from. For this scenario, the costing has already been done for us in a recent study, called Basic Living Expenses for the Canadian Elderly, by three University of Waterloo researchers. The study describes a no-frills retirement as one in which a couple rents (rather than owns), has no vehicles (so they take public transit), and it doesn't include spare cash for even minor indulgences such as cable TV or alcohol. This is not the stuff of most people's retirement dreams, but the study does budget for three nutritious home-prepared meals a day, a one-bedroom apartment plus utilities, along with typical health-care costs and other essentials like clothing and personal-care products.
How much do you need?
The study's authors conclude that the annual cost of such a retirement in five major Canadian cities ranges from $20,200 to $27,400. Here's the good news: to achieve this bare-bones scenario you don't have to save a penny. The combination of full Old Age Security (OAS) and the Guaranteed Income Supplement (GIS) program for low-income seniors pretty much covers all your basic needs, at least outside the highest-rent cities. If you and your spouse are at least 65, those government programs would provide you with a combined $22,750 a year if you have no other income. "We've kind of made sure the Canadian elderly don't live in poverty but we've given them, like, 50 cents more than the poverty line," says study co-author Robert Brown.
Canadians who have worked most of their lives can also usually count on substantial Canada Pension Plan payouts in retirement. A couple which receives the average CPP payout, plus maximum OAS, and maybe a little bit of GIS, can expect to receive almost $30,000 a year. So you can relax about the worst-case scenario: Even if you don't save at all, you're not going to have to live off cat food.
Middle-class retirement
Most Canadians, of course, hope to do better than bare-bones. Bill VanGorder, 66, the Nova Scotia chair of CARP, a group representing older Canadians, says he wants the same level of comfort he enjoyed while he was working—maybe even a bit better. He finds that increasingly seniors want to travel, pursue sometimes pricey hobbies like golf, eat out at restaurants, and maintain cottages or second homes in warm places. For the most part, this lifestyle is about having experiences and being active, rather than having more possessions. In fact, some seniors are downsizing to smaller homes to help finance their active lifestyle, he says. Active senior couples with different interests are more likely to want to keep two cars to allow both spouses to stay mobile. And VanGorder himself aspires to do more traveling, including an Alaska cruise, seeing the British Isles, visiting his sister in Australia, and seeing the rest of Canada. He's also interested in woodworking and was surprised to find the hobby is much more expensive than he anticipated.
According to Statistics Canada, median spending by a couple over 65 is about $40,000 a year, and average spending is about $51,000. But VanGorder says to enjoy the type of retirement he wants, you might spend as much as $60,000 a year.
How much do you need?
Assuming you receive about $30,000 a year from CPP and OAS and have no employer pension, you'll need a nest egg that can support an additional $10,000 to $30,000 a year in extra spending, plus inflation adjustments. Financial planning research suggests that you need retirement savings that amount to 25 times your annual retirement spend (not including CPP and OAS) if you want to keep spending that much for the rest of your life. So for a typical middle-class retirement, you need a nest egg of $250,000 if you just want to spend the median amount, but if you want a higher-end retirement of the kind VanGorder describes, you'll need to save up $750,000.
Retirement deluxe
Once you get beyond the typical middle-class retirement, costs tend to skyrocket. Norbert Schlenker, a fee-only financial planner with Libra Investment Management on Salt Spring Island, B.C., says that at this level the fundamentals don't change—people still typically have a house, two cars, restaurant meals and vacations—it's just that the house is bigger, the cars are fancier, the restaurants are more exclusive, and the vacations more exotic. Here you are more likely to find the trophy kitchen, memberships in a golf or boating club, professionally designed and maintained gardens, and, says Schlenker, perhaps "the boat their brother-in-law saw." Such retirees are more likely to own a vacation home, and there is more money available for spoiling the kids and grandkids. There's no hard and fast cutoff for the deluxe life, but if you're spending $100,000 or more each year per couple, you're well into the realm of truly disposable income.
How much do you need?
If you don't have an employer pension, you'll need to be a millionaire to afford it. Assuming you get $30,000 a year from CPP and OAS, you'll need retirement savings that can provide you with an additional $70,000 a year, which means a $1.75-million nest egg. If that sounds outrageously high, welcome to the club. Schlenker says that when he does similar calculations for his clients, invariably they're "just shocked."
There's an interesting exception here though. If you and your spouse both had long careers as public employees, your public sector indexed pensions might be the ticket to the high life. For instance if you and your spouse earned an annual salary of $63,000 each working in the public sector, and you both retired at age 65 after working for 35 years, you can expect to live like royalty when you retire. Your combined pensions plus OAS will typically pay about $100,000 a year plus inflation adjustments—the equivalent to saving up a $1.75 million nest egg. That's why many public sector workers discover that they actually have a much higher standard of living in retirement than they did when they were working.
Keep the dream alive
In the end you have to match wants to means. If you're no millionaire, there's no need to give up on your retirement dreams, says Schlenker. Instead try to find a lower-cost version of what you're looking for that fits your budget. For example, if you planned on owning a luxury beach front condo in a swanky part of Florida, but you're worried you won't be able to afford it, you could try renting a condo away from the beach in a less sought-after locale. Or you could do what VanGorder is doing. After retiring he decided to go back to work for three days a week as business development manager for HiringSmart, a systems software and services provider. The extra cash is helping him live the good life, and he loves the work too. "I'm meeting a financial need in a way that, fortunately, turns out to be very enjoyable for me."