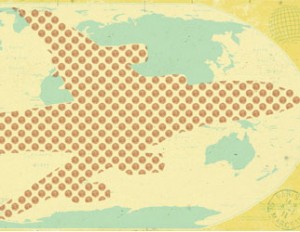 There's a good chance overseas travel is high on your list of retirement dreams. But spending big bucks on travel can be tough on a retiree's tight budget. The good news is there are a growing number of out-of-the-ordinary travel experiences that can bring your dreams within reach.
The secret is looking at retirement travel as fundamentally different from the vacations you took while working. Now time is on your side. You no longer need to turn vacations into short, intense bursts of one week or less. You don't need to travel at high season because of work or school schedules. With a more relaxed schedule, you can let go of conveniences like expensive hotels and restaurant meals. Now you can travel off-peak, find cheaper long-term accommodation, and prepare most of your own meals.
But don't take our word for it. We spoke to four couples who are retired (or close to it), and who have learned to enjoy adventurous travel on a budget. You'll hear how one couple visited Sweden just for the cost of two plane tickets, and how you and your partner can spend two weeks in a villa in Provence for just over $5,000, or a month in Tuscany for less than $10,000. If learning about life in exotic locales is more of a priority, you'll hear from a couple who enjoyed a packaged vacation to South Asia for $10,000. The truth is you can get a great travel experience on just about any travel budget with a little creativity and flexibility.
Swede surrender
In July, Maureen and Garth Holloway spent a two-week vacation in Sweden, and it only cost them the price of two airline tickets—plus the normal living expenses they would have had at home. Their secret? The retired teachers in their early 60s swapped homes (and cars, computers, even golf clubs) with a Swedish family.
The Holloways took up residence in a four-bedroom townhouse in a suburb of Stockholm, while the Swedish family lived in the Holloways' 150-year-old four-bedroom heritage house in Cobourg, Ont. Airfare cost the Holloways a combined $2,800. Other than that, "it was no more costly than if we stayed in Cobourg," says Garth.
The Holloways are veteran travelers who have seen a lot of the world over the last 40 years. They have tried everything from moderately luxurious hotels to travelling around Europe in a Volkswagen camper. They had long wanted to go to Sweden, but they knew the country was expensive. Then they discovered Intervac Canada (www.intervac.ca), part of a global home exchange organization with 30,000 listings in about 50 countries. They met the Swedish family online and arranged the swap. Then they flew to Stockholm on the appointed day, picked up the Swedish family's car at the airport and drove to their townhouse. "It was so easy. Within half an hour of leaving the airport in Stockholm we were sitting in the backyard drinking the wine they left us and heating up the dinner they had left in the fridge," says Garth. "Maureen and I looked at each other and said, 'Why didn't we do this sooner?'"
The Holloways used the townhouse as a base to take day trips around the southern part of the country. The couple are avid readers of Swedish mystery writer Stieg Larsson, and they followed a self-guided tour of the district in Stockholm where much of Larsson's Millennium trilogy is set. Maureen says the tour included many of the settings for episodes in the books, right down to the local store where Lisbeth Salander (the fictional "girl with the dragon tattoo") was supposed to have bought her pizzas. They also enjoyed seeing galleries, museums, and the lush farming landscape of southern Sweden.
The Holloways generally ate modest lunches at local restaurants while on day trips, and later prepared supper back at the townhouse. They shopped for food at local stores and Maureen enjoyed preparing typical Swedish dishes, like meatballs. (She says everyday Swedish cuisine is pretty much what you see in the cafeteria at Ikea.) The couple liked just hanging out at the townhouse, watching a bit of television or listening to music. "You get to experience how people live, not how hotels and the tourism industry presents a place," says Maureen.

The "anti-tourists"
Dave and Elizabeth Miller love to take two-week vacations in the most desirable regions of southern Europe. The retired Hamilton couple (whose names we've changed) have figured out how to travel widely in the area, see lots of sights, and live well for a little over $5,000 per trip. That's all they typically spend on airfare, a modest villa, car rental and everything else beyond the normal cost of daily living.
Dave calls it "a kind of anti-tourism," and it works like this. The couple (who are both close to 70) first pick a part of the world they'd like to see. Then Dave goes to work on the internet. He typically plans the trips for the shoulder season: late May, early June or late September. Outside the peak summer months, the weather is cooler, there are fewer tourists, and prices are better. Then he finds a modest but attractive one-bedroom villa to rent by the week, which becomes their base for exploring the region. "We like to do really interesting day trips," explains Dave. He typically selects a villa in an inexpensive rural area or small town in the centre of the region. Then he finds a charter flight and a reasonable car rental deal, so they can get around locally.
Dave researches the cities and towns they'd like to go to, and sights they'd like to see. He even makes sure he has a long list of good but inexpensive restaurants to keep in his back pocket. The fruit of all this research is a flexible itinerary, so they know how to make the most of their time in the region while leaving room to do what they want, when they want. With a plan in hand, they're ready to see the sights, enjoy the scenery, experience the culture, learn about the history and savour the food and wine, all on a fairly modest budget.
On a typical day, the Millers get up, prepare a simple breakfast at their villa, head out to visit a nearby town, see a few sights, have lunch at a café, then head back to the villa for a home-cooked supper. Or maybe they just go to a local market, spend an hour or two looking around, then head back and hang out at the villa. "We're not trying to pack a whole bunch in. Within a given week there might be two or three things we definitely want to do, but the other days are more flexible," says Dave.
In recent years they've gone to Spain (renting midway between Seville, Cordoba, and Grenada), southern France (between Avignon and Aix-en-Provence), and northern Italy (between Venice and the Dolomites mountain range). Typically they drive to towns and mid-size cities they want to see (though for larger centres they might take a train—in Venice, they got around by boat). Dave says you can book villas in France online at a centralized website called gites-de-france.com, but there is no comprehensive website for villa listings in Italy or Spain.
Of course, this type of vacation won't suit everyone. "It's for people who want to do their own thing, who want to get a pretty good sense of the country and the people, who don't want anybody telling them where to go and how to get there," says Dave. "It's for people who want to do it themselves."
Under the Tuscan sun
Greg and Susan Steele like to rent a villa in Tuscany for three or four weeks and come back to the same area year after year. For the Vancouver couple in their late 50s, that makes it less of a touristy experience and more a way of life. "You can lay back and relax, and each day you can do what you want," says Susan.
Sure, they still like to go on sightseeing day trips to nearby places like Florence, Assisi and Siena. But having already seen a lot of the major area tourist attractions at least once, they're just as happy kicking back and enjoying day-to-day life around their rental villa. "We like to get up in the morning and say, 'What are we going to do today?'" says Greg. "We'll go up to Radda to get some tomatoes, and that'll be an outing. We'll go and buy some food for dinner. On the way home we might see a little restaurant and stop for lunch. We'll come back and have a glass of wine on the terrace and enjoy the tremendous view. Then we'll have the food we bought earlier for supper."
The Steeles like hiking amidst the hilly scenic Tuscan countryside. They are learning Italian and like to take cooking classes from chefs at local restaurants, which Greg says is more fun and cheaper than full-fledged cooking schools. They have come to know many of the local restaurateurs, winery owners and shopkeepers. "They try out their English and we try our Italian and we all laugh," says Susan.
That lifestyle will cost you about $9,000 for a month (plus the normal living expenses you'd have at home), says Susan, including the cost of airfare to Italy and back. On that budget, you'll be able to rent a small one-bedroom villa with a terrace and nice view in the late spring or early fall and a car for getting around. It allows you to eat lunch out regularly, and covers the costs of a few excursions, but generally assumes you prepare breakfast and supper at your villa. If that expense is a little much, you can live almost as comfortably on about $8,000, says Susan. Or you can live more luxuriously and spend a little more.
The Steeles have been to Tuscany about a dozen times since the late 1990s. Greg is a lawyer and Susan works part-time as the agent in Canada for To-Tuscany Ltd., a company that lists and markets about 300 Tuscan rental properties rented out by their individual owners. The company's Tuscany villa listings can be found at to-tuscany.ca.
Packaged to learn
Chris and Gabrielle Byrd are adventurous sorts who liked to take backpack vacations when they were younger. But now that the couple from Peachland, B.C. (near Kelowna) are in their mid-70s, they admit they like the ease that comes with a good packaged vacation. However, they want something more interesting and in-depth than the usual overseas tour. The solution? They like to arrange trips through Road Scholar (www.roadscholar.org), a tour operator that turns travel into an in-depth learning experience. The tours, provided by the non-profit Elderhostel Inc., are aimed at older adults and take people to about 150 countries around the world.
In 2009, the Byrds went to India and Nepal for three weeks, staying in comfortable hotels and visiting many of the usual tourist attractions, such as the Taj Mahal. They rode elephants in Chitwan National Park, and flew over Mount Everest. But they also visited a three-room rural Indian school, toured an orphanage in Nepal, and visited with Tharu villagers in their mud-wall, dirt-floor homes. They had several meals in the homes of local people from different walks of life and heard first-hand accounts of what life was like for average people. They had an impromptu lesson in cricket from the staff at the resort where they were staying in the Rajasthan region of India, and watched a popular Bollywood film at a local theatre.
Road Scholar was also quick to throw in a lecture or two about the culture, history and politics whenever there were a few spare moments in the itinerary. "You get an in-depth understanding of the country you're visiting," says Chris, who is an avid photographer.
The Byrds say Road Scholar isn't cheaper than other packaged tours, but it can offer a more meaningful experience. While their India and Nepal trip cost $10,000, many Road Scholar trips cost quite a bit more: in 2010 the Byrds went to Egypt for 16 days and it cost $13,000. They are planning a 28-day tour this fall to New Zealand and Australia for about $21,000.
As you can see, there are lots of choices if you have the desire to get the most out of travel on whatever resources you can spare. "Retirement is freedom. Do whatever you bloody want to do," advises Charles Feaver, whose website youngretired.ca provides lots of good retirement travel suggestions. "Just make sure it really is what you want to do and that you're passionate."