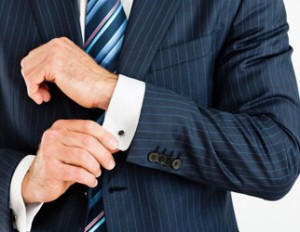 A bespoke look for less
For your anchor suit, you can find some great deals on Hugo Boss, Armani and Dolce & Gabbana if you try the outlet malls and department stores in the States. One MoneySense reader boasts of buying a suit "for less than $250 in the U.S. that was on the rack here for $1,200." Here in Canada, a good strategy is to skip the big name brands and try upper mid-range clothing chains such as Zara and Banana Republic. To make the right choice "look at the fabric," says Peter Papapetrou, a fashion stylist with the Plutino Group. "Gabardine is really great. It lasts a long time and it breathes well, so it doesn't need to be dry cleaned much."
To get the most out of your suit, Papapetrou advises sticking with a classic tailored fit — not too wide or too tapered — so it won't look dated a couple of years. If you get the pants and sleeves altered to fit you perfectly after you buy, you can get a custom-tailored look for thousands less. "Fit is key and fabric is secondary," he says.
Faux savings
Stores like H&M offer cheap, trendy clothing, but you get what you pay for. "It's more like one-night stand clothing," says Papapetrou.
$570
If you like urban living, consider moving closer to work and taking public transit, so you don't have to commute. A couple could save $570 each every month, or almost $140,000 over 10 years, enough to justify moving to a townhouse downtown.
Don't forget
You can get a tax credit of 15% for weekly, monthly or annual transit passes. Full details are available at transitpass.ca.
Mix business and pleasure
Next time your boss sends you on a business trip, see if you can tack some personal holiday time on at the end. Not only will this save on airfare costs, it also means that the time you spend getting to the destination will be on company time.
Give yourself a raise!
Your company wants to give you free money. All you have to do is fill in the forms.
Join your Company Pension
Defined benefit plans are a sweet deal — you're guaranteed a set amount when you retire, and in many jurisdictions, the law guarantees that your employer will contribute at least half of the value of the plan. Defined contribution plans, where your retirement payout isn't guaranteed, can also mean big contributions from your employer. Either way, if you don't join, you could be leaving more than $100,000 on the table.
Look into Matching contributions
Many companies offer their employees matching RRSP contributions. Typically these programs put in 50 cents or a dollar for every dollar you put in, up to a certain maximum.
Use your Group RRSPs
Even if your company doesn't match your contributions, investing in RRSPs through your employer can save you big money. "Fees can be around half a percentage point," says Margot Bai, author of Spend Smarter, Save Bigger. "It's a deal that you won't find anywhere else."
Read the rest of the series here:
Cut your work related expenses
Ten ways to trim your household spending
Six ways to save a bundle on your next getaway
Luxury goods for less
Save money on kids' expenses
Slash your food costs now
Save $750 a month