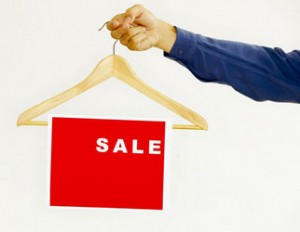 I remember when my kids were little and I'd wait for the end of February sale so I could stock up on their clothes for the next brrr season. Now that they have opinions, "fashion" gets in the way of frugality, but back then I used to buy their clothes for up to 70% off.
There are all sorts of things that go on sale at particular times of the year. Everyone knows to buy their Christmas wrap and next year's decorations in January. But January is also White Sale Season when linens and towels go on sale. Toys and games can be deeply discounted after Christmas, so you can stock up for birthdays during the year. And clothes go on sale in February to make room for spring's fashions. If you're in the market for a new snow blower, March is your month. Ditto snow-sports equipment like skis.
Spring brings a bunch of specials. Wait till after Easter Monday and you can stock up on all the chocolate you can eat for the rest of the year. And you can fill your Easter basket with travel deals since the travel season is on vacation. And if you're planning to do some painting, spring is a good time to watch for paint and wallpaper sales.
Summer brings sales on things like televisions … everyone's outside having a great time, right? And the end of summer is the perfect time to buy a new air conditioner, a lawnmower or a barbeque. It used to be the time to buy a new car since car manufacturers like to launch their new season in the fall. But that's shifting. There are now some car companies doing their deep discounting at the end of winter. The summer clothes will go on sale so you can buy replacements for the tops you spilled barbecue sauce all over.
With Fall comes back-to-school shopping and there are some great deals to be had as retailers compete for your dollars. Computers go on sale. And if you haven't checked to see if your fire extinguisher is still good, do it now and buy a replacement while it's on sale.
When you buy your next calendar, make a note of what to watch for at the beginning of each new season right where you can see it. That's how you make a date with savings!