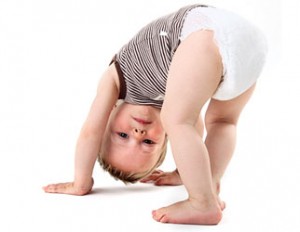 The latest (and final) episodes of Til Debt Do Us Part : Baby Edition are airing now and I'm getting a mess of letters from people who blew their budgets when baby arrived.
If you want to have money to save for baby's post-secondary school, you'd be wise to find ways to not spend so you have some cash to stash.
Make sure you price-check everything, and use all the coupons you can. The baby biz is very competitive, but price points can vary dramatically from one store to the next. If you walk into a high-end boutique, you're going to blow your brains out. Choose your stores carefully.
Speaking of stores, why not shop second hand? Babies grow quickly and buying clothes, furniture and toys second-hand is a great way to pay pennies on the dollar, leaving more for savings. Hey, don't bother with the snobby, "Second hand's not good enough for MY baby" crap. You can drop a small fortune on your Mini-Me now or have some money for college or university later. And tell the truth, it isn't really about the baby, is it? She doesn't have a clue about new or used. This is all about YOUR ego.
Parents are usually in a rush to get kids into the next size as proof that they're doing something right and their babies are thriving. But if you rush into the next size of diapers, you'll end up paying more because there are fewer in the box. And rushing to the next size means you'll end up with a whole bunch of clothes that have barely seen the light of day.
You should keep your growing child in mind when it comes time to buy strollers and car seats. Since they often come with height and weight limits, buying equipment at the higher end of the size scale will mean fewer new buys as your baby grows.
Skip the fancy bedding sets completely. I've seen parents with four complete bedding sets for their baby's crib. You're showing off. Or you've got an impulse control problem. Your baby doesn't care if he's got little cars or flying sheep on his sheets. That's you getting caught by the "Awww" factor.