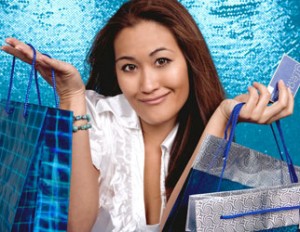 Ever shopped in a consignment shop? Years ago I needed to get my hands on some biz wear pretty darn quick. I wanted brightly coloured jackets to go over neutral shirts and pants, but everything in season was dull and boring.
Off I went to a consignment shop to see if there was stuff from previous seasons that fit the bill. And there was. The prices were about a quarter of what I would have had to pay new. And thus was born my love of consignment shopping.
There I was picking up big-name jackets for a quarter on the dollar. These were clothes that were in perfect shape. Often you'll find stuff with the tags still on in a consignment shop because the fool who bought it had more money than brains. You, on the other hand, have savings because you have brains.
But buying isn't the only way to use a consignment shop; you can sell stuff too. Want a new, fresh handbag? Take your gently used purses to a consignment shop and sell 'em to fund your new purchase. Less money out of your regular cash flow means you can have what you want and save too.
Whether it's the Dolce & Gabbana jacket you fell for then seldom wore or that Emanuel Ungaro that was just a tad tight, your once-loved pieces can be a true joy to someone else.
And don't think it's just about the clothes. There are consignment shops for furniture, baby gear and décor. Sure, you may have to do a bit of hunting to find what you want. Hey, isn't that part of the fun? And isn't a little extra leg work worth the gobs of money you'll save?