For our most up-to-date ranking of student credit cards, go here.
A simple no-fee card that offers a good combination of low annual fees and generous rewards is great for students looking to build a credit history. The key is for students to pay off the balance every month so buying a first car or home in the future will be effortless. Note: we've assumed a $1,000 monthly spend when working out our rewards calculation.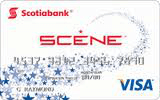 It's free: So no annual fee.
Fast and simple. Great way to watch free movies.
First purchase gets you 4,000 points. Get 4,000 bonus Scene points – enough for 4 free general admission movie tickets – when you make your first purchase on the card (Note:a movie can be redeemed for 1,000 points).
Earn Scene points at Cineplex theatres: Earn five Scene points for every $1 you spend on Scene Visa purchases at Cineplex Entertainment theatres of Cineplex.com.
Earn 1 Scene point for every $1 you spend on regular credit card purchases.
Rent a car at Avis: car rental locations and save 20% on the rental.
Redeem Scene points elsewhere: Sport Check allows members to earn and redeem their points at stores. 
Click here to see everything the Scotiabank Scene Visa has to offer.*