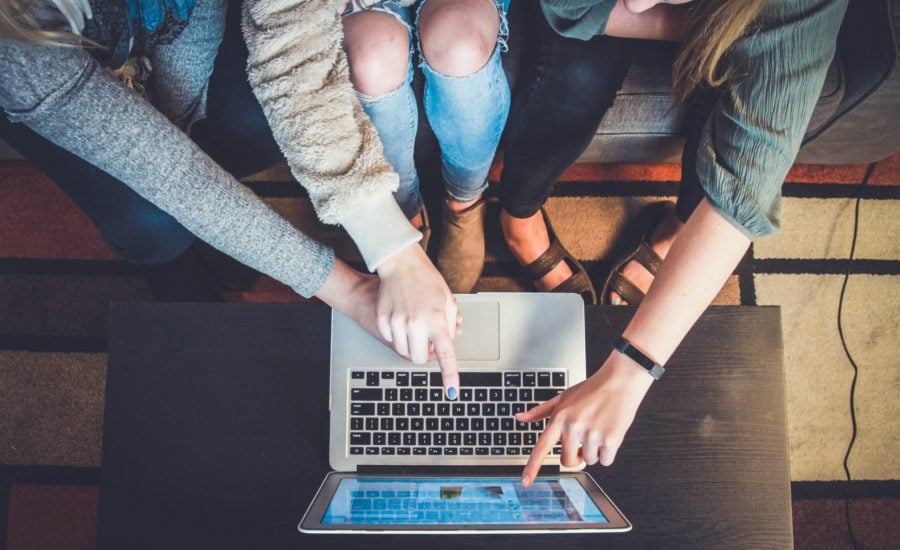 Thinking about applying for OSAP? You've come to the right place. Also known as the Ontario Student Assistance Program, this student financial aid program may help you out with post-secondary costs.
With college and university tuition fees rising faster than inflation in recent years, it's wise to research student loans, like OSAP. Many students and parents struggle to pay these costs upfront. Tuition for undergraduate programs vary, but the average tuition was $6,580 for the 2020/2021 academic year, according to Statistics Canada. Add on school materials and commuting costs (don't forget laundry, food and so on), AND you could be looking at spending upwards of $30,000 for a four-year program, possibly doubling or nearly tripling that number if you move move into residence or off-campus housing.
Here's what students and parents need to know about applying for OSAP, how much financial aid you might get, and how to make sure you are eligible for the student loan.
What is OSAP and am I eligible for it?
While the Government of Canada does offer financial aid for students in need, OSAP works in conjunction with the federal loans and grants programs. (Also check out our guide on applying for federal loans and grants.) For example, in 2018/2019, OSAP supported approximately 450,000 students with an additional $2.1 billion in loans and grants.
OSAP is open to permanent residents of Ontario who are taking an OSAP-approved program at an approved school for at least 12 weeks. That's not to say you have to stay in Ontario. The loan may provide students with money to attend post-secondary school anywhere in the world, as long as it's approved and the student meets the eligibility requirements.
How is OSAP funding calculated?
It all depends on your financial need. The amount of money you may receive depends upon your school expenses, including tuition, student fees, living expenses and so on, as well as your financial resources, such as personal income, family income, scholarships and bursaries. To make the calculation simple, think of it this way:
Educational Costs – Financial Contribution = Financial Need
Other factors come into play, like course load, level of study, where your school is located, your relationship status and if you have dependants. The more you need financial assistance to pay for school, the greater the likelihood you will receive more money, which can come in the form of grants (which you don't need to repay) or loans (which you do need to repay).
To calculate your financial need, consider OSAP's Aid Estimator tool to predict how much money you may need, and whether you may qualify for an OSAP loan. You simply enter the program you plan to attend, along with a few basic questions about your family relationships, if you have a disability, and so on. Providing these answers will give you a breakdown of how much funding in both grants and loans you may be eligible for.
What type of funding do I qualify for?
OSAP offers financial support with loans and grants. You have to re-apply every academic year, but it's worth the effort, as you will automatically be considered for loans as well as grants.
A loan uses public funds that the borrower will need to begin paying back six months after graduation, or the last semester completed. Typically, that interest starts immediately when you stop going to school, despite the six-month grace period for payments. However, as part of the government's response for pandemic relief, no interest is being charged for the first six months, until new updates.
A grant is also publicly-funded money, but you don't have to worry about paying back after graduation or when you stop going to school.
Unfortunately, there are maximum amount limits of aid for those who receive OSAP. The maximum amount a single student with no dependents enrolled in a full-time program at a public college in university in Canada may receive is $545 per week. Full-time students may also be eligible for additional funding, such as grants, which could provide a maximum of $9,000 per academic year, while part-time students and receive up to $3,600 per academic year. Students with disabilities may receive an additional maximum of $4,000 per academic year. And students with dependents may receive an additional maximum of $400 per child each month.
How do I apply for OSAP?
You can apply for OSAP online. It's free to fill out an online application, and the process takes roughly 15 minutes to complete. You have to register for an account and provide information about your studies, your income and your family's income (unless you're considered an independent student).
When you create an OSAP account, you are required to input information about your current financial and personal situation, as well as your studies. Prepare for the application process by gathering the items listed below:
Your Social Insurance Number, as well as the SIN numbers of your parents and/or spouse
Your tax return information, as well as that of your parents and/or spouse
Your bank account information for direct deposit
School information, such as program of study, start/end date, and so on
Your expected total expenses for the upcoming academic year, such as tuition, supplies, food, rent, transportation and so on
RESPs, scholarships and other financial resources you have access to
You will use the same account to apply for OSAP in subsequent academic years, and you can use it to check your loan and grant status too. So be sure to write down or save OSAP Access Number and password.
The deadline to apply for a full-time OSAP application is no later than 60 days before the end of your study period. Tuition payment deadlines are generally towards the end of the first month of your semester, so it's a good idea to look at the academic calendar for your school well in advance.
How do I receive my OSAP funding?
You may receive money after your application has been reviewed, confirmed and approved. The application process can take four to six weeks, so apply as early as you can. OSAP money is automatically sent to your school and will pay a portion of your account balance, or the full balance if you're eligible for enough funding. Any remaining funding will be deposited directly into your bank account by the National Student Loans Service Centre (NSLSC). The NSLSC is where you can view your funding, make payments and see how much you owe on your current student loans.
You will receive OSAP funding in two installments. If you've applied for OSAP early and your application has been approved before classes start, you can expect to receive 60% of your funding at the start of the fall semester, and the remaining 40% will be issued at the start of the winter semester.
How do I repay my OSAP loan?
You make monthly payments on your OSAP loan, which will include interest charges that are added to your loan balance. It's best to pay them off as soon as possible, since this will reduce the interest accumulating on your loan and allow you to get out of debt quicker.
To figure out how much you owe for your OSAP loan, you need to figure out these three things.
Amount borrowed
Interest rate
Repayment term
To get a better idea of what your loan payments will look like when the time comes, you can use the OSAP Repayment Calculator. You simply input the amount you owe, the number of months in which you would like to pay off your loan and the interest rate.
How much interest will I pay for my student loans?
For loans from the Ontario government:
For Canada Student Loans (CSL), you have two options when you begin to pay back your loans:
Variable rate = prime rate + 0%
Fixed rate = prime rate + 2%
The prime rate is the annual interest rate used by banks and other financial institutions to lend money to the top-qualifying individuals and businesses. This rate is influenced the prime interest rates of the five largest Canadian banks, and is subject to change as these rates vary. currently at 6.7% Know that interest rates applied to student loans are much lower than the interest rates on credit cards or bank loans.
Tips for managing your student loans and expenses
Here are some tips that can help you manage your student aid and your costs while you're in school.
Keep your loans interest-free. Remember that you're required to confirm enrolment every year that you're registered in school in order to maintain your interest-free status. If you leave school for more than six months, be prepared to start making payments on your loan (beginning within six months, or earlier if you can to reduce the amount of interest payable). Make note of important dates so that you don't miss any payments, as that could lead to additional charges on your balance or your loan going into default.
Make a budget and stay within it. Try to borrow only what you truly need. This might mean avoiding taking on the burden of having a loan unless it's absolutely necessary. It might seem like a good idea to have some extra money in your bank account, but poor management of a loan can quickly snowball into extremely negative consequences, such as a bad credit score, losing eligibility for future loans and accumulating debt. Managing your loans and paying them back on time can help improve your credit score. Know what your expenses will be for each school year and create some headroom for emergencies or unexpected purchases. Being responsible with your credit card will pay off and make it easier for you to borrow in the future.
Take the time to shop around. Whether you're paying for rent, a phone or car insurance, don't just take the most convenient option. There could be cheaper options. Look for the best deals that will put less of a dent in your finances. This includes looking for good savings accounts rates, credit cards with helpful rewards, good deals on insurance, and so on.
The most important thing to remember about OSAP is to apply for it as early as you can. It will take a lot of stress off your plate, so you can enjoy your time in school. It can go by in a flash.
• Canada's best student credit cards
• Financial aid guide for university and college students in Canada
• Financial help for students and recent grads affected by COVID-19
• Are the costs of owning a car worth it for students?