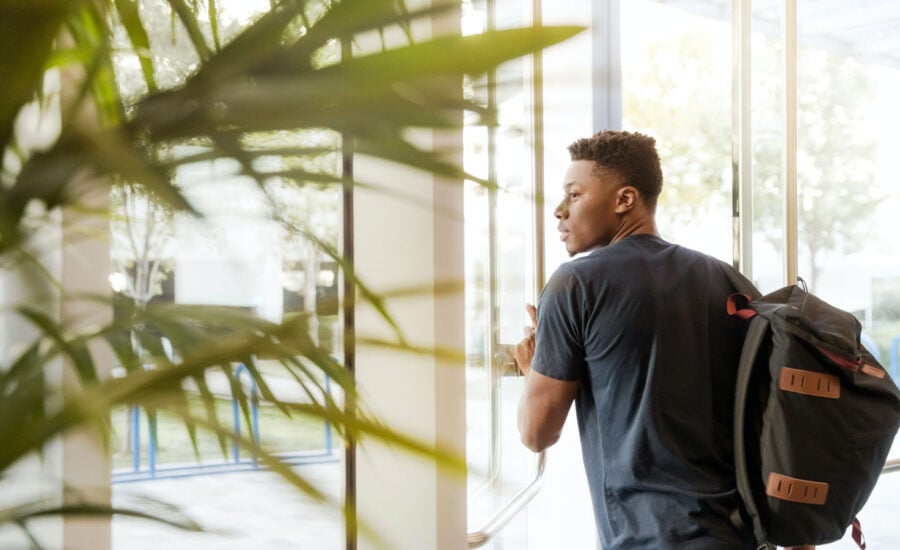 Financial aid is rarely an after-thought, but student debt is often a bigger problem than most university and college students in Canada anticipate. Rising tuition fees and expenses of going to college or university have become increasingly large burdens to bear for students—many of whom are already dealing with pressures from the cost of living on their own for the first time. Add on the economy-pausing pandemic, and it's easy to understand why students are looking for financial help for school. A 2020 poll by conducted by CIBC showed that about 7 out of 10 students admitted their income has been affected by the COVID-19 situation.
School is expensive—even without a pandemic. A 2018 Canadian University Survey Consortium survey of graduating students shows that, of the 50% of students finishing school with debt, the average amount owed is about $28,000. And for many that debt can be crippling. According to an eight-year study by independent personal insolvency firm Hoyes, Michalos & Associates Inc., approximately 22,000 ex-students filed for bankruptcy in 2018 to address their student debt.
These numbers can be unsettling to hear as a student, or as a parent. And with the loss of a summer or part-time job, paying for school becomes even more stressful.
If you're overwhelmed by the thought of student debt, this student financial aid guide can help you understand your options, how the programs work, and how to apply and qualify for them, too. Remember, you have nothing to lose from applying!
How much does college or university school really cost in Canada?
As you probably already know, going to college or university is a big investment. A study conducted by Maclean's in 2018 found that a university education in Canada costs $19,498 per year on average. And college tuition rates aren't far behind, depending on what you study.
Beyond tuition fees, which make up 34% ($6,630) of the average annual cost above, there are a handful of additional expenses to consider during your time in college or university. Here's a breakdown of the remaining factors that contribute to the average annual cost of post-secondary education in Canada, based on the answers of 23,348 students surveyed for the Maclean's study:
Rent: $8,000
Groceries: $1,560
Food on campus: $975
Books/course materials: $780
Travelling home: $780
Alcohol: $585
Public transit: $390
Extracurricular activities: $195
Students who live at home while going to school can save a good chunk of money, saving about half the amount, spending $9,300 a year on average. Here are more tips on saving money for university and college students in Canada.
What financial aid is available for students in Canada?
To help students financially during the pandemic, the federal government created the Canada Student Benefit; but at $1,250 to $2,000 a month between May and August, it won't fully pay for the above school expenses.
However, the federal and the provincial/territorial governments offer financial aid to both part-time and full-time university and college students in Canada.
The Government of Canada's Canada Student Loans Program (CSLP) provides financial assistance to students on the basis of financial need. The amount of funding given to help pay for expenses such as tuition, school supplies and living expenses is determined by numerous factors such as family income, tuition, program length and whether you're enrolled full- or part-time, and school-related expenses, as noted above. For a better idea of how much student aid you may be eligible for, check out the Student Financial Assistance Estimator.
For full-time university or college students, CSLP provides approximately 60% of assessed financial need through federal loans. The weekly maximum CSLP limit is $210. With the effects of the recent pandemic on the economy, the federal government offers additional financial support to students, increasing the limit to $350 for the 2020/2021 academic year.
A student loan from the CSLP is publicly-funded money, which you don't have to start paying back until six months after you graduate or leave your studies, and interest won't accumulate. After the grace period is over, you are responsible for repaying the total amount you borrowed, plus interest. You may have heard that you won't have to pay interest on your student loans for the 2020-21 academic year, but that has yet to be confirmed. Currently, it is part of a proposal by the Department of Finance.
Your province or territory may grant you a student loan, depending on where you're going to school and where you live (generally, you must live in the province/territory for 12 months before you can apply). However, with student loans from your province/territory, interest may accrue immediately upon finishing your final term. The good thing is that these interest rates are significantly lower than those of a line of credit or credit card. To get a better idea of how interest rates will affect your monthly payments, check out this repayment estimator tool.
In addition to student loans, college or university students whose family income is below the income threshold may also receive up to $3,000 in grants.
What are Canada Student Grants?
The Canada Student Grants Program provides financial assistance to students based on financial need, but unlike student loans, grants don't have to be paid back! In the 2017/2018 academic year, nearly half a million students received more than $1 billion in federal grants.
The value of a grant also depends on your family's income and whether you are a full-time or part-time student. Full-time students can receive up to $3,000 per academic year, while part-time students can receive up to $1,800 per academic year. If you are a student with a permanent disability or are Indigenous, you may be eligible for additional government student aid.
If your family's income is above the income thresholds for Canada Student Grant eligibility, you may not qualify for a grant. However, if you are eligible for a grant as well as a loan, you have the option to decline the loan and receive only the grant.
How do I apply for government student aid?
You can apply for the CSLP through the province or territory where you live. When you apply, you are automatically also considered for the Canada Student Grant, meaning you don't have to prepare a separate application.
The application guidelines and procedures for student financial assistance do vary for each province. For example, if you are a permanent resident of Ontario and pursuing a post-secondary education, you would apply through the Ontario Student Assistance Program (OSAP).
Here are the links for every student financial aid program in every province and territory, in alphabetical order.
Keep in mind that there are other grants, bursaries and scholarships that you won't automatically be considered for when you apply for government student aid. It's best to check with your guidance counsellor or university or college financial aid office to find out about other grants available to you.
Before you apply, prepare yourself by having all your documents and numbers ready. Here is generally what you will need:
Your Social Insurance Number, as well as the SIN numbers of your parents and/or spouse
Your tax return information, as well as that of your parents and/or spouse
Your bank account information for direct deposit
School information, such as program of study, start/end date, and so on
Your total expenses during the period you will be in school, such as tuition, supplies, food, rent, transportation, and so on
RESPs, scholarships and other financial resources you may have
In Ontario, British Columbia, Saskatchewan, New Brunswick, and Newfoundland and Labrador, grants and loans are jointly funded and provided by the federal and provincial governments.
In Alberta, Manitoba, Nova Scotia and Prince Edward Island, the federal and provincial governments both provide loans and grants separately from each other.
In Yukon, students can receive Canada Student Grants and Canada Student Loans, while the territory solely provides grants.
Nunavut, the Northwest Territories and Quebec have their own student aid programs provided by their respective governments, but they not do not receive funding for student aid from the Government of Canada.
What are scholarships and bursaries?
Consider applying for scholarships and bursaries, as these are types of student financial aid you don't have to pay back.
Scholarships are sponsored by individuals, companies and charities, and are awarded based on merit for specific achievements, such as academic excellence, or extracurricular activities in the community, like athletics or volunteer work.
For bursaries, merit is considered but they are primarily awarded for students' financial need. This is determined through the application process where you prove that you may have difficulty paying for tuition or other post-secondary related expenses on your own—some of the information you will be required to disclose when applying for a bursary includes the funding you are already receiving from government student assistance, like your family's income and your living expenses. If you are eligible for student loans, you likely also qualify for some bursaries.
There are many ways to receive scholarships and bursaries. Individually, the scholarships and bursaries may not seem like a lot of money, but you can apply for and receive multiple awards, which could add up to a significant amount.
How do I apply for scholarships and bursaries?
Scholarships and bursaries are meant to help students succeed under specific financial or educational circumstances. There are too many to count, coming from a wide variety of donors, from local businesses to large corporations, the university or college itself and non-profit organizations, as well as federal, provincial and territorial governments.
You can also visit your university or college financial aid office to find out more about the types of awards available, and which scholarships and bursaries you might qualify for. Check out studentawards.com and scholarshipscanada.com. There are government scholarships, too.
You have nothing to lose when it comes to applying for student aid. If you take the time to learn more about what you may be eligible for, you could be pleasantly surprised by how much you're awarded and how much it can reduce the financial and emotional stress of pursuing higher education. (From Ontario? Read our guide to applying for OSAP.)
What do I do if I don't qualify for student aid?
Perhaps you don't qualify for student aid but you still think that you would benefit from financial assistance while you're in school, or maybe you've already maxed-out your other student aid options but still have financial needs to be met. If this is the case, you can look into applying for a student line of credit or a personal loan from private institutions, such as your bank or a credit union.
These options can help pay for just about anything from school supplies and tuition to living expenses, which could end up costing more than expected. The amount of money you borrow depends on course load and level of study, and there is typically a cap on the maximum amount that you can receive.
For a student line of credit, you are given a pre-set credit limit, and you only have to pay back what you borrow, plus interest on the amount received. Interest rates on a student line of credit are lower than those offered on Canada student loans, but remember that with a line of credit, you're required to start paying interest as soon as you withdraw any money.
With personal loans, you're required to pay back the full amount, interest and any applicable fees over a specified period of time.
The start of your semester can sneak up on you, so it's best to be prepared ahead of time. Complete your application early so you can receive your funding by the time your classes start. Talk to your family and look at your personal finances to get an idea of what you can contribute to your expenses. Start looking for a part-time job before others beat you to it.
Remember, the most important thing about student aid is to apply. There are plenty of options—you have nothing to lose by applying and seeing what you can get, but there's so much to gain.