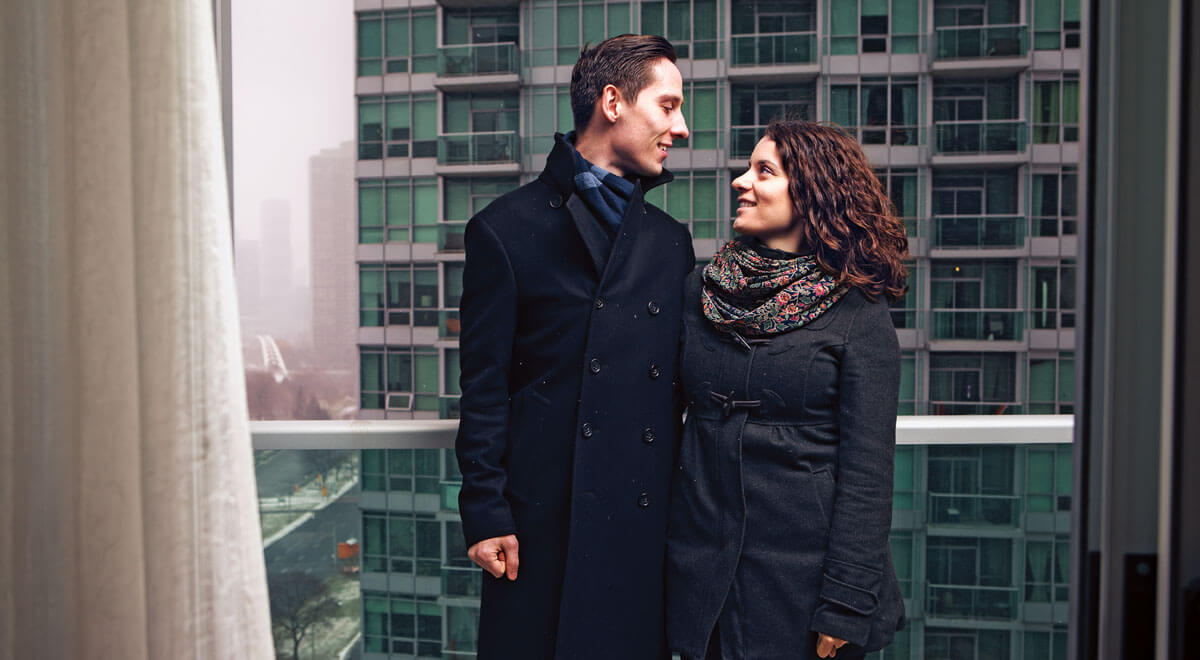 Jenna and Nick didn't wait for housing prices to drop before buying their first home. They didn't tie themselves to a monster mortgage or an oversized, overpriced piece of the sky. But like other condo buyers, Jenna Pettinato, 32, and Nick Mizera, 29, did receive their fair share of judgment and scorn. Just ask personal finance writer, Barry Choi. When he and his wife bought a condo in downtown Toronto—and blogged about it—they were criticized. Harshly. "Yes. I was judged about my decision to buy a condo," explains Choi. "Criticized for buying a box in the sky that would never appreciate as much as a house."
Thankfully, Choi doesn't care what you think. (He stresses the fact that he and his wife bought what fit their lifestyle and their budget.) Jenna and Nick aren't too worried what you think, either. They managed to find a one-bedroom resale unit right on Toronto's lakeshore. The reason why these two couples were successful at buying a condo—even in a hot urban market like Toronto—is that they chose to focus on what really mattered: Their budget and their needs.
Tune out the noise
Don't get me wrong. Finding and buying a condo in a major urban centre can be daunting. There are so many to choose from, with a variety of developers and varying finishes. But that doesn't mean shopping for condos is an easy walk in the park. Think of it more like a mature garden, where you'll need to weed out a number of fast-growing, but potentially limiting options, before really finding what you like (based on what you really need).
At first, Jenna and Nick wanted a newer, two-bedroom condo in Toronto's trendy east end, where they rented an apartment. But their desires didn't fit reality. Older, outdated units were out because "we aren't handy," says Jenna. Plus, they couldn't rely on Nick's income. As a freelance writer (Nick is known as the Gentleman Journalist) he knew his earnings could fluctuate, sometimes wildly. This meant finding a condo based only on Jenna's salary. It also meant they had to button-down their living expenses. Tight. Real tight. Accepting this fact eliminated the option of a new condo pre-sale.
A pre-sale occurs when a developer sells units of a building before the property is even built. The buyer is essentially "buying the right to a completed unit," explains Vancouver realtor, Mike Stewart. The major advantage is that you pay a much lower purchase price for the unit. But there are risks. Lisa Colalillo, a Toronto realtor and HGTV host, considers her purchase of a pre-construction condo one of her "biggest mistakes" as an investor. As she explains, "when it comes to pre-construction condos, you don't know what your expenses will be…the builder gives you a lowball estimate of your maintenance fees." Within a year or two those fees will go up, but so will property taxes, since it typically takes 18 to 24 months for the city to issue the first property tax bill. "That turns into one hefty bill," explains Colalillo, who adds that while this inability to hammer out the actual monthly expenses on a pre-sale are hard on owner-occupied condo buyers, they can kill any cash flow potential for those that buy condos as investments.
The quickest tool you have is your very own spreadsheet. Rather than pine for their wish list, Nick and Jenna focused on their needs list: A resale condo that was transit-friendly and more than two years old. It also meant expanding their search beyond their ideal neighbourhood.
Get educated, instead
Defining your criteria and sticking to a budget are just the first steps to smart condo buying. In the last five years, Mitchell Smyth and Jonah Torrens (we changed names to protect privacy) have bought and sold three condos—all with two bedrooms and all in buildings over 10 years old. "We've made over $200,000 profit from our real estate deals," says Mitchell, "and that's after expenses." The key, according to Jonah, is that Mitchell, a professional social worker by day, "researches the crap out of every buy."
Take, for example, their first purchase: a corner unit in an older building with unobstructed views of downtown. Despite a hot condo market, there were no other bidders. Mitchell chalks it up to new-condo shine. "So many new buildings were coming on the market," recalls Mitchell. "People forgot the older units."
Part of the issue is that older buildings demand higher maintenance fees. On paper these fees are often twice as much as newer units. "But do a bit of digging," says Mitchell. While he and Jonah paid just over $600 per month, their fees included heat, water, parking, even cable. Plus the building had an indoor pool. To add value, the couple removed the parquet floors and installed hardwood and opened up walls for open concept living. They also installed floor-to-ceiling windows. The view of Toronto's Don Valley and downtown was spectacular.
But Mitchell's research isn't limited to finding the condo-equivalent of a fixer-upper. On their third condo, Mitchell and Jonah got into a bidding war with four other bidders. But after all the offers were in, the lawyer called. "There was a special assessment scheduled," recalls Mitchell. Rather than back away from the deal, Mitchell asked to see the condo board's documentation. He poured over this paperwork and, the next day, called his realtor and amended their original offer. Rather than bidding $20,000 over the asking price, they offered $80,000 under asking. They won.
Turns out this 20-year-old building needed new windows—a standard and expected update, explains Mitchell. Eventually, the couple had to pay almost $20,000 for their portion of the special assessment, but even with that cost, they still saved $60,000 on the fair market value of the condo. "That left us plenty of money left over to renovate."
What do all three of these couples have in common, other than the fact they all bought a condo in a city with a hot housing market? They differentiated between needs and wants, meticulously stuck to their budget and educated themselves when and where necessary.
Now, as each couple finishes celebrating their own homeowner milestone, they couldn't be happier. They pay for a roof over their heads, but they haven't given in to the temptation to sell out their futures to do it.
Ask your property or real estate question here »
---
Read more from Romana King at Home Owner on Facebook »