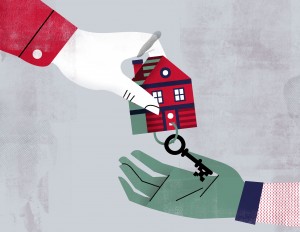 Tania Pilon had barely started hammering the For Sale By Owner sign into the front lawn when she caught the eye of a driver on his way home from work. One U-turn later, the two were amicably chatting about the man's son, who was looking to enter the real estate market. Happy with what he saw after a quick tour of the Pilons' two-bedroom starter home in Regina's desirable West End, the man went off to report his discovery.
Three hours later, both parties were signing an offer for just $2,000 under the Pilons' asking price of $265,000—and $50,000 more than the listing price their local realtor had suggested. And because the Pilons handled the transaction on their own, there were no commissions to pay, saving them at least $13,000. "Boy, are we glad we did it ourselves," Raymond Pilon enthuses.
Truthfully, the Pilons weren't completely on their own. They used a service called ComFree.com, one of a growing number of companies that allow you to sell your home online, without the help of a real estate agent. These services have been around for years, but they've exploded in popularity since 2010. That's when the Canadian Real Estate Association agreed to open up its Multiple Listing Service (MLS)—where the overwhelming majority of real estate transactions occur—to agents who charge a flat fee rather than insisting on the industry-standard commission. That expanded the reach of For Sale By Owner (FSBO) services, which had previously operated at a huge disadvantage. Take PropertyGuys.com, which has 123 franchises and more than 10,000 active listings: the company saw a 30% increase in business last year despite being in operation for more than a decade.
But is selling your own home really as easy the Pilons' story suggests? Clearly not. Many people who choose the FSBO route find it a stressful, time-consuming grind. Take Tawnia Vihos, who tried selling her Ottawa home with a FSBO service, but gave up: "It totally pays to have a real estate agent. More exposure and fewer headaches."
So is the FSBO method right for you? Here are five things you need to understand before deciding whether you're cut out to sell your home alone.
1: You save big on commissions
Clearly, the biggest incentive for using a FSBO service is the prospect of selling your home without paying commissions to agents. In traditional deals, the home seller signs a contract with a realtor who takes a percentage of the final selling price. (The length of the contact varies, but six months is the usual maximum.) The standard commission is 5%, which is divided equally among your agent, the buyer's agent, and their respective brokerages. So on the sale of a typical $350,000 home, you'll pay $17,500 in commissions, of which your agent pockets $4,375.
FSBO companies don't collect a commission: instead, they charge you a much lower flat fee. For instance, the median cost of using PropertyGuys.com is $1,000, although the price varies depending on how many services a client uses. Where you live is also factor, as prices are adjusted based on the cost of doing business in a given region. In the Greater Toronto Area, median costs are closer to $2,000, while the same services would be $1,400 in Halifax and less in rural areas.
"We allow folks to sell privately and market privately through our website, taking as little or as much service as they need," says Walter Melanson, PropertyGuys.com's director of partnerships. Clients can get online listings, lawn signs, instructions for negotiating and closing deals, email alerts, personalized consultations, professional photos, audio tours, and 360-degree virtual tours.
The burning question, of course, is whether an agent can pay for herself by netting you a higher sale price, even after the commissions are deducted. Many agents will claim they can. But while there are no reliable Canadian data, a 2009 study by economics professor Igal Hendel and his colleagues at Northwestern University in Illinois found that FSBO sellers who did not have access to MLS took longer to sell their homes, but did not have to accept lower prices. "After controlling for differences in house and seller characteristics," the authors concluded, "we find that the MLS delivers no price premium (even before netting commissions)."
Facing this competition, some realtors have changed their business model, and some even offer variations on the FSBO platform. For instance, Great Canadian Realty in Ontario now offers a $995 FSBO-type option where sellers can have their listing created by knowledgeable realtors. For additional fees they will also assist with other aspects of home selling, such as negotiation. Sundaybell.com will set you up anonymously with realtors, so you can interview them by email and negotiate fees up front, before you disclose your personal information. SaveOnCommission.ca, which still operates under the traditional real estate model, charges a seller's agent fee of 1%, as opposed to the traditional 2.5%.
2: Agents may not work with you
As a home seller, you may love the idea of not paying commissions to real estate agents. But you can appreciate that the agents don't share your enthusiasm. Andy Forse discovered this when he tried to sell his home in Mahone Bay, N.S., with PropertyGuys.com. "The agents in our town are all happy to work with each other and see each other's houses. But they tend to shy away from the PropertyGuys or people selling on their own unless they absolutely have to. They're not overly keen to recommend that house unless the buyer sees it and says, 'I want to look at that house.'" Kim MacLaurin found the same thing when she helped her parents sell their home using GrapeVine.ca, a FSBO site for residents of Ottawa and eastern Ontario. Agents openly admitted they would not work with FSBOs. "They'd say other realtors don't show homes that are listed on Grape Vine because they're not supporting a market that is working against theirs."
What really annoyed MacLaurin, though, were the agents who called her ad nauseam asking her to drop her FSBO venture and sign with them, and those who would book showings under false pretenses so they could make their pitch in person. She calls it bullying and says she had to grow a thick skin. She learned to stand firm with this response: "No, I'm not taking your call. No, you can't show the house unless you have a prospective client."
Dean Paley of Burlington, Ont., tried to work around this by calling up local agents and telling them that, while he had no interest in representation, if they had a buyer he would pay them a fee equivalent to "the same commission that they'd make in a traditional two-agent deal." Just be careful, Paley adds. If you do strike a deal with a buyer's agent, set down the ground rules very carefully, and don't sign any form until your lawyer sees it.
3: You need to set the price
One of the more important services a realtor can offer is setting an appropriate listing price for your home. An experienced agent has a good feel for the local market, as well as access to a database of recent sales in the neighbourhood.
However, critics point out that the interests of real estate agents and sellers are not well aligned here. Take, for example, a seller who lists a home for $300,000 and gets an offer of $290,000. The seller may want to hold off another week for the additional $10,000, but the agent may push hard for the seller to take the $290,000. Why? Because that extra $10,000 only represents a 5% commission of $500, which is then split four ways. In the end, the seller's agent would have to work an additional week for only $125.
"It's not that real estate agents are bad," say Steven Levitt and Stephen Dubner, authors of the bestseller Freakonomics, "but they're human beings and human beings respond to incentives." When it comes to selling their own homes, it seems agents will hold out: using data from the sales of 100,000 Chicago homes, of which 3,000 were owned by realtors, Levitt and Dubner found that agents kept their own homes on the market an average of 10 days longer and sold for 3% more.
When Kim MacLaurin first listed her parents' house, the realtor suggested a price of $389,000. Although the home was smaller than most in the neighbourhood, other properties were listed for no less than $450,000, which made MacLaurin feel like the agent was undercutting the market. "We almost felt like the price was scaring people off—that they'd be saying, 'What's wrong with it?' We said minimum $399,000, and that was a difficult point for everyone." When MacLaurin later listed the house on GrapeVine.ca, she priced it at $450,000 and sold it three months later for $425,000.
To Melanson of PropertyGuys.com, avoiding pricing pressure from realtors is one of the major perks of FSBO sites. "If you want to the ability to verify that your price is accurate, we have services and methods to do that. But we're never calling you and saying, 'Drop your price.'"
That said, it can de difficult for FSBO sellers to accurately price their own homes, especially in small towns where there are few recent sales to help gauge the market. James D'Aoust definitely had some doubts about using a FSBO service last year, when he was selling his house in Campbellville, a sleepy tourist town about one hour west of Toronto. "The biggest challenge is trying to determine the fair market value for your home without the assistance of a realtor, because of the access they have to information."
In 2009, D'Aoust sold another home through an agent, and when it came time to sell his current property, he wanted to try doing it himself. "It didn't seem like rocket science to me, especially with the tools available today through social media. The tipping point for us was the change in the accessibility to MLS." But before hiring a FSBO service he met with several realtors to ask how they would go about marketing and selling his house, and to hear their suggestions for the listing price.
Some people may be put off by D'Aoust's strategy: you might argue that he dealt with the realtors in bad faith by leading them to believe he was a prospective client. But he points out that all of the realtors advertised free market assessments, so he was happy to use that service to his advantage, making no promises that he would hire them to sell his home. Phil Soper, president and CEO of Royal LePage, says if getting a valuation is all a home seller is interested in, agents accept that as a part of doing business. But he adds that people just looking for freebies "probably should be dealing with someone else."
D'Aoust eventually picked an $800 package from PropertyGuys, who arranged to have a photographer take pictures of the home for a web page on PropertyGuys.com, which was linked to a listing on the MLS. In the end, he sold his home for about 5% higher than the average appraisal offered by the realtors, and without paying any commissions.
Dean Paley didn't approach any agents for assistance in pricing his home, which he calls "playing fair." Instead, he simply looked at the MLS listings in his area to get an idea of the comparative value of his home. Because Paley and his wife were in a rush to move (having already purchased another home), they listed a hair under what they thought was fair market value and sold within two weeks.
In Raymond Pilon's case, a recent bank assessment had told him his house was worth $265,000. ComFree.com also showed him—much like the MLS would, he says—what similar homes in his area were selling for, which turned out to be comparable to the bank assessment price.
4: You do the heavy lifting
If you're still interested in trying your hand at FSBO, we have another question: are you willing to do most of the heavy lifting that a realtor would normally do on your behalf? "We've got to make sure you're willing to do that," says Melanson of the PropertyGuys. Rest assured, he adds, FSBO services can provide home sellers with all the information they need to guide them through the process should they be up for it.
Traditional realtors point out that their services go far beyond simply listing your house on the MLS. They argue that the vast majority of home sellers work with an agent for the same reason they wouldn't defend themselves in court if hundreds of thousands of dollars were involved. "The amount of money at stake is large," says Soper, of Royal LePage. "So they turn to someone who is involved in buying and selling real estate as a profession, and does it every day."
Every real estate transaction is unique, Soper says, a point he thinks few people really grasp. "It's really rare that you have a textbook transaction," he says. "Almost every sale includes some degree of working through challenges. Buyers ask for a lot things, and it's challenging for the seller to know whether those are acceptable things." For instance, although it's a seller's responsibility to make sure that the home is livable for closing, you have the right to say no to unreasonable demands for repairs.
Adds Hendel, the economics professor: "You do fear all kinds of things going wrong in the bargaining." He points out that selling a home is typically the biggest transaction most people will ever experience, and says that a traditional real estate agent can offer value during the process. They have experience negotiating with buyers and making counteroffers, for example. D'Aoust makes his living in sales, so all of this came easy for him: in fact, he enjoyed that aspect of the FSBO process. But he concedes that haggling is probably daunting for the average person. "You do have to be someone who enjoys negotiating and selling," he says. "That has to be a part of your makeup. Some people seem to be allergic to the negotiating process, so it's probably not a good fit for them."
Melanson says PropertyGuys.com can help home sellers with all of the steps in the negotiating process, including how to respond to common questions that buyers ask. They also offer an online tool called the Offer Maker, which allows you to negotiate back and forth with a prospective buyer through the website. Other web tools give sellers a dashboard view of the number of people who have viewed their listing, a running log of questions from potential buyers, and a list of all received offers. Melanson says all this information is key for gauging whether your price is drawing interest, and it provides good insight for the seller considering a price adjustment. If you do change your asking price, an email notification is sent out to bidders who had previously expressed interest in new negotiations should the threshold drop.
Hendel says agents can also look after the necessary nuisances involved in selling a home. "They offer the service of showing the house, which might not be pleasant, especially if one is having an open house. These are the things that they can do better, I'd assume, than the average seller."
That part was challenging, D'Aoust admits. "You have to be willing to make the time commitment, because it does require flexibility to accommodate prospective buyers. So unless you're prepared to do that, maybe it's not right for you." He and his wife took 15 different people through their home before they finalized an offer. To make it easier on themselves, they tried to group several prospective buyers at set times so they weren't dropping everything immediately to do a showing.
Scott Moffatt encountered a different issue when he unsuccessfully tried to sell his home last year using GrapeVine.ca. As the owner of his own Ottawa-based communications company, Moffatt frequently travels, which meant his wife was at home alone with their two young daughters to do showings. "It made her very uneasy," he says. "That was a significant drawback."
Experienced real estate agents can also offer helpful suggestions about how to properly stage your home so it will sell more quickly, and for a higher price. Some of these strategies—such as removing family photos or getting rid of a carpet that smells like your dog—are hard for sellers to identify on their own and require an outside opinion. D'Aoust, however, said the advice he received during market appraisals with realtors was really just common sense. "It wasn't anything you wouldn't have been able to pull off the internet yourself in terms of decluttering and simplifying."
Kim MacLaurin actually felt some of the advice from her realtor was dubious. When she later sold her house on her own, she chose to ignore the suggestion to spend $400 on renting staging furniture. "Was that necessary? Probably not."
Dean Paley points out that even if you don't work with a real estate agent, you still need to hire a lawyer to handle the contracts. Fortunately, he and his wife already knew a reputable lawyer who worked in real estate. "We just contacted him in advance and said, 'This is what we're doing. We're going to send you the forms, and just bill us accordingly.' And it worked out phenomenally."
The lawyer made sure they did not sign any contract before passing it through him to approve or suggest changes. He also covered all the important due diligence, including checking the documents prepared by the buyer's lawyer, ensuring that the Paley's old mortgage was properly discharged, confirming that all necessary payments had been made, and arranging the signing of the transfer documents.
Note that lawyers who work with FSBO sellers often have to take on some responsibilities that the realtor would have handled, and they will bill you accordingly: Paley says he paid about 15% more. "Not a huge price," he says, particularly since they had saved money on the sale by avoiding the agent's commission.
That was D'Aoust's experience as well. While he estimates that his legal costs were double what he paid during a previous sale through a realtor (where his agent negotiated offers and handled most of the paperwork), he figures the money he saved in commissions and the higher selling price more than made up for that.
5: You'd better have the time
Selling a house through a FSBO service usually takes longer—sometimes much longer. The Northwestern University study found that houses initially listed and sold as FSBOs took, on average, 19.5 days more days to sell. For houses that were first listed as FSBOs but eventually sold on the MLS, the time to sell was almost 69 days longer.
It's important to note that this study was done between 1998 and 2005, when FSBOs did not have access to MLS. But more recent FSBOs still face problems. The Moffatts' property was unique: it was by far the largest, most expensive home in Smiths Falls, Ont. When they decided to purchase a newly built home in Ottawa, their agreement actually required them to hire a realtor to hasten the sale of their existing home, since they had already been using a FSBO system for six months without success.
Andy Forse also ran into a roadblock. After signing up with PropertyGuys.com to sell his three-bedroom home in Mahone Bay, he gave up after six months when he didn't see an offer anywhere close to his asking price of $115,000. He and his wife had valued the property based on the selling prices of similar homes they'd seen on the MLS. But while the home was still on the market, they had to move back to Forse's hometown of Kemptville, N.S., due to a job change, leaving the house sitting empty.
Meanwhile, they were relegated to staying at Forse's mother's home until the property in Mahone Bay sold, because the bank wouldn't approve a new loan until their existing property sold. Feeling pressure to sell quickly, Forse then signed with an agent and sold within weeks. However, he thinks the agent just got lucky. A next-door neighbour who had previously expressed serious interest in buying the property for his daughter—but didn't have the necessary funds at the time—came up with the money and bought it through the realtor. "We would have sold it had we waited a little longer," Forse laments.
The Forses are now in the process of trying to upgrade their current home, but will be going with the services of a real estate agent because time, again, is a big consideration. "We decided we're just too busy to do it on our own, plus we have two little kids. So we said, 'Let's get an agent.'"