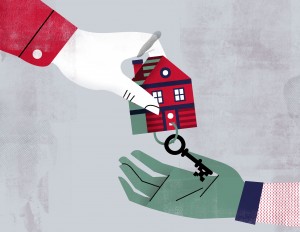 Tania Pilon had barely started hammering the For Sale By Owner sign into the front lawn when she caught the eye of a driver on his way home from work. One U-turn later, the two were amicably chatting about the man's son, who was looking to enter the real estate market. Happy with what he saw after a quick tour of the Pilons' two-bedroom starter home in Regina's desirable West End, the man went off to report his discovery.
Three hours later, both parties were signing an offer for just $2,000 under the Pilons' asking price of $265,000—and $50,000 more than the listing price their local realtor had suggested. And because the Pilons handled the transaction on their own, there were no commissions to pay, saving them at least $13,000. "Boy, are we glad we did it ourselves," Raymond Pilon enthuses.
Truthfully, the Pilons weren't completely on their own. They used a service called ComFree.com, one of a growing number of companies that allow you to sell your home online, without the help of a real estate agent. These services have been around for years, but they've exploded in popularity since 2010. That's when the Canadian Real Estate Association agreed to open up its Multiple Listing Service (MLS)—where the overwhelming majority of real estate transactions occur—to agents who charge a flat fee rather than insisting on the industry-standard commission. That expanded the reach of For Sale By Owner (FSBO) services, which had previously operated at a huge disadvantage. Take PropertyGuys.com, which has 123 franchises and more than 10,000 active listings: the company saw a 30% increase in business last year despite being in operation for more than a decade.
But is selling your own home really as easy the Pilons' story suggests? Clearly not. Many people who choose the FSBO route find it a stressful, time-consuming grind. Take Tawnia Vihos, who tried selling her Ottawa home with a FSBO service, but gave up: "It totally pays to have a real estate agent. More exposure and fewer headaches."
So is the FSBO method right for you? Here are five things you need to understand before deciding whether you're cut out to sell your home alone.
1: You save big on commissions
Clearly, the biggest incentive for using a FSBO service is the prospect of selling your home without paying commissions to agents. In traditional deals, the home seller signs a contract with a realtor who takes a percentage of the final selling price. (The length of the contact varies, but six months is the usual maximum.) The standard commission is 5%, which is divided equally among your agent, the buyer's agent, and their respective brokerages. So on the sale of a typical $350,000 home, you'll pay $17,500 in commissions, of which your agent pockets $4,375.
FSBO companies don't collect a commission: instead, they charge you a much lower flat fee. For instance, the median cost of using PropertyGuys.com is $1,000, although the price varies depending on how many services a client uses. Where you live is also factor, as prices are adjusted based on the cost of doing business in a given region. In the Greater Toronto Area, median costs are closer to $2,000, while the same services would be $1,400 in Halifax and less in rural areas.