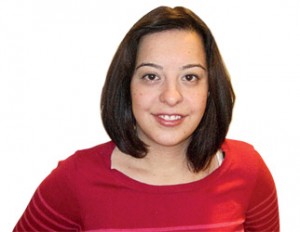 "I bought an investment property when I was 28"
Angie Oliveira, 32 // Toronto
I've always been very focused in my life. I was born a triplet and knew from an early age my parents wouldn't be able to pay for many extras, or for postsecondary education for all of us. But I was determined to go to university and to buy a home of my own. So in high school I started working as a waitress for 20 hours a week. During the summers I took as many shifts as possible, often working seven days straight. I was a workaholic and should have cut back because my grades were suffering, but I persevered.
I earned enough to pay for tuition by living at home with my parents and commuting to York University. It wasn't easy. I didn't have a car so I used buses to make the two-hour journey to York and back each day. At one point I considered buying a car but was shocked when my dad showed me how expensive it was. I kept commuting every day for four years. Believe me, it was really depressing. I would get home every night and it was cold and dark, and I was tired. But I knew I was saving for my big goal of owning an investment property, which kept me going.
After graduating with an English degree in 2006, I had no student debt and $20,000 in savings from my waitressing job. Then I got a lucky break—I landed a job as an administrative assistant, paying $32,000 a year in downtown Toronto. In 2008, when I was 28 years old, I had saved $70,000, enough for a 20% down payment on a triplex in Little Italy. I moved into one unit and the rent from the other two units paid for the mortgage and utilities. Last year, I got married and my husband moved into the apartment with me. I've never doubted the triplex was one of the best financial decisions I've ever made.
The key for me was tracking my spending in a journal to see exactly where every penny was going so I knew where I could cut back and add to my savings. Most years I saved 70% of my earned income, which I used to pay for university and for the down payment on the triplex. By living at home a little longer than most people I was able to really beef up my down payment. That's made me truly independent a lot more quickly than many of my friends who are still mired in debt.
Now my goal is to pay off the mortgage on the property as quickly as possible. I've done some renos over the years and I'm putting $500 a month extra on my mortgage to pay it off faster. The triplex's value has also gone up. I bought it for $350,000 and it's worth $450,000 today.
More from the "Making it Happen" series:
How we paid off our debt
How I started and sold my business
How I thrived financially after divorce
How I built a solid portfolio
How we paid off our mortgage early
How I graduated without student debt