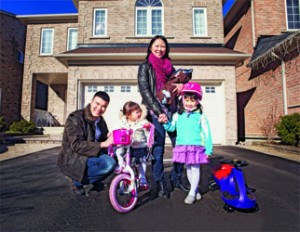 When Nicholas Hui and his wife Kathy Chan decided to pay off their mortgage in six years, they knew there would be some sacri?ces. Any type of unnecessary spending would be out of bounds while they worked toward their goal, Nicholas says. But that doesn't mean the couple wanted to stop having fun altogether.
As fervent Toronto Raptors fans, they hatched a plan that allowed them to satisfy their itch for live basketball for free. They would purchase season tickets, which can provide up to 37% savings over regular game ticket prices, pick the games they wanted to attend on weekends, and then sell the remaining tickets at face value to break even. "It's perfectly legal," Nicholas points out.
The couple was also shrewd when it came to vacations. While European getaways were not within their budget, the Vancouver natives would go home annually, combining some downtime with family visits. And, of course, Nicholas says, staying with Mom and Dad is always free.
The couple's main reason for paying off their home early was ?nancial ?exibility. As the parents of three young children, the couple wanted to start saving for their future schooling costs.
Want to pay off your mortgage early too? Read "Crush your mortgage" for tips on how to get a head start.