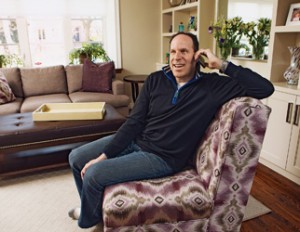 When chartered accountant Sloan Levett and his physician wife Debbie Elman bought their Toronto home for $460,000 back in 1998, they were a bit nervous. Despite putting aside a sizeable down payment, the couple had borrowed $50,000 more than they had intended. "We thought we had extended ourselves," admits Levett. "But knowing we were getting a bigger place that we could stay in for a long time, we took the plunge. We loved the house and the area."
The couple, who were only in their late 20s at the time, were establishing good careers for themselves and decent money was starting to come in. "The plan was to be as aggressive as possible to pay off the mortgage in 10 years," says Levett. They succeeded, paying it off in just six years.
Levett and Elman did it by spending every dollar carefully. "We didn't go on any extravagant trips or buy expensive cars," says Levett. "One hundred per cent of the tax refund went to the mortgage."
One of their biggest motivations was that they wanted to do renovations but had agreed to wait until their debt was paid off, says Levett. "The ?rst one we did after paying off our mortgage was digging out and extending the length of our basement. And after a few years we gutted our kitchen."
Want to pay off your mortgage early too? Read "Crush your mortgage" for tips on how to get a head start.