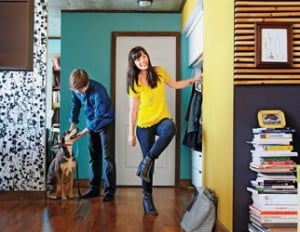 Craig Sebastiano's first experience as a condo buyer was both exhilarating and annoying. The 35-year-old web producer knew what he wanted: a nice one-bedroom condo unit about a 10-minute walk from his job in downtown Toronto. He also wanted a workout room in the building so he could exercise late into the evening after long days at the office.
After months of looking, Sebastiano settled on a 650-square-foot unit in a building that hadn't even broken ground yet: he bought it based on a floor plan. That was his first mistake. "The showroom model was a bit bigger than the condo I had bought, but the salespeople told me I would hardly be able to tell the difference," says Sebastiano. "Well, my condo actually turned out to be quite a bit smaller than I had been led to believe. And it really wasn't much like the showroom model at all." Other details differed as well. Sebastiano was told he could move into his new condo in December 2004, but he didn't actually get the keys until July 2006—19 months later. "I had heard stories of condo possessions being late—but not a year and a half. Even though I was able to keep renting my old apartment, it was frustrating."
Finally, Sebastiano ended up paying a bundle in "occupancy fees." When a new condo building is completed, it takes several months to be formally registered with the municipality's Land Registry Office. You can live in the unit in the meantime, but technically you don't own it yet. Until the registration goes through, you'll pay occupancy fees—also called "phantom rent"—to cover the building's costs, including property taxes. Usually this arrangement lasts three or four months, but in Sebastiano's case, the payments went on for a year. "And they don't count toward your mortgage," he explains. "I wasn't happy about that at all, but there wasn't much I could do."
Sebastiano's story is as sobering as it is common. Condo lawyers can talk your ear off with stories about problematic and costly deals. It hasn't helped that the market has been so hot in recent years—many buyers, afraid to lose out on a great condo in a prime location, have been pressured into making decisions that came back to haunt them.
The real estate market in most Canadian cities isn't as frothy as in years past. If you're a serious condo buyer, this is good news. It means you can wait for the right opportunity and not worry about bidding wars.
"Don't rush into anything," urges Nicolas Brunette-D'Souza, a real estate lawyer with Delaney's Law in Ottawa. "There will always be a hot new building. Do your research thoroughly, because once you've bought, it's a 30-year commitment."
"A person will often go to Ikea several times before buying furniture," adds Jeffrey Kahane, a Calgary-based real estate lawyer. "Yet you'd be amazed how many people look at a condo for 20 minutes and then write up an offer to buy. You need to put more thought into it than that."