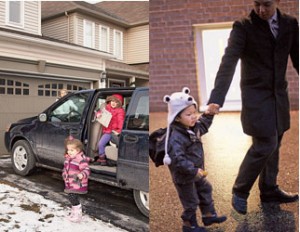 This is a tale of two families: the Lee-Wongs, who live in Toronto, and the Fuscos, who live in a suburb east of the city. Mornings see both families engaged in the same rituals as millions of other Canadians. Alarms go off, children are roused, breakfasts are eaten and lunches packed. There are car keys and transit passes to locate, and phone calls to confirm that grandparents will be there for after-school pickups. Then comes the last-minute scramble to make sure everyone gets to school and work on time. What makes these families different is how far the parents travel to their jobs in downtown Toronto. For the Lee-Wongs, the city core is just 13 km away. For the Fuscos, it's a 100-km round trip.
Jimmy Lee, 32, works in IT at a major bank. He could take the subway to work, but he likes a guaranteed seat, so he pays $3 extra for the GO train (the regional commuter transit service). His trip takes 45 minutes, door to door, and he often uses the time to catch a quick nap. Jimmy's wife, 37-year-old Tracy Wong, is an optometrist who owns her own practice and also works in another medical office. Half the time she drives to Etobicoke, a neighbourhood in Toronto's west end, and half the time she rides the subway downtown. It takes her between 45 minutes and an hour, depending on where she's headed. Their commuting costs are about $4,080 a year.
The Fuscos take a much longer route from their home in Ajax, a city of 90,000 people east of Toronto. Kelly, 37, is a nurse who switches between early morning, day, and night shifts. She drives to the downtown hospital district, and while a 7 a.m. or 7 p.m. start isn't great for her sleep patterns, it does cut down on time spent in traffic jams. Commuting takes her up to 90 minutes. Antonio Fusco, 42, works in IT at the Hockey Hall of Fame and takes the GO train, a one-hour ride that costs $220 a month. If Kelly has time, she'll drop him off at the train station; otherwise, he parks their second car at the commuter lot. Getting to work costs the couple about $6,600 a year—over 60% more than the Lee-Wongs pay.
What the Fuscos pay out in transportation, they save in housing costs. Their three-bedroom home in Ajax cost them $154 a square foot when they bought it seven years ago (it's worth an estimated $213 per square foot today). The Lee-Wongs, on the other hand, paid $280 a square foot for their four-bedroom place four years ago, and it's now worth at least $368. Their mortgage payments are $3,200 a month, twice what the Ajax family shells out. Families who live right in the downtown core make an even more dramatic trade-off between commuting costs and housing: two years ago, my husband and I bought a home four km from Toronto's core. We spend $1,625 a year commuting by bicycle, public transit and occasional car sharing. Not including the finished basement, our house is worth about $518 a square foot.
For all the crunching of numbers, there's a long checklist of factors people consider when choosing where to live. Balancing the size of the home one can afford with the time and money spent travelling to work is important, but so are school quality, crime rates and access to grocery stores and amenities. There is no one perfect neighbourhood that would suit every family—both the Lee-Wongs and the Fuscos say they're happy and that they wouldn't trade the city for the suburbs, or vice versa. Still, we wanted to look at the financial implications of each choice.
The Personal
"We wanted to start a family, so we needed space to grow," says Kelly about the move she and Antonio made to Ajax seven years ago. "I like to have a big backyard." Before they married, the Fuscos rented an apartment in Toronto's lively Greektown. They liked walking to restaurants and boutiques, and they really liked the quick subway trips to their downtown workplaces.
When they began thinking about having kids, however, it soon became obvious that houses in their urban neighbourhood were out of their budget. Kelly grew up in Scarborough, in the city's east end, but even that was out of their price range. So the couple decided to move to the suburbs.