Mobile app meets mortgage specialist. That's what Mogo Finance Technology Inc. is promising with its most recent announcement.
As of mid-January 2017, the Vancouver-based fintech company registered as a mortgage broker in three provinces: Ontario, B.C. and Alberta, with plans to expand across Canada. Mogo already offers online personal loans.
What differentiates MogoMortgage from other non-bank lenders is the launch of an online and mobile-friendly interface—where mortgage shoppers can compare rates, apply for a mortgage and track their payment progress.
Benefits of MogoMortgage
The biggest promise, according to Mogo press statements, is that their mortgage product will make the process of acquiring a mortgage—and paying off that debt—more transparent.
By using the MogoMortgage app you can get your credit score (for free!), apply for your mortgage, track your mortgage-debt repayment progress and set-up payment notifications.
Plus, the company promises rewards for meeting milestones, like a bottle of champagne on the one year anniversary of your first mortgage payment.
Drawbacks of MogoMortgage
My concern, however, is that the perks of a mobile-friendly mortgage app won't outweigh the benefits of good, old-fashioned comparison shopping when it comes to mortgage rates.
For instance, the MogoMortgage app compares its current 5-year fixed of 2.54% to four other rates in the market (see below). But those rates are from major bank lenders—mortgage lenders that aren't known for offering the best rates.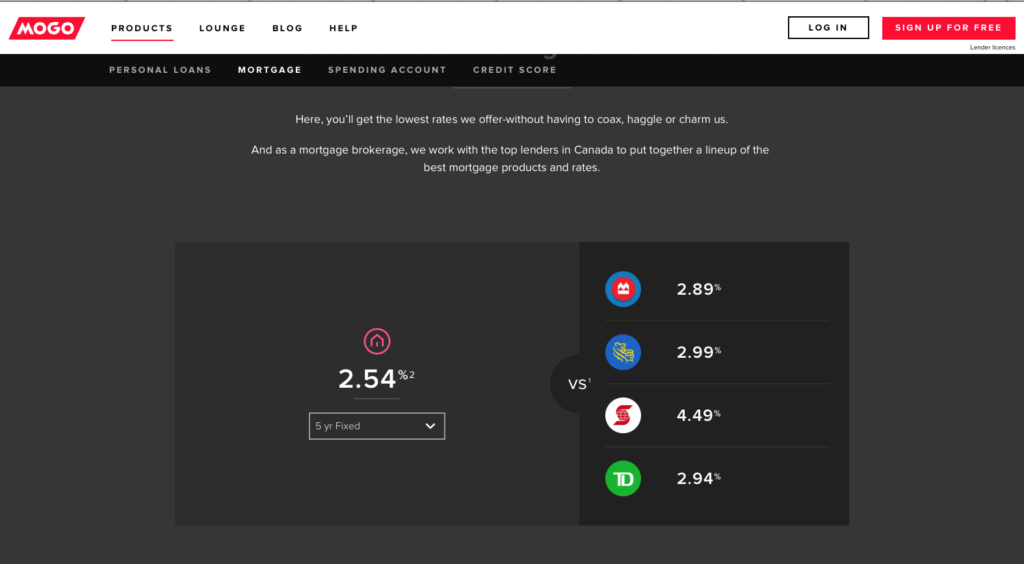 A quick scan of a mortgage consolidator, like RateSpy, shows that rates from non-bank lenders can actually go down as low as 2.34% (see below).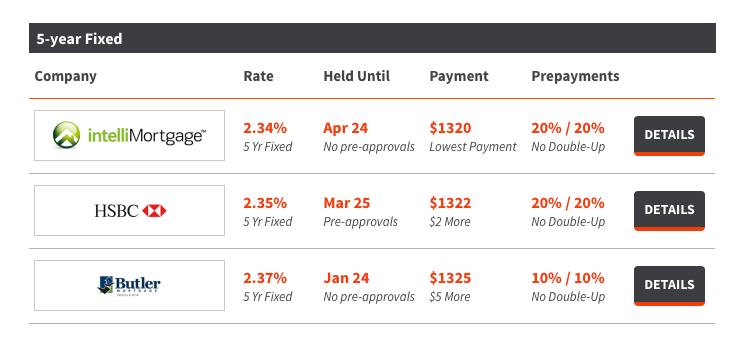 On a $300,000 mortgage, amortized over 25 years, that's a savings of just under $30 per month—or $8,930.92 over the life of the mortgage. That's not chump change.
Of course, the more competition in the mortgage space the better. Let's just hope instant, mobile-ready graphs don't win out over good, ol' fashioned rate comparisons.
[bc_video video_id="6023927822001″ account_id="6015698167001″ player_id="lYro6suIR"]
Ask your property or real estate question here »
---
Read more from Romana King at Home Owner on Facebook »