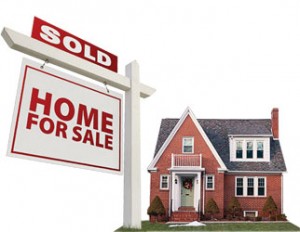 Like many Torontonians, Dave Pearce and his wife Jennine Profeta are struggling to find an affordable home. They currently live in a one-bedroom apartment with their infant son and it's getting cramped. "We need more room, and soon," Pearce says. In the city's highly competitive real estate market, where bidding wars are still common, home ownership has so far been unfeasible for the couple. But after a decade of staggering growth, the housing market in many Canadian cities is starting to cool—a trend economists and real estate experts suggest will continue through 2014. Prospective buyers like Pearce and Profeta are smelling opportunity, but they're not sure how to take advantage. "If there's a downturn coming, what's our best strategy?" Pearce wonders.
Let's be clear: despite what some in the media would have you believe, Canada's housing market is not at the edge of a cliff, ready to plunge into free fall. "There are articles saying we're going to have the same kind of crash we had in the United States, but that's not going to happen," says Jane Londerville, a real estate and housing adviser at the University of Guelph.
James McKellar, academic director of the Real Property Program at York University's Schulich School of Business, is even more blunt. "First of all, there never was a housing bubble. So it hasn't burst, because it never existed."
But even if we're not headed for an implosion, pundits generally agree we're returning to a balanced market in which the interests of buyers and sellers are aligning—especially in Toronto and Vancouver where homes cost 4.3 to 7.1 times the average family income, respectively. By comparison, averages for other major real estate markets like Calgary and Ottawa-Gatineau are 2.9 and 3.4, respectively.
Prior to the 2008 global financial crisis, a strong economy, low interest rates and looser lending criteria sparked a rapid appreciation in the value of homes. But recent government interventions have returned some of the rules to normal, says Toronto real estate lawyer Alan Silverstein. Buyers can't borrow 100% any more, and the maximum amortization is back at 25 years, down from 35. "It's taken out the people who shouldn't have been in the market. It's brought a degree of sanity back but it hasn't killed the golden goose."
Like many Canadians, you're probably wondering what all this means if you're looking to enter the housing market, sell your home, trade up to a bigger residence, or downsize to a condo. MoneySense will help you navigate all of these scenarios and show you how to profit from the changing nature of Canada's housing market.
Feels like the first time
The most obvious consequence of a decline in house prices is greater opportunity for first-time buyers like Pearce and Profeta. "Young people are having a tough enough time with getting jobs and earning money, but to see home prices going up at such a rapid clip has been really disconcerting," says Toronto fee-for-service adviser Jason Heath. "Now, young people will feel like they're getting less and less behind, and that it's not an impossible dream to own a home."
Sonya Gulati, a senior economist with Toronto-Dominion Bank, says we could see a slow 10% decline in house prices in Toronto, Vancouver and Montreal by the end of 2014. "We think those cities are the ones most overvalued." As of September, year-over-year housing prices were already down 3.8% in the Greater Vancouver Area, according to Gulati. Toronto is now starting the same downward trajectory, she says, despite roughly an 8% increase in sales over the same period. Montreal is following the same pattern, too.
But first-time buyers shouldn't be overly optimistic, especially outside Canada's three largest cities. Sylvia Lewis-Havard and her husband are still renting, hoping the changing market might enable them to purchase a home in Ottawa. "I don't expect a complete crash we can take advantage of," says Lewis-Havard, but she hopes to find something for 15% less than the current average of $354,000. Gulati says that's not likely to happen—in fact, she doesn't expect real estate prices outside Toronto, Vancouver and Montreal to decline much at all. Her opinion is in line with a recent report by RBC Economics predicting "both resale activity and home prices in Canada to be flat or slightly negative in 2013."
A housing slowdown in Toronto and Vancouver could affect consumer confidence in regions with strong economic fundamentals like Calgary, Edmonton and Halifax, adds Don Campbell, best-selling author of Real Investing in Canada. But rather than a sharp decline, you're more likely to see slower rates of price appreciation and home sales, says McKellar. "Overall the economy of Canada compared to other countries is still doing very well," he says. "Housing markets are a function of the economy. Not the other way around."
In Toronto, it's the condo market that may be most vulnerable to a fall in prices, says Gulati. "The most recent statistics show there are more than 100 condos being built in the Greater Toronto Area. By comparison, there are 59 being built in New York City and 22 in Chicago." Campbell agrees this large supply coming into Toronto in 2013 will outstrip demand, and feels first-time buyers in Toronto may soon find big opportunities in the condo market.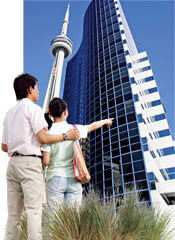 Not everyone agrees with this assessment, however. Many of Vancouver's condos were bought by Asian investors and remain unoccupied, says McKellar, whereas Toronto's condos are being bought by non-occupants who immediately rent them out. "Rental vacancy in Toronto is just 1.2%, so all of this stock is not glutting that market." The long-term growth of Toronto's condo market is also secured by immigration, adds Silverstein. "A lot of new immigrants come to the GTA," he says, "and a lot of investors are banking on renting these condos out to young couples or new immigrants."
The biggest advantage Canada's changing housing market will offer first-time buyers is the luxury of time. "In places like Toronto you might have a bit more breathing room to look at a place and think about it for 24 hours without having to shove an offer in with six other people and hope you win," says Jane Londerville. "So it gives you a little time to do some careful thinking." Even in her town of Guelph, Ont., bids can be aggressive for downtown properties, so buyers in smaller centres can expect to benefit from less competition, too.
Buying newbies should also bear in mind that sellers may be more open to negotiation now, says Marc Lamontagne, a fee-for-service adviser with Ryan Lamontagne in Ottawa. Lamontagne believes there will be opportunities for savings in any region of Canada, provided you're a patient, aggressive bidder. "A lot of homes that will be staying on the market longer were purchased by developers or flippers. These people are going to be desperate and motivated to sell."
Just don't stall too long if you're interested in buying a home. "Money will remain inexpensive for a few years to come, but it won't last forever," says Campbell. Prepare for a rise of at least 1% in interest rates and factor that into your budget. Londerville concurs: "It's another reason not to delay buying if you're borrowing. You can get a five-year mortgage at such low rates now that it's a good time to enter the market if you're not in it already."
If buying is still out of your reach in a cooling market, focus on building up a sizable down payment, suggests Heather Franklin, a fee-only planner in Toronto. A 20% down payment will save you thousands in reduced mortgage payments, lower interest rates and mortgage insurance premiums. "For those first-time buyers, just wait it out and build up your payments," she says.
Another option for those struggling to enter the market is to buy a property and rent out part of it to help you pay the mortgage, says Londerville. "You have to find creative ways to get into the bigger markets."
The hard sell
Even if the evolving housing market is likely to move the pendulum in buyers' favour, real estate experts don't believe sellers are at a disadvantage right now. But they do need to be realistic, says Alan Silverstein. "The house that went for quite a high price a year ago might not get that price nowadays. But you shouldn't be giving it away either. It just may take longer to sell."
It helps to understand what type of seller you are: willing, anxious or desperate. "The willing are the ones who are testing the market," says Silverstein. He advises against anyone doing that now, especially as we head into winter, the slowest season for real estate. "Only the real sellers are in the marketplace right now: the anxious who have a greater need to sell and may have to put the house on the market; and the desperate who have to sell, whether it's due to divorce, job loss or whatever." Desperate sellers may be forced to accept a low price, but Londerville notes that if they're moving to a market that is also down, things could balance out.
"If you really wanted to protect yourself you would sell your property and rent," adds Lamontagne. Although house prices have risen substantially in the last decade, rents have not. "If home prices do come down quite a bit, that's an opportunity for you to go back. The issue is the transaction costs. Every time you buy and sell there's quite a bit of cost involved."
Don Campbell's advice for those selling is simple: "Marketing, marketing, marketing." In this environment it will no longer be enough to just hand your listing to a realtor and expect a bidding war, he says. Sellers must get involved at all levels of marketing as competition increases thanks to more property choices and fewer desperate buyers. "Learn about staging a property, and visit other properties in your price category to see what the competition is offering," he advises. "Make sure your realtor has a marketing plan to generate a lot of interest before you list."
Movin' on up
If house prices do end up declining in your area, it's not just first-time buyers who will benefit. "Buying up in a down market" is a strategy in which homeowners sell their smaller property and buy a larger one—the idea being they will come out ahead because the price reduction on the new purchase will be greater than the loss on the sale of the former home.
For example, if prices decline 10% across the board, a house that was formerly valued at $300,000 will fall to $270,000, while one valued at $500,000 will fall to $450,000. That shrinks the price difference from $200,000 to $180,000.
Just be sure to determine how different segments of your market are affected by a price decline, Londerville cautions. "It could be that larger homes are still selling, whereas starter homes are not because new people coming into the market can buy a bigger house than they could before. But as long as both markets are slowing down you can take advantage."
Of course, homeowners looking to move into larger properties have the same advantage as new homebuyers in a cooling market: less competition. "I've got clients who have been looking to move into bigger homes in certain neighbourhoods, but the frenzy of competition has made it almost impossible despite low interest rates," says Jason Heath. "These buyers are no longer going to be in a position where they're dealing with multiple bids."
McKellar warns, however, that those looking to sell their homes and move to a larger property should think carefully. Often, when you consider the costs of moving, your agent's commission, lawyers and so on, it might be more cost-effective to build an addition or renovate.
Polly Chow and Wilson Luk are contemplating an upward move from their two-bedroom condo in Vancouver, which they purchased in June 2011. "We would like the opportunity to upgrade within the next few years if the housing market cools, and we have saved up a down payment," says Chow. They're considering looking at a townhouse or a duplex that could provide a steady rental income to help pay a bigger mortgage. Heath recommends anyone thinking about renting out part of their home or purchasing should keep in mind that any financial rewards will be tempered by the time and energy you devote to your tenants.
Doubling down
It's been 10 years since Dearl and Sharon Alexander's two adult children finished university and moved out their mortgage-free home in the Ottawa suburb of Orleans. Now the couple wants to downsize and they're wondering what to do in the current environment. Should they buy or rent a smaller home or condo? They also wonder whether they should keep their current property and rent it out, which would require repairing the back patio, redoing the kitchen and getting rid of the carpet and linoleum floors. "Is it worth the money and the trouble?" asks Dearl.
If you're in a situation like the Alexanders', your first priority should be doing what's right for your lifestyle, not trying to pick the perfect time to move. "It's very hard to time the market," says Jane Londerville. If couples are committed to selling their homes, they shouldn't hold off for long, she says. If house prices do start to fall, it may be years before they rebound.
Something else homeowners like the Alexanders need to consider is the demographics of their neighbourhood. Is it a bedroom community filled with retirees and empty nesters on the verge of selling? "If there was a potential downsize in my future," says Heath, "I'd rather be one of the first ones out rather than being in a neighbourhood with a lot of downward pressure because lots of boomers are selling. Likewise, homes in certain neighbourhoods that are close to amenities or public transportation can have upward pressure because they're very palatable to baby boomers downsizing. So be cognizant of the neighbourhood you're living in as well as the neighbourhood you want to move to."
Should the Alexanders rent out their current home instead of selling it? Heath says turning larger family homes into an investment property often means maintenance headaches: the lawn, the roof, a pool in the backyard. "Maybe that's not a good rental property because there's so much that can go wrong with it," he says. "Strictly from a rental point of view, the best kind of property is the simplest and easiest. More often than not that's a condo."
When it comes to choosing whether to buy or rent after downsizing, the Alexanders have a lot to think about, too. "There really is no carte blanche answer to that," says Heather Franklin. For instance, if the couple downsizes in a neighbourhood where rents have stayed consistent, they may want to get out of the housing market altogether, she says. At the same time, they may find renting more costly because they are no longer making mortgage payments on their home. As well, downsizers need to be aware they'll likely end up buying a smaller property equal in value to the home they're selling. "For the most part, the people I know who are downsizing are moving into condos that are equally expensive and just have less space. They want the convenience of just walking out the door. So it's not purely financial."
Downsizing and renting is also a smart idea if you're considering moving to a different neighbourhood, says Heath. "Rent for a year or a couple of years and figure out whether that's really where you want to be."
As to whether the Alexanders should drop a bundle on upgrading their current home prior to downsizing, that's something real estate agents typically advise because it makes a house easier to sell, says Heath. Don't, however, expect to get back every dollar you spend. In particular, upgrades to kitchens or bathroom can backfire because new buyers may have different tastes. Generally speaking, if something is falling apart you fix it, says Heath, but think hard about doing anything else.
However you're navigating Canada's housing market—be it as a buyer or seller—take a deep breath if dips or slowdowns are causing you anxiety. "There's a tremendous misunderstanding of the housing market," says McKellar. "It's a long-term market that will always go through short-term adjustments."
It helps to remember your house should primarily be a place to live, not an investment. That doesn't change when a hot market starts to cool. "If people can afford the fundamentals, they'll be fine," says Silverstein. "A balanced market is the best situation: when you have a balance, buyers and sellers should both be happy at the end of the day."