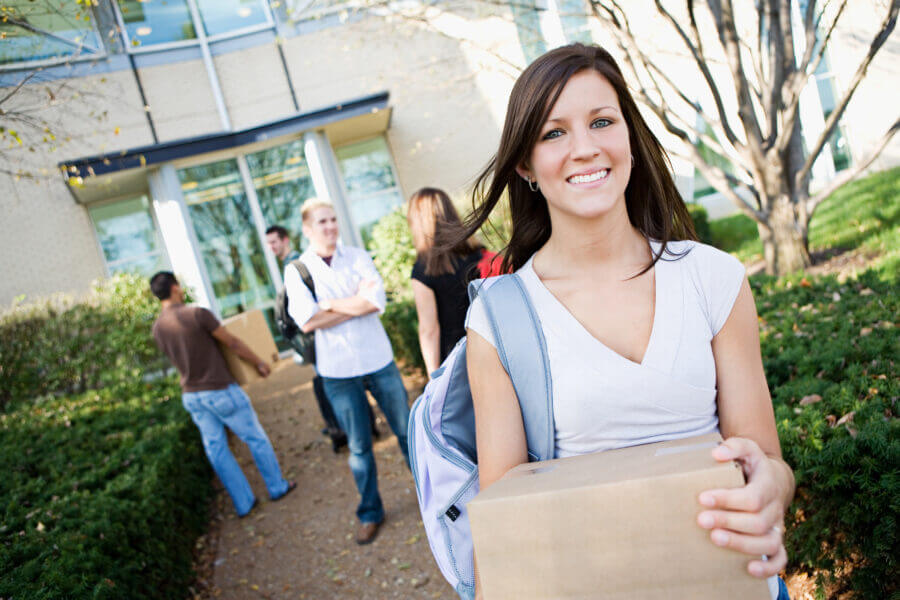 Student living can be expensive, but hopefully not so much so that you have to resort to camping out to make ends meet like the Montreal grad student who grabbed headlines this week for pitching a tent in a woman's backyard.
Many students struggle with the decision to live in residence on campus or find off-campus housing.
You're 2 minutes away from getting the best mortgage rates in Canada
Answer a few quick questions to get a personalized rate quote*
You will be leaving MoneySense. Just close the tab to return.
Living on campus
Living on campus is a popular choice for first-year students starting their time at university. It's often touted as a great way to become immersed in campus life, to make friends, and is a relatively risk-free way to take those first, tentative steps towards independence. Residence prices vary across the country. Depending on which university you attend, living in a campus residence can burn a serious hole in your pocket. At Queen's University in Kingston, Ont., for example, a double room with a mandatory meal plan and other embedded fees would cost you $14,772 for the entire school year on top of tuition fees. Rooming at the University of Winnipeg, in comparison, would cost you around $9,660 total for both fall and winter sessions, which includes a meal plan similar to the one offered at Queen's.
Why sending a child to university is cheaper than you think »

How does it work?
Most residence plans in Canada require students to pay fees upfront at the beginning of the school year or in installments throughout the semesters they're attending. As well, meal plans are mandatory when living in select residences on campus—they can cost more or less than $4,000 per year. Students opting for dorm-style living options also don't need to worry about furnishing their spaces. To avoid incurring extra expenses, students should make sure to first determine whether their meal plans are transferrable to the next year. If they aren't transferrable, it's important to plan to use all food credits, otherwise thousands of dollars can go to waste. At some universities, meal plan credits are eligible to roll over to the next year, and if the student moves out of campus residence, they can receive a gift card to pay for food at university vendors.
On-campus pros:
All-inclusive; students don't have to worry about paying for utilities every month
Closer to classes and other amenities, nixing commuting costs
Mandatory meal plans mean no extensive grocery shopping and can save time
At most universities, items purchased through the meal plan are tax-exempt
Rollover meal plans that remain valid even if the student moves off-campus can be used later
Furnished with the basics, like a bed and desk
On-campus cons:
Residence plans are usually quite rigid; students don't have the flexibility to be frugal on campus
Meal plan cost may exceed what a student would normally spend on food
Mandatory meal plans are not always transferable or refundable; money left over at the end of the school year is lost
Living spaces are often cramped
Living off-campus
Most students choose to live off-campus after their first year of university. However, sometimes first-year students have no choice but to live off-campus when universities lack enough housing. Finding a place in a university town comes with new responsibilities, new roommates, paying for bills and buying groceries. Once again, the price of off-campus living depends on which university the student is attending. An apartment close to the University of Toronto, for example will cost much more than one in Trois-Rivières, Que.
Students: How to save on food costs »

How does it work?
Students usually opt to lease apartments for 12 months with roommates. Depending on the city the student plans to move to, Zach Pajtasz from Places4Students, an off-campus housing resource, recommends determining roommates and starting their search for accommodation anywhere from a few months to a year in advance of the school year. In university towns, student housing is a hot commodity so it's best to act quickly so as not to be left with slim pickings miles away from campus. Students should be prepared for application fees to be paid to landlords, to fork up their first and last month's rent, to pay a security deposit and if applicable, a parking fee. For first-time renters, it's also important to do plenty of research to determine the average monthly rates in the area in order to avoid getting ripped off.
Students should make sure to read their lease carefully if signing for 12 months, says Pajtasz. Subletting is a popular way for students to make back some of the money they're spending for the four summer months of the lease. Students should receive written landlord consent in order to sublet their apartments, as some property-owners may prohibit the practice. If possible, students should try to find an eight-month lease to reduce the hassle and save money.
Off-campus pros:
Can save money by finding cheap rent, groceries
Can share expenses with roommates to lower costs
Off-campus apartments or houses may have more space
Off-campus cons:
Additional utilities costs
Have to purchase furniture
Often must find someone to sublet space during summer
No campus security ensuring the safety of the living space
May have to also pay for commuting costs if discounted or free public transport passes not offered by university
Cost comparison (University of Guelph)
The cost of a double room at University of Guelph's North & South residence area is $6,389 for eight months of classes. The purchase of a meal plan is necessary at this particular residence. The university's most popular meal plan costs $5,355 for the 2019/20 school year. In total, this would cost $11,744 for eight months, excluding extraneous monthly spending.
If four students decided to rent a $1,800 house in Guelph for $450 a month each, with the added utilities and internet cost of $65 per person, $250 a month for groceries, and a $80 monthly bus pass, living off-campus would cost $6,760 for eight months (excluding extra spending), a potential cost savings of $4,984.
Utilities and grocery costs from Numbeo.
What does the * mean?
If a link has an asterisk (*) at the end of it, that means it's an affiliate link and can sometimes result in a payment to MoneySense (owned by Ratehub Inc.) which helps our website stay free to our users. It's important to note that our editorial content will never be impacted by these links. We are committed to looking at all available products in the market, and where a product ranks in our article or whether or not it's included in the first place is never driven by compensation. For more details read our MoneySense Monetization policy.