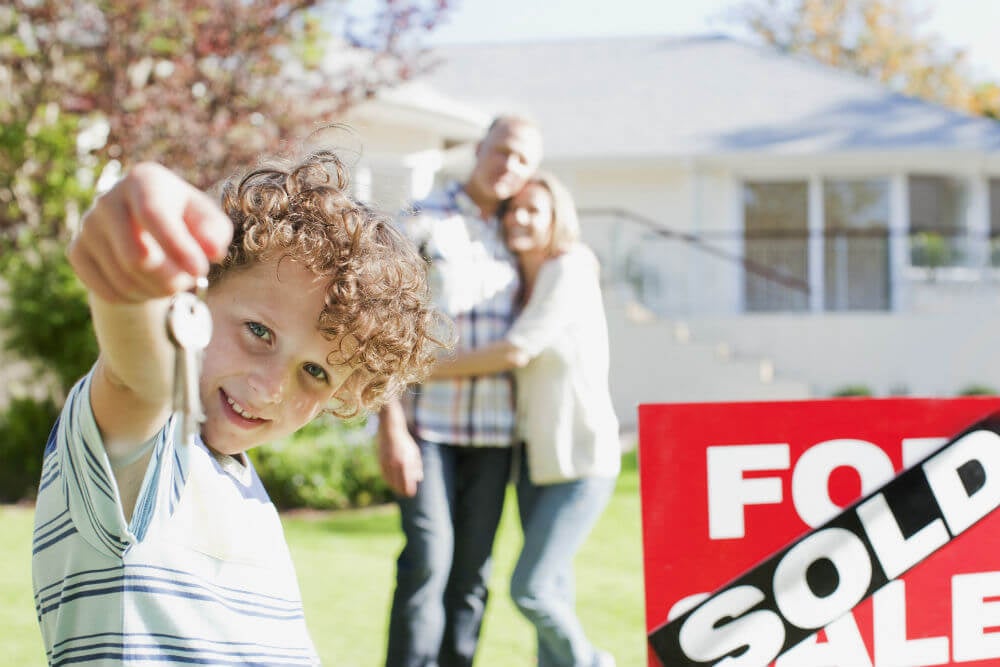 Despite the insistence that real estate needs to be a long-term investment, the average home owner in North America will sell and move every five to seven years. So why are so many home owners moving?
Here are the top 13 reasons why home owners move (and, where applicable, some practical advice on how to avoid a too-soon move):
1) Home is too small
First-time home buyers will state that they've outgrown their "starter" home—often because their family has grown.
The easiest way to avoid this type of move is to consider where you'll be in the next five to 10 years and buy according to those plans. Of course, life isn't always wrapped up in such a neat, orderly fashion, but by buying a larger than needed home, based on future anticipated need, you can avoid the five to seven year moving-itch.
2) Upgrade
The grass is greener on the other side. With HGTV pumping out the real estate porn (hey man, I love that stuff) more and more home owners are now trying to move on and up: focusing on bigger, more expensive and grander homes.
If you can afford a bigger home, then why not! But the problem is when people choose to take on more debt in order to chase their magazine-page-spread dream home, but neglect some of the more important financial pillars, such as an emergency fund, maxing out your retirement savings and enjoying some of that so-called disposable income.
3) Fix a mistake
While it shouldn't happen, there are home owners that buy a house based on an assumption that they can renovate or landscape based on their own personal preference. However, once they start applying for permits they may find out they are quite restricted by zoning and bylaws (or by neighbours, who fight their application for a zoning variance). For these home buyers there's only two choices: Suck it up and live with the restrictions, or sell and move.
An easy way to avoid this costly mistake is to verify with your city's building department whether or not your proposed modifications are within the current zoning bylaws. If you check and find out you can't go ahead with your plans, then you can walk away from the house and find something more suitable.
Still, not all mistakes are due to negligence (not checking with your city's building department should be a requirement for anyone buying a place they want to renovate). Some mistakes occur because you didn't buy a home that suited your needs and desires. For instance, maybe you fell in love with the modern, updated 4-bedroom family home, but overlooked the fact that it doesn't have a formal dining room. Or you may have thought you could use the extra bedroom as both a guest room and an office, only to find out that the arrangement is no longer working. When these types of mistakes happen, the cheapest solution is to find out whether or not a home renovation can solve the problem. If this is not possible, you may be forced to either live with the mistake, or move.
4) Job transfer
Relocation makes it necessary for many to pull up roots and move—and this is particularly true of your moving to another city, province or country.
5) Commuting distance
I've heard people say that any more than a half-hour commute is a waste of time; and I've talked to people that commute two hours one way, every day. The reality is commuting is not just about time spent in transit, it's also the quality of that time. If you're stressed and frustrated everyday during your two to four-hour commute, you may be ready to pack it in and move.
6) Personal relationships
Moving in with a partner or getting married usually means amalgamating two households under one roof. In this day and age, when more and more people marrying well into their thirties, this can also mean that two home owners will be faced with the prospect of deciding and selling one home.
Of course, the reverse is also true. When a relationship breaks up, most owners will be faced with the prospect of how to equally divide the equity in the home. Sometimes that means buying one ex-spouse out, but it can also mean selling the home and splitting the profit.
7) Neighbourhood changes
After moving into a neighborhood you may start to notice a change. Perhaps a new highway extension is being built nearby, or a subway or transit route is being added? When neighbourhoods start to change, some home owners feel compelled to sell and move to an area that better suits them.
8) Time to downsize.
The kids have grown up and moved out and now you want a smaller home. Or perhaps you're retired and you like the idea of moving into an active-adult community. Or perhaps you're tired of home ownership and maintenance and you'd rather spend time travelling or pursuing a hobby. All of these changes will prompt the sale of the family home.
9) To be closer to family
Some people want to be closer to their family and will move to be near relatives. In fact, this is what prompted my husband and I when we moved to the east end of Toronto a few years ago. It used to take 90 minutes or more to drive to my in-laws. Now, it takes 30 minutes (less if we speed). This is great considering our children love their Nana and Grandpa (and, on the rare occasions when we need emergency babysitting, it's a real benefit knowing my family is so close).
10) See family less often
OK. We're lucky. I have an amazing family and I married into an amazing family. But not everyone can say that. Sometimes, the sale of a home is due to a desire to put more distance between the home owners and relatives. Our neighbours did just this. Although they loved their neighbourhood, the wife wasn't thrilled to be living on the same street as her in-laws. "They don't ring or text when they come over," she told me, "they just show up and walk in the door." Although my neighbour only moved a few streets away, it was enough of a distance to stop the unexpected "pop-in" visits (that would send her scrambling for more appropriate attire).
11) Health problems
Physical ailments such as knee or back problems make it difficult for some home owners to continue living in their current house. This is what I could foresee when my mother started shopping for a new home a few years ago. An Irish, farm-girl by heart, my mom wanted a house on a large piece of land. My brother and I said no. (She would not be able to keep the place maintained and we feared for her safety). Her next option was a modern townhome, but after a great deal of nagging (from me) she finally opted for a three-bedroom condo in the heart of Deep Cove in North Vancouver. At first she missed the sprawling luxury of a home. But a recent turn of events (that landed her in the hospital and has her currently using a walker) has made her more appreciative of the condo. There are only three stairs to contend with and the rest is either one-floor living, or accessible by elevator.
12) Deferred maintenance
Some people don't want to put on a new roof, replace the siding, or buy a new furnace, so it's easier to buy a newer home. These home owners bank on moving before having to pay for a major renovation. It's not a strategy I suggest—since a new furnace will set you back $5,000, while the transaction costs, alone, on a $450,000 home, will cost you $30,000.
13) Cash in equity
If you bought your home for $79,000 and now, twenty years later, it's worth $500,000, then it might be a very good idea to sell and capture that equity in the form of cold-hard cash. If you do choose to do this, though, make sure you have a plan for where you'll put your money. Without a plan, you could very easily end up with nothing in the bank in just a few short years.
Read more from Romana King at Home Owner on Facebook »