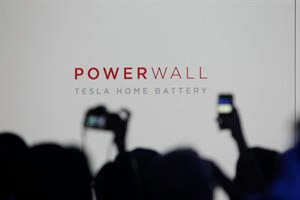 FOSTER CITY, Calif. – Tesla CEO Elon Musk is trying to steer his electric car company's battery technology into homes and businesses as part of an elaborate plan to reshape the power grid with millions of small power plants made of solar panels on roofs and batteries in garages.
Musk announced Tesla's expansion into the home battery market amid a party atmosphere at the company's design studio near Los Angeles International Airport. The festive scene attended by a drink-toting crowd of enthusiasts seemed fitting for a flashy billionaire renowned for pursuing far-out projects. For instance, colonizing Mars is one of Musk's goals at Space X, a rocket maker that he also runs.
Now, he is setting out on another ambitious mission. "Our goal here is to fundamentally change the way the world uses energy," Musk told reporters gathered in Hawthorne, California.
Although Tesla will make the battery called "Powerwall," it will be sold by a variety of other companies. The list of partners includes SolarCity, a solar installer founded by Musk's cousins, Lyndon and Peter Rive. Musk is SolarCity's chairman and largest shareholder.
As with Tesla's electric cars, which start around $70,000, the battery might be too expensive for most consumers. The system will carry a suggested price of $3,000 to $3,500, depending on the desired capacity. That could discourage widespread adoption, especially for a product that may only have limited use.
"I don't believe this product in its first incarnation will be interesting to the average person," conceded Peter Rive, SolarCity's chief technology officer. Rive, though, still expects there to be enough demand to substantially increase the number of batteries in homes.
Musk is so encouraged by the initial demand that he believes Tesla and other future entrants in the market will be able to sell 2 billion battery packs around the world — roughly the same number of vehicles already on roads. Although that may sound like a "super crazy" goal, Musk insisted it "is within the power of humanity to do."
It will take a long time to get there. Tesla hopes to begin shipping a limited number of Powerwall batteries this summer in the U.S. before expanding internationally next year.