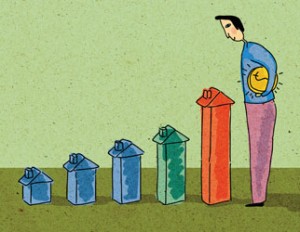 In recent years, homeowners have been feeling pretty smug about their investing prowess as they've watched home prices surge. But the costs homeowners face to buy, sell and maintain their homes mean they haven't made nearly as much as they think.
In this example, we calculated your real profit — after expenses — if you bought a typical home in the Greater Toronto Area 10 years ago, and sold it this year. We assume that it was purchased with a 10% down payment and a 5% fixed-rate mortgage. The home would have cost $248,601 to buy in 2001 and today it would sell for a hefty $456,147.
So does that mean you made $200,000? Not even close.
2011 sale price: $456,147
Subtract:
• $168,434 for the amount still owing on the mortgage;
• $4,000 for legal fees to buy and sell;
• $22,807 in realtor fees for the sale;
• $159,265 for 10 years of mortgage payments ($1,327 per month for 10 years);
• $42,000 for 10 years of property taxes;
• $19,000 for 10 years of home maintenance;
• $2,211 for the land transfer tax when the home was bought;
• $24,860 for the original down payment; and
• $358 in provincial sales tax on the mortgage insurance.
Actual profit: $13,212
Plus, you got a place to live for the last 10 years, of course.