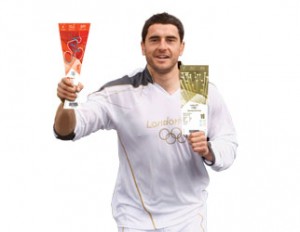 Is the hype about the London Olympics making you wish you could see them yourself? It's not too late. I decided to go on a crazy adventure to the Winter Olympics in Salt Lake City after the cauldron was lit, and it was the trip of a lifetime. Here's how you can make it to the Games without spending your life savings in the notoriously pricey British Isles.
You can still snag a flight to London for about $1,100 return from Toronto. If prices start to heat up then look into flights to cities like Glasgow. From there you can hop on a budget flight or rent a car and boot it across the Scottish Lowlands—the seven-hour trek will only add to the fun.
In London, look for cheap lodging in a hostel or a university dorm. If that fails, pitch a tent—some Londoners are opening up their back gardens for as little as £8 ($12.80) a night.
Tickets are still available through resellers, but you don't need a ticket to enjoy the games. Events like the marathon, triathlon and road cycling are free. Big screens and free concerts in Hyde Park will keep the party going. Many countries have national houses that are open to the public and will give you your best shot at getting close to the athletes. So pack your bag, bring a flag and head off for an adventure you'll never forget.