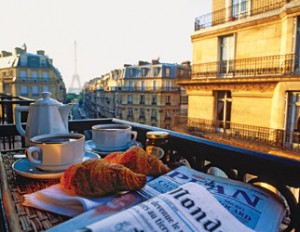 Decadent dining, champagne soirées and souvenir shopping at Louis Vuitton: Springtime in Paris can seem as costly as a room full of Louvre masterpieces. But Gallic romance doesn't have to come with a Mona Lisa price tag. Stretching your budget in La Ville Lumière is as easy as finding fresh croissants — especially with our Euro-bullying dollar rising like an auction day Monet (as of June 16, $1 bought you 0.70 Euros).
But before you embark on your Monsieur Hulot's Holiday, you'll need to nail a reasonably priced flight. At time of writing, Air Transat's direct Toronto to Charles de Gaulle mid-April service was around $633 return (including taxes)—but seats were filling up fast. Other options from www.expedia.ca and www.travelocity.ca include direct Delta, Air France and Air Canada flights for around $900 return (including taxes), with one-stop services up to $100 less.
Sign-up for Transat's e-newsletter for last-minute deals — sometimes up to $200 cheaper — or add Paris as a good-value side trip from another Euro capital: EasyJet jaunts from London Luton are around $125 return. Alternatively, avoid the airports with a two-hour Eurostar train trip from London St. Pancras to Gare du Nord. Return fares are from $200, with best prices for early booking.
Next, you'll need a Parisian pad. Reserving ahead is essential for even the most modest Paris pensions, but rather than blowing your escargot budget on a humdrum sleepover, consider booking a furnished apartment via services like Paris Attitude or the agencies listed on the Paris Convention and Visitors Bureau website (See "Top value sleepovers" at the bottom of the page). Typically from around $800 per week, you'll feel like part of the neighbourhood … and save a bundle on dining out.
Alternatively, small hotels stud the city like a fruit-packed pain aux raisins. Recommendations include the friendly New Orient Hôtel (from $95) and the swish boutique Le Fabe Hôtel (from $150). Euro budget chain Ibis has several Paris properties from around $135 — their two city centre locations are recommended. Hôtel Eldorado (from $100) is a shabby-chic favourite near Montmartre.
This charming, café-lined neighbourhood is a tourist magnet but don't spend all your time here. Compact Paris is eminently walkable, with the Eiffel Tower, Notre Dame and Arc de Triomphe et al a short stroll or metro hop away. With a Paris Visite Metro Pass (from $17.50) you can surf the sights in comfort. But if you're not a map-reader, consider booking a free volunteer guide to show you around.
Save even more with a little local savvy. On the first Sunday of every month, national museums like the Louvre and Musée d'Orsay provide free entry. And with city-run attractions like Maison de Victor Hugo always free, you might not even need the handy Paris Museum Pass (from $46). Finally, if you're craving a theatrical fix, hit the Kiosque Théâtre near Montparnasse-Bienvenüe metro station for reduced tickets to shows around the city.
Parisians treat dining-out as a raison d'être but watch out: there are plenty of tourist traps seemingly keen to disappoint. As breakfast is often an espresso and pastries afterthought and dinner can be long and overblown, lunch is the meal to focus on here. Plat du jour or two-course formule menus are often a great midday value, providing bistro meals for $15 to $30, with table wine that's often cheaper than Perrier. Service charges are added automatically, so don't double tip.
My favourites include the pink-painted La Maison Rose, in a surprisingly quiet corner of Montmartre, and Restaurant Polidor, a classic bistro where Hemingway once mused. For looks, wood-lined Chartier is also popular, while branches of Chez Papa specialize in well-priced regional dishes like magret de canard. But if you're really craving a taste of France, hit a market like Marché Richard-Lenoir for picnic-inspiring cheese, charcuterie and mouthwatering breads. Take your time and treat the market like a leisurely, strollable buffet. It's the perfect way to immerse yourself in Parisian joie de vivre.