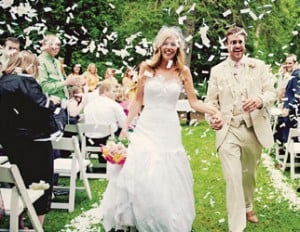 If there's one takeaway message from last month's royal nuptials, it's that there's no point in competing when it comes to weddings: someone, somewhere, can always do it bigger and better than you.
Just as there's no point in competing with Prince William and Kate Middleton, it's equally pointless to face off against your sister, or cousin, or best friend, or fiercest rival from high school. Yet the urge for one-upmanship — or at least keeping-upmanship — remains a driving force in the wedding biz. A bigger hall. A fancier dinner. A more expensive bridal gown. A more expansive guest list. The average urban wedding in Canada now runs about $35,000 and rising. Where does it end? The poorhouse, predictably.
It doesn't have to be that way. There are a variety of tricks and tips that can help you keep costs down, without sacrificing quality.
When I finally popped the question to my Waitie Katie, circa 1997, we vowed to get married without going into debt, much less breaking the bank. And we did, in part by getting hands-on and creative, and in part by breaking a few time-honoured rules. Was it perfect? Probably not. Was it a magical night to remember? Most definitely. The key is to plan well, stick to your budget, and above all, be true to yourself.
The guest list
Probably the easiest way to cut down on wedding expenses is to pare back on the guest list, says wedding planner Lynn Lee of Weddings Unveiled. "Invite only those who must be a part of your day." Because most couples these days pay for their own wedding, they don't have to succumb to parental pressure when it comes to the list. "If parents insist on certain people being invited, they can pick up the tab for those extra place settings."
While you're at it, try cutting back on the size of the wedding party, too. "More and more weddings feature only two or three attendants, instead of the traditional eight or 10," says Lee. "Large wedding parties have built-in costs in terms of corsages, transportation, meals, and even the dresses."
When the time came to figure out who to invite to our wedding, Cathe and I opted for a modest list of about 60 friends and relatives. And yes, it was hard to decide who to include and exclude, but for anyone looking to stick to a budget, those decisions have to be made: heck, even poor Fergie was left out of the William and Kate wedding — though it's doubtful that money was the issue.
The venue
This, of course, is the big-ticket item, typically accounting for half the cost of the average wedding. At the Chateau Laurier, the ne plus ultra of wedding venues in Ottawa, a package complete with four-course meal, cocktails, wine and open bar averages $179 per head, or almost $22,000 for a 120-person guest list. "Think about that," suggests wedding planner Liz Bourguignon of Ottawa-based Bridal Solutions. "How many of your guests are heavy drinkers and are going to be pounding them back? If most of your guests are going to restrict themselves to a couple glasses of wine, it doesn't make sense to splurge on an all-inclusive package. Better to go à la carte."
Moving the wedding to the suburbs or rural communities can also save substantial sums, says Lee. "There are beautiful locations in smaller towns like Perth, where you can get a four-course meal for $60 a head instead of the $90 it would cost you in downtown Ottawa." Same with Toronto or any major Canadian city: Leaving the downtown core can save you big bucks. The problem is that you may have to arrange for people to stay overnight. "If there aren't suitable accommodations you have a bit of a problem, because you can't expect people to drive an hour or more back to the city in the wee hours of the morning."
In our case, my bride and I came up with a unique solution: we would have our wedding in the heart of Ottawa — and spend hardly anything — by holding it outdoors in a charming, cobblestone courtyard in the historic Byward Market. For the reception, we'd take over one of the restaurants that encircled the courtyard: Major's Brew House.
There were huge financial advantages to this arrangement. For starters, we could have the wedding and reception in the same place, saving the cost of booking a second venue. And because the restaurant wasn't in the wedding business — in fact it had never hosted a wedding before — the typical mark-up that attends all things matrimonial didn't apply. Best of all, the venue spoke to who we were, Cathe being a city planner with a lifelong love of Ottawa's urban spaces, and I — well, did I mention the reception was in a brew house?
The food
Don't skimp on the food," advises Lynn Lee. "The two things people will remember are the food and the company, so if you're going to cut back on expenses, try to cut back on things other than the meal."
Okay, I'll admit it, we skimped. Not entirely: we had a pre-wedding sit-down dinner for our extended families the day before the wedding — but then that was paid for by the bride's parents. For the wedding itself, we served a late buffet of hors d'oeuvres, sliced meats and crudités, all created on-site by the restaurant's excellent chef, and at a fraction of the cost of a sit-down dinner. And by fraction I mean the entire food budget came to maybe $500, with everyone getting fed and lots left over. We brought our own champagne, had the restaurant pour modestly priced wines, and for suds fans — did I mention the reception was in a brew house?
The flowers
"You don't have to go crazy with the flowers," says Bourguignon. "I know people who've spent $10,000 to $15,000 on flowers, and you know what? They're dead in three days."
That said, the centrepieces are important. "I wouldn't recommend doing the centrepieces yourself," Lee says. "Your guests are going to be sitting at the table for 80% of the reception, and I've seen a lot of DIY centrepieces that really didn't look great."
Well, we did do the flowers and centrepieces ourselves, and I think they turned out beautifully. My bride purchased everything from the Byward Market flower stands and they were arranged by a couple of her artistic girlfriends. The savings must have been in the hundreds, if not thousands of dollars.
The entertainment
If there's one area where weddings tend to fall down, it's the entertainment. Specifically, the DJ. "The temptation is to go with a cut-rate DJ, and unfortunately, there's usually a reason he's cut-rate. Worse yet is trying to handle the entertainment yourself by downloading music onto an iPod. A good DJ can gauge the mood of a room and keep everyone happy and dancing."
"Ugh, the iPod thing," groans Bourguignon with a shudder. "I remember one party where the bride and groom had downloaded a bunch of songs, and then rented a sound system to plug the iPod into. Except that no one could get the two systems to work together. It just kept playing 'It's Raining Men' over and over again."
Once again, guilty as charged. The iPod wasn't even a gleam in Steve Jobs' eye back in '97, so we made mixed cassettes, heavy on the Van Morrison and Brian Ferry. Maybe it wasn't ideal. But on the other hand, a brew pub isn't a dance hall, our wedding featured music we liked, and we saved another thousand bucks.
The photography
"You can easily spend $6,000 on a professional photographer, or you can have a relative or a friend who's handy with a camera shoot the wedding," says Bourguignon. "As with everything else, it's better to have the professionals involved, but it comes down to figuring out where you're going to allocate your limited funds."
Adds Lee: "When it comes to videotape, unless you're intent on having a real production, that's probably something you can handle through a friend or relative."
Well, let's see. We had a professional shoot our nuptials — but because he was a friend, he made it his wedding present. And we had a relative videotape the ceremony — but because he practiced on the family dog beforehand, his battery ran out before we could say our vows. So, yeah, you get what you pay for.
The small stuff
"When you're trying to stick to a budget, keep an eye on the small stuff," says Bourguignon. "Even things like invitations, postage and little gifts for the guests can add up."
Says Lee: "Stationery, place cards, invitations, a lot of that you can do yourself."
Finally the ladies are speaking my language. We did all our own invitations, featuring impressions of autumn leaves in gold ink. It's time consuming and takes a bit of energy and initiative, but it's also creative, fun, and something you can do together. We decided to give pairs of hand-dipped, artisan candles for our guest gifts.
To make them special we were going to wrap each pair in a real maple leaf. So a couple weeks before the wedding, we headed for the Gatineau Hills in search of leaves to wax and press with an iron. On the drive home, it grew dark, and suddenly the sky lit up with the most amazing display of northern lights, a shimmering cathedral of white directly above our car. We pulled to the side of the road, lay on the warm hood of the car, and took it all in. It didn't cost a thing. It wasn't for sale. And we wouldn't have had it if we hadn't spent the day holding hands, gathering leaves, and working toward our life together.