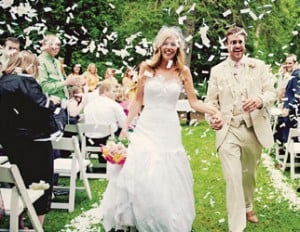 If there's one takeaway message from last month's royal nuptials, it's that there's no point in competing when it comes to weddings: someone, somewhere, can always do it bigger and better than you.
Just as there's no point in competing with Prince William and Kate Middleton, it's equally pointless to face off against your sister, or cousin, or best friend, or fiercest rival from high school. Yet the urge for one-upmanship — or at least keeping-upmanship — remains a driving force in the wedding biz. A bigger hall. A fancier dinner. A more expensive bridal gown. A more expansive guest list. The average urban wedding in Canada now runs about $35,000 and rising. Where does it end? The poorhouse, predictably.
It doesn't have to be that way. There are a variety of tricks and tips that can help you keep costs down, without sacrificing quality.
When I finally popped the question to my Waitie Katie, circa 1997, we vowed to get married without going into debt, much less breaking the bank. And we did, in part by getting hands-on and creative, and in part by breaking a few time-honoured rules. Was it perfect? Probably not. Was it a magical night to remember? Most definitely. The key is to plan well, stick to your budget, and above all, be true to yourself.
The guest list
Probably the easiest way to cut down on wedding expenses is to pare back on the guest list, says wedding planner Lynn Lee of Weddings Unveiled. "Invite only those who must be a part of your day." Because most couples these days pay for their own wedding, they don't have to succumb to parental pressure when it comes to the list. "If parents insist on certain people being invited, they can pick up the tab for those extra place settings."
While you're at it, try cutting back on the size of the wedding party, too. "More and more weddings feature only two or three attendants, instead of the traditional eight or 10," says Lee. "Large wedding parties have built-in costs in terms of corsages, transportation, meals, and even the dresses."
When the time came to figure out who to invite to our wedding, Cathe and I opted for a modest list of about 60 friends and relatives. And yes, it was hard to decide who to include and exclude, but for anyone looking to stick to a budget, those decisions have to be made: heck, even poor Fergie was left out of the William and Kate wedding — though it's doubtful that money was the issue.