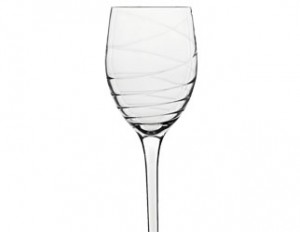 You don't have to be a sommelier to know that the look and feel of your wine glass affects how you drink it. With the popularity of overly simplified (even stemless) varieties, are we lessening the overall sensory experience?
The best-known name in crystal stemware is Waterford, established in 1783 and named after the oldest city in Ireland. It's recognized worldwide by its signature seahorse emblem and ornate designs.
Waterford's Ballet Ribbon Essence, available at Royal Doulton, has a refreshingly contemporary bulb pattern perched atop a delicate lengthened stem. The ribbon etching, inlaid in lead crystal, elegantly circles the wine inside without overpowering it with flourish. But even if you can afford the $480 for a set of four, you might not have any cash left to fill them up with fermentations.
Enter Italian glassmaker Luigi Bormioli. Established in 1947 in Parma, halfway between Bologna and Milan, the company's lead-free glassware is laser-cut and less fragile than crystal. The Romantica Sparkx series closely resembles the Waterford Ballet Ribbon Essence, and is a steal at $32.99 for a set of four at Bed, Bath and Beyond. It's guaranteed for 25 years not to chip or discolour, even when placed in the dishwasher, and the elongated stem is reinforced with titanium. With the money you've saved on this knock-off, you'll have plenty left over to top up your wine collection.