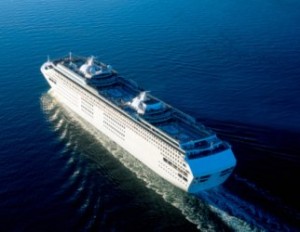 Among the dozens of cruise ships catering to ocean-going hedonists, the Royal Caribbean's newest vessel, the Oasis of the Seas, stands out. Lit­erally. Nearly a quarter mile in length and 20 storeys high, it's like a downtown city block gliding across the water. Forget shuffleboard, this ship comes with its own park and ice rink. And if for some reason the ocean air (or perhaps the cocktails) inspire the Edmund Hillary within you, the Oasis of the Seas has not one, but two climbing walls to attack.
These are awesome amenities, indeed, but it takes more than flowrider surfing pools, an aquatheatre, an onboard golf course and a faux boardwalk to make your cruise perfect (although all of this certainly could help). You also need to get your cruise for a good price, avoid getting seasick and make absolutely sure you're not left behind at a port of call.
To that end we checked in with a few veteran cruisers for advice. We asked them to reveal their most savvy tips for making sure your next cruise is smooth sailing, from start to finish.
Get the best deal
Wayne Carle, a 46-year-old civil servant, has embarked on a total of 16 cruises in as many years with his wife Tammy. One thing he avoids when booking a cruise is travel agents. They offer few ad­vantages over do-it-yourself bookings. Wayne prefers to use the CruiseCompete.com website. Just enter the ship and type of room you want, and it automatically delivers quotes from a variety of tour operators.
You'll be surprised at how much prices vary between oper­ators. That's because some have more booking power with a particular cruise line than others, says Wayne. Don't assume you have to book last-minute to land the best deals, either. There are excellent bargains to be had for cruises as far out as a year from now. Once he books, though, Wayne doesn't forget about his holiday until it's time to ship off. If prices fall between the time of booking and the time of sailing, he gets in touch with the tour operator and usually gets his payment adjusted accordingly.
Booking the cruise itself, of course, is only half the battle. "You still have to get to the water," says Donald Mellon, a 47-year-old financial services representative who's about to set sail on his fifth cruise, together with his wife Tammy. "Cruises can depart from anywhere—Long Beach, Tampa, San Juan, even Quebec City—so we research and book our cruises online a year or so in advance, and then start looking for deals on airfare. That's often where the real savings are."
The company of strangers
You can't choose who you're going to be spending a week or two sailing with, but you can select a cruise geared toward your age group and predilections. "We're retired, so we don't want a cruise filled with kids," says Vancouver-based Rosella Lauden, who's been on a dozen voyages with her husband Bob. To that end, Rosella prefers booking with companies like Holland America, Celebrity and Royal Caribbean, which offer more adult cruises. Carnival and Disney tend to cater to young couples and families.
Another way to avoid being overrun by gaggles of kids is to look for newly opened destinations. "Seniors tend to gravitate to new routes, so if a new route's opened up, say Panama or Costa Rica, we've discovered that 75% of the passengers will be over the age of 65," Wayne says. Then, a couple years later, the same route is servicing a much younger crowd."
Maximize your sunsets
Seasoned cruisers recommend getting a room with an open-air balcony. "It costs a few hundred dollars more "but there's nothing like having breakfast delivered to your room and eating it out on the balcony, then spending an hour or two reading and relaxing in the fresh air," says Rosella.
To avoid sea sickness, the Laudens and Mellons both say they try to book rooms in the middle of the boat, where the rocking from the waves is minimized. The Mellons furthermore try to book rooms on the port side of the ship, so they get the view of approaching islands and landfall as the ship prepares to dock at each new destination. The Carles have yet another trick up their sleeve: to maximize the number of sunsets they get to see from their cabin, they figure out which way the ship will predominantly be sailing and book the side most often facing west.
The problem with ports
What other kind of vacation lets you visit seven different countries and experience seven different cultures in a week? But too many ports of call can be too much of a good thing, says Wayne. "It can become exhausting." He prefers to book cruises with at least a day of sailing between ports.
Then again, no one forces you to get off the ship when it docks. While your shipmates go exploring, feel free to relax on board.
The best way to day trip
If you do decide to go exploring ashore, make sure you plan ahead. Before setting sail, the Mellons always go online and research each port of call, then book the excursions that interest them. You can book through the ship, Tammy says, but it's cheaper to do it direct. "When the ship docks there's someone waiting to greet you and guide you to whatever you're interested in seeing, whether it's ruins, or caves or shopping."
The real danger is not booking in advance at all. In that case, expect to be "bombarded with people trying to pull you into their car to take you places, and you might not end up with a reputable guide," Tammy says. "You might even miss getting back on board the ship before it sets sail again. It's surprisingly easy to do."
Avoid tables of four
If there's one thing seasoned cruisers agree upon, it's that the food is universally excellent on a cruise. "It's similar to what you'd get at an upscale steak house," says Wayne. Most ships have a number of specialty restaurants which have to be booked in advance, as well as a buffet and a large sit-down dining hall, neither of which require nightly reservations. Even here, however, there are tips that will make your cruise more enjoyable:
For a more personal experi­ence, let the staff know in advance what time you're going to be coming in to dine. They'll be able to give you the same table, if you like, and even provide the same waiter or waitress each night.
If you're a couple, avoid tables of four. "You're going to be seated with a single person or another couple, says Rosella. "If the conversation lags, it can make for a long dinner." On nights you're feeling gregarious, head to a larger table that seats three to four other couples. Naturally, for a romantic dinner, an intimate table for two always is best.When not to see the doctor
While neither the Laudens nor the Carles say they worry about getting sick on cruises—"I can get sick at home," says Wayne—the Mellons say they make sure they get appropriate vaccinations against tropical diseases before embarking on any southern cruise. As for more common illnesses such as colds or flu, Donald says make sure you're "good and sick" before going to see the ship's doctor. Not only is there a fee, the doctor might have you quarantined in your cabin for a couple of days until you recover. "You could end up missing half the cruise," he says.

Want to know more about cruising? Read about the world's largest cruise ship.