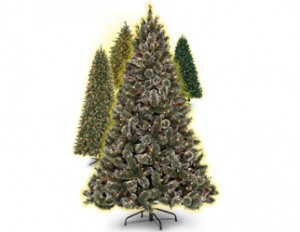 There's something to be said for the artificial Christmas tree. It's cost-effective: as much as $400 cheaper than real trees over 10 years. It's also cleaner: no needles to gather up, no water reservoir that leaks or spills all over the presents. And it's less of a hazard: most artificial trees are fire-resistant, whereas real trees dry out, making them more likely to burn.
There are plenty of characteristics you need to consider if you're on the hunt for faux festive foliage. For starters, purchase a tree with a long warranty, since you'll want to use it for many years. Also, go with a pre-lit tree so you can skip the annual untangling-of-the-blessed-lights ritual (80 to 100 lights per foot is ideal to avoid that sparsely lit look). Finally, be sure to go with a high tip count (1,500 is an ideal starting point), so that your tree will have a full, healthy and realistic appearance.
We researched four artificial trees available from four Canadian retailers, searching for the best combination of price, quality and durability. Read on to find out which one deserves to deck your hall and which ones get a lump of coal.
Martha Stewart Living
Pre-Lit Sparkling Pine Tree
Home Depot ($289)
This may have the lowest price, but it doesn't have the fewest features. In fact, this ample tree (7.5 ft. high and 5 ft. wide) is the only one with a foot-pedal light switch, giving it an edge in convenience. It has 750 clear lights, which is just the right number for a well-lit tree (100 lights per foot).
It also has the longest warranty: five years on the tree and two years on the lights. With 1,357 tips, it doesn't appear as robust as some of the others, and the white-tipped pinecones and glitter-tipped branches might make the tree a bit dated. But given the low price, you may be able to justify replacing it more quickly.
Whole Home Noel
Convertible Pre-Lit Innsbrook Pine
Sears ($500)
"Convertible" in this case means the tree can be extended from 7.5 ft. to 9 ft., meaning it's particularly suited to people who may move houses in the next few years and want something that would look good in small or large spaces.