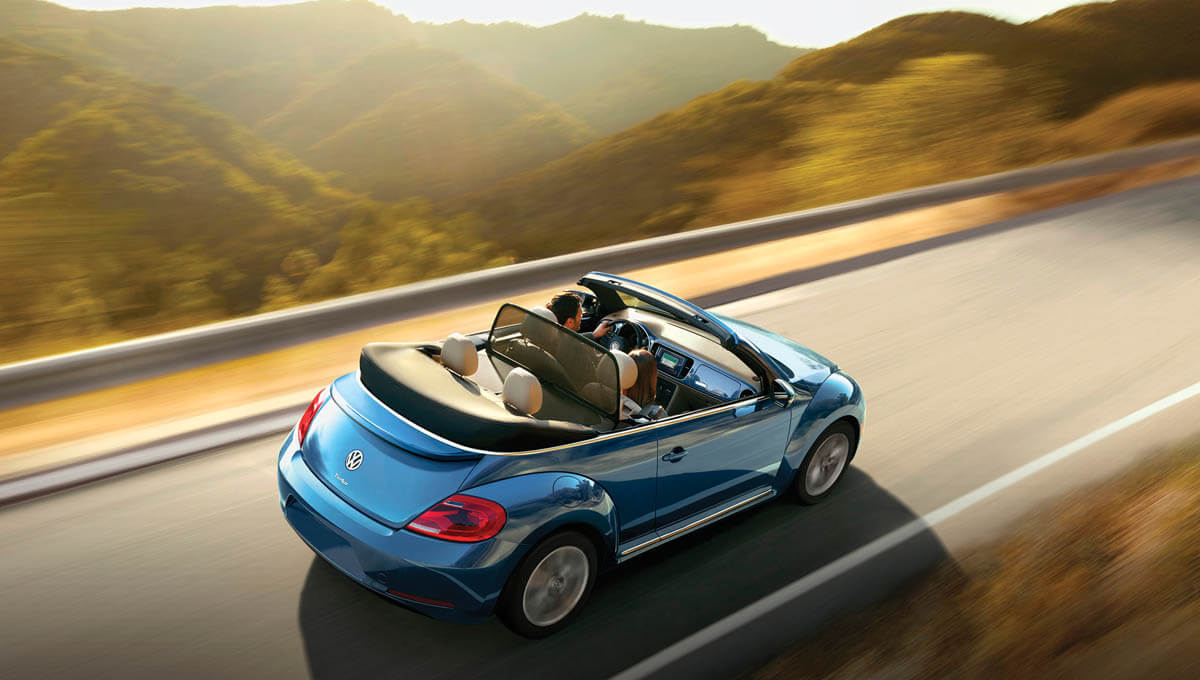 Sure, summer is short here in Canada and the practicality of buying a convertible can be a difficult argument to win with your significant other. However, put common sense aside and few will dispute that nothing says carefree quite like a top-down drive with the wind in your face and nowhere better to be. But convertible cars carry a steeper price—at least that's the popular perception. To dispel that myth, our experts pull back the curtain on five affordable drop tops that provide warm weather fun without the premium price tag.
Best deal!: Volkswagen Beetle
$26,850–$30,550
This little bug is surprisingly big on space and actually offers the roomiest cabin of our five picks, even in the backseat. Trunk space is another matter, but that's to be expected with a back end that is so rounded. Still, most Beetle buyers are more concerned with looks than luggage capacity. "It's iconic and even with the more aggressive-looking front end this car still looks cute as a button," says Nika Rolczewski. The current design has been around since 2012 and features a sound-dampening multilayered soft top that folds easily behind the rear seat rather than into the trunk. The only available engine is VW's 1.8-litre turbo-charged, four-cylinder, but Ron Corbett says the engine is smooth and strong. Ride and handling are not quite sporty but more than adequate for most drivers.
2nd: Smart Fortwo
$22,392–$29,990
The all-new hard-top model is available now, but you'll have to wait until the new model year for the drop-top version. If you're super keen, you might find dealers selling off the previous model but Jil McIntosh advises holding off: "The new Smart is a considerable improvement over the old one, especially with its smooth-shifting automated transmission." There's no backseat, but cabin space is better than expected, even for taller adults. Fuel efficiency is good, too—which is handy since you'll be paying more for premium fuel.
3rd: Fiat 500 Cabrio
$24,790–$29,290
Like the Smart, the 500 Cabrio is considered a "transformable" with a fabric top that glides backwards while the doors and roofline remain intact. Despite this modest design addition, the price jumps by as much as $4,000 compared to the standard hard top. Still, the Fiat "oozes Italian charm," says Petrina Gentile. You can lower the soft top completely or partially for a sunroof effect. Under the hood, a non-turbo, 1.4-litre engine does what it can, but Corbett says it "lacks the crisp handling of Fiats past."
4th: Mini Cooper
$27,990–$39,740
Nostalgia, go-kart handling and an easy-to-use soft top make the Mini a real contender for our experts. "Nothing else gets close to its razor-sharp steering response until you get into cars with triple-digit price tags," says McIntosh. Like the hard-top version, this Mini delivers big fun for drivers and has good space up front despite its diminutive size. Rear seating, however, is awkward and cramped especially when the roof is up. Keep in mind, the optional roof adds a $6,500 premium to the price tag.
5th: Jeep Wrangler
$25,695–$42,690
Sure, it's the roughest riding car in our group, but it's the only one you would want to take down a punishing logging road. Only the two-door model can be bought for less than $30,000 and the four-door models get pricey very quickly. Available with a hard or soft top (or both), taking in the sun requires a fair amount of physical labour either way. Wind noise and a thirsty V6 engine are also considerations, but as Tim Dimopoulos notes, its "off-road prowess is second to none, and it has a very good retained value."