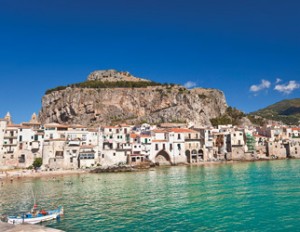 With winter creeping up on us like a pantomime ghost, a dolce vita escape to southern Italy is as tempting as a Vespa ride on a sun-baked coastal road. Far from summer's maddening crowds, Sicily—think white-sand beaches, animated street markets and the romantic grandeur of ancient palaces—is especially seductive, and not just because the euro is currently flatter than a steamrollered pizza.
But before topping up your tan on the Mediterranean's largest island—where seasonal temperatures average 20°C—you'll need to find flights without a Ferrari price tag. Mid-November's Alitalia services from Toronto to Palermo (via Rome) start at $1,020 return (taxes included) on www.kayak.com. Alternatively, fly Air Canada to Rome ($1,218) for your main destination and take a weekend side jaunt to Palermo (70-minute EasyJet flights start from $58 return).
Train buffs may prefer a longer jaunt: from Rome's Termini station, the unique 11-hour boat-train to Palermo Centrale trundles right on to the ferry before winding east though the island's farm-studded olive groves (seat from $48 return; sleeper cabin from $123 return; www.trenitalia.com).
The Sicilian capital, Palermo is a portside cornucopia of antique architecture and Baroque palazzi wrapped in a bustling, traffic-crazed city. If you're flying, avoid the rip-off $60 taxi fare from the airport to downtown and take a 40-minute Prestia e Comandè shuttle bus instead ($8 each way; www.prestiaecomande.it).
Aim for an old-town sleepover near the Quattro Canti intersection and you'll soon be nosing around labyrinthine cobbled side streets. Budget-wise, unpack at charming Bed and Breakfast Novocento (doubles from $63) or the more contemporary B&B Serpotta ($75). Good mid-rangers include San Francesco B&B ($113) and Hotel Palazzo Sitano ($109).
Once settled in Palermo, stroll to must-see freebies like the gigantic Fontana Pretoria fountain and the jaw-dropping Arab-influenced medieval cathedral. And if you only have time for one market, hit the renowned Mercato di Ballarò. But don't hire a car—Palermitans treat driving as a contact sport and hotels charge up to $25 for overnight parking. Just go local on the city's vast transit system.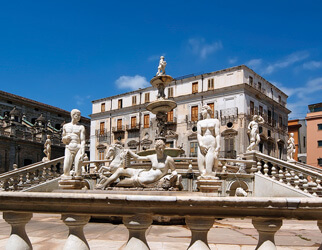 A $4.50 day pass (purchased from tobacconist shops) offers a surfeit of budget-friendly excursions: hop on bus 327 for the macabre Catacombe dei Cappuccini; bus 806 for medieval seaside town Mondello; or bus 157 for a scenic 90-minute trundle to Corleone. Sicily is the mafia's historic home and while this spot gave its name to the The Godfather family, a visit to the town's Museo Anti-Mafia is a sobering reminder of "the family's" bloodthirsty existence.
Cheer yourself up by returning downtown. November's Festival di Morgana is a three-week-long celebration of entrancing marionette performances (tickets from $19; www.museomarionettepalermo.it). While artists of a different kind—no strings attached—perform for the city's Serie A soccer team. Avoid scalpers and dodgy websites by buying direct from Stadio Renzo Barbera's box office a few days before the game (tickets from $25).
After all that action, join bacchanalian locals for a penny-wise street food crawl—don't miss the near-legendary chickpea patties and deep-fried fish snacks at the sprawling Vucciria area market. Then, loosen your belt and check out the vendors at Piazza Caracciolo for grilled sausages and toasted nougat.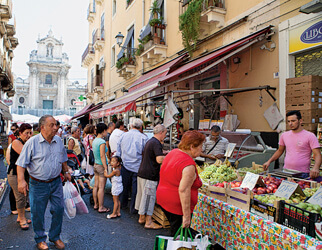 If you're still hungry, it's trattoria time. The best joints—where olive-oil-drizzled pasta and fresh seafood dishes are typically under $10—include the good-value Trattoria ai Cascinari and Trattoria Basile. For a perfect pizza alternative, belly up to art-lined Frida Pizzeria. But for a romantic candlelit affair, aim for a long table perch and a lingering late-night dinner at the brick-ceilinged Gagini Restaurant.
End the evening with a glass of sweet Marsala wine—and be sure to toast your shivering, fleece-wrapped friends back home.
SICILY FOR LESS
Two sample budgets for two
7 days for $5,000
Return Air Canada airfare (TORONTO-ROME): $2,256; return night train cabin (Rome-Palermo): $246
Double room, 6 nights: $750 (Astro Suite Hotel)
Food & drink: $1,500
Attractions & Transport: $158 (includes airport transfers, eight one-day transit passes, two Festival di Morgana shows and two soccer tickets)
7 days for $3,500
Return Alitalia airfare (Toronto-Rome-Palermo): $2,040
double room, 6 nights: $378 (Bed and Breakfast Novocento)
Food & drink: $1,000
Transport: $70 (includes airport transfers and eight one-day transit passes)
Top value dining
Trattoria ai Cascinari
(Via D'Ossuna 43-45)
Trattoria Basile
(Via Bara all'Olivella 76)
Frida Pizzeria
Top value sleepovers
Bed and Breakfast Novocento
(www.bed-breakfast-palermo.com)
San Francesco B&B
B&B Serpotta
(www.bb10serpotta.com)
Hotel Palazzo Sitano