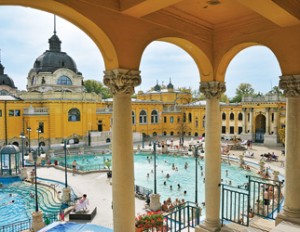 Europe calls to Canadians every summer with its culture-rich castellated capitals and spectacular museums studded with Picassos and Van Goghs. But while our buoyant dollar makes visiting enticingly accessible, not every city is created equal when it comes to budgeting.
For cost-conscious couples, here's a comparison of week-long stays at major Euro destinations. Each price takes into account mid-June ?ight departures from Toronto (taxes included), boutique hotel recommendations and the "fun" factor (food and entertainment costs)—plus reasons why you should make the trip this year. Our best value picks will save you thousands.
Barcelona | (1 wk. for 2) $4,796
Air $2,078 (American Airlines) / Hotel $1,218/ Fun $1,500
Best sleep: Hotel Praktik Rambla (doubles from $175; hotelpraktikrambla.com)
Best eats: Restaurant Montiel (tasting menu from $50; grupmontiel.com)
Why now? The Picasso Museum marks its 50th anniversary in 2013 with three special exhibitions, while the cathedral-like Museu Nacional d'Art de Catalunya is showcasing the work of 19th-century painter Marià Fortuny this summer.
Hidden gem:  Motorcycle sidecar city tours: go for the Catalan architecture outing for a Gaudí good time (ridebrightside.com).
Budapest | (1 wk. for 2) $3,891 01
Air $1,780 (Finnair) / Hotel $861 / Fun $1,250
Best sleep: Bohem Art Hotel (doubles from $135, breakfast included; bohemarthotel.hu)
Best eats: Borkonyha Wine Kitchen (mains from $12; borkonyha.hu)
Why now? Currently one of Europe's best value historic capitals, there's everything here from church-lined medieval streets to a hulking castle (with underground tours). Immerse yourself in a public bath, drop by a "ruin pub" and catch a show at the lovely Budapest Operetta Theatre.
Hidden gem: Local culinary tours with Carolyn Banfalvi (tastehungary.com).
Copenhagen | (1 wk. for 2) $5,729
Air $2,400 (Air Canada) / Hotel $1,329 / Fun $2,000
Best sleep: Axel Hotel Guldsmeden (doubles from $186; hotelguldsmeden.dk)
Best eats: Kong Hans Kaelder (mains from $88; konghans.dk)
Why now? From Noma to Geranium, the Danish capital has a record 15 Michelin stars this year. Dive into August's Copenhagen Cooking—Northern Europe's largest food festival—and you'll taste why. Rest between courses by viewing the world's longest Viking ship at this summer's National Museum exhibition.
Hidden gem: Guided locations tour for fans of TV show, The Killing (peter-og-ping.dk).
London | (1 wk. for 2) $4,973
Air $1,830 (Air Transat) / Hotel $1,393/ Fun $1,750
Best sleep:  Hoxton Hotel (doubles from $235, hoxtonhotels.com)
Best eats: La Chapelle (mains from $35; galvinrestaurants.com)
Why now? The Rolling Stones are playing Hyde Park (twice) in July for the ?rst time since 1969, while the Victoria & Albert Museum is staging a blockbuster David Bowie exhibition. If you're feeling sporty, the city's Olympic Park is now open for guided tours.
Hidden gem: East London's Culture Line train service weaves you between 11 small galleries and museums on a self-guided crawl (cultureline.org.uk).
Paris | (1 wk. for 2) $5,061
Air $1,958 (Delta) / Hotel $1,353 / Fun $1,750 Delta
Best sleep: Grand Hotel Français (doubles from $188, breakfast included; grand-hotel-francais.fr)
Best eats: Les Papilles (two-course dinner from $29; lespapillesparis.fr)
Why now? Notre Dame is celebrating its 850th birthday with a packed pulpit of events and exhibitions. The Pompidou Centre is also staging a giant Roy Lichtenstein retrospective, while chin-strokers can muse over the Louvre's dramatic new Islamic Art section.
Hidden gem:  The Nissim de Camondo is a sumptuous, century-old house museum lined with art and antique masterpieces (lesartsdecoratifs.fr).
Prague | (1 wk. for 2) $4,135 01
Air $1,704 (British Airways) / Hotel $931 / Fun $1,500
Best sleep: Domus Henrici Hotel (from $121, breakfast included; domus-henrici.cz)
Best eats: School Restaurant & Lounge (mains from $14; school.cz) Why now? The toe-tapping Czech Museum of Music has a new exhibition on waltz and polka dances this summer—including plenty of high-energy performances—while foodies should check out the city's drool-triggering, recently-opened Gastronomy Museum.
Hidden gem: The beautiful little Mucha Museum is a paradise for art nouveau lovers (mucha.cz).
Rome | (1 wk. for 2) $4,665
Air $1,584 (Air Transat) / Hotel $1,331 / Fun $1,750
Best sleep: Hotel Raffaello (doubles from $165, breakfast included; hotelraffaello.it)
Best eats: Il Gabriello (mains from $18; ilgabriello.it)
Why now? Mark the new Pope's arrival at the Vatican Museums' renovated Carriage Pavilion of papal vehicles, then wander the Giardino Quadrato's reopened Secret Garden. And don't miss Rome's dramatic Maxxi modern art museum and its summer exhibition on contemporary church designs.
Hidden gem: The Museo Hendrik Christian Andersen showcases a wealth of achingly beautiful sculptures (museoandersen.beniculturali.it).
Vienna | (1 wk. for 2) $5,203
Air $1,956 (Finnair) / Hotel $1,247 / Fun $2,000
Best sleep: Hotel Shermin (doubles from $201, breakfast included; shermin.at)
Best eats: Gourmet restaurant Freyenstein (tasting menu $62; freyenstein.at)
Why now? The Kunstkammer—also known as the Chamber of Wonders—has reopened with its glittering array of antique treasures, while a new Vienna Coffeehouse Conversations initiative brings locals and visitors together to dine and chat: ask for details at tourism info centres.
Hidden gem: The Third Man Museum is perfect for movie buffs with a penchant for the eclectic (3mpc.net).
Vancouver writer John Lee is a frequent visitor to Europe. Follow his travels at www.johnleewriter.com.