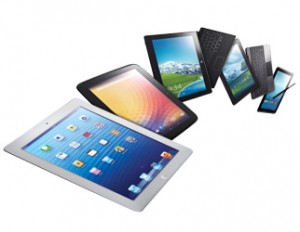 Ever since Apple introduced the first iPad in 2011, tech manufacturers have tried to beat the front-runner at the tablet game. Over the past few years companies such as Asus, Google and Samsung have introduced tablets in different sizes, at different prices and with different accessories to gain a share of the market. Microsoft recently joined the chase with Surface, a tablet that, combined with an optional keyboard cover, looks an awful lot like a laptop.
Today's full-featured tablets, including Surface, offer crisp, responsive touch screens and multicore microprocessors for fast app and game performance. These portable devices usually weigh about 600 grams but data storage space ranges anywhere from 16GB to 128GB. Online stores associated with competing operating systems (Apple iOS, Google Android and Microsoft Windows 8/RT, for example) provide a range of apps, games, and multimedia software for tablet users' enjoyment.
To find the best deal in the tablet market, we researched five devices, all with screen sizes of about 10 in.: Apple's iPad, Asus's Transformer Pad Infinity, Google's Nexus 10, Microsoft's Surface RT and Samsung's Galaxy Note 10.1. At a glance, they're pretty similar. Go behind the touch screens, however, and you'll find that one bests the rest.
5th place | Samsung Galaxy Note 10.1 $499 (32GB)
The built-in S Pen stylus sets this Android device apart from the pack. Use this slim accessory to jot down notes, and the accompanying S Note software translates handwritten messages into typeface. Even though the tablet has a microSD card slot, memory is no problem: Samsung offers 50GB on Dropbox, the online data storage service, for two years, free. Additional perks include a Smart Stay feature, to stop the screen from dimming while in use, and multiscreen capability, which lets users run and switch between numerous apps easily. Performance reviews of the Note 10.1 are mixed, however, and some users also complain about the poor build quality.
4th place | Asus Transformer Pad Infinity $499 (32GB)
This chameleon transforms from a tablet into a laptop with a keyboard docking station, which not only affords a traditional typing surface, but also increases the device's battery life—boosting longevity upwards of 14 hours. The screen performs nearly on par with the iPad's excellent Retina display and the microSD card slot can be used to double the data storage capacity to 64GB. The processor doesn't run as fast as the iPad's, though, so opening, closing and switching between apps can be clunky. One of the big drawbacks with this device is that it runs on Android, meaning app selection pales in comparison to Apple's App Store.
3rd place | Microsoft Surface RT $599 (64GB)
Surface is designed to function both as a tablet and as a laptop with the optional Touch Cover ($120) or Type Cover ($130) keyboard. The machine comes with a microSD card slot for additional data storage, and an HDMI port for playing tablet content on an HDTV. But the RT operating system doesn't run traditional PC software, so Surface RT isn't really a laptop replacement. (Its pricier sibling, Surface Pro, runs Windows 8 and works better as a full-fledged laptop.) Surface RT is noticeably heavier than other tablets (680 grams). App selection is poor—for now. Software developers are expected to flock to the Microsoft platform over the long term, assuming you can wait.
2nd place | Google Nexus 10 $509 (32GB)
An Android, Nexus 10 boasts the highest screen resolution (2,560 x 1,600 pixels) on the market. The device also has a customizable interface that lets multiple users configure it according to their own personal preferences—ideal for families. Direct access to Google+ Hangout enables users to video chat with up to nine other correspondents at once. The Nexus 10 is the closest you can get to the iPad experience without buying into the Apple ecosystem. But the relatively short list of available apps and the lack of a microSD card slot are problematic. Although the Nexus 10 performs well, it doesn't operate as smoothly as the iPad.
BEST DEAL!
1st place | Apple iPad with Retina display $699 (64GB)
Offering a super-sharp screen and a lightning quick microprocessor, the iPad 4 comes with apps such as FaceTime for video chats, iTunes for accessing music, movies and other media, and AirPlay for playing iPad content on HDTV or computer screens. Users praise the device for fast performance, great battery life (10 hours, while others last six to nine hours) and excellent app selection (Apple boasts 300,000 iPad-specific selections). But some complain about the need for an adapter to connect the new iPad to older accessories and the lack of a microSD card slot for additional data storage. On the whole, however, this is still the top tablet.