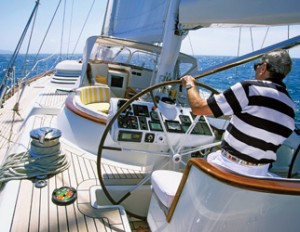 The wind in your teeth, the snap of the mainsail, the magic and romance of carving the waves in a yar little sloop … will be forever out of reach. That's right, you can't afford it. And the sooner you come to terms with the fact that sails and salarymen don't mix, the happier you'll be. So, at any rate, goes conventional wisdom. But then, conventional wisdom is seldom the entire story.
Yes, sailboats can be prohibitively expensive. However, they don't have to be. Initiation into elite yacht clubs can run into the tens of thousands of dollars, whereas membership at other boating clubs can be had for as little as a couple of hundred dollars a year. There are, in short, sailboats and sailing clubs for virtually every income bracket. Even if you have no intention of ever owning your own boat, a yacht club membership can still offer great benefits at a surprisingly affordable price.
Here, then, are a few tips and tricks that will get you out on the water—and into the yacht club—without breaking the bank.
Learning the ropes
Few people wake up one day, decide they want to get into sailing, and drop a bundle on a boat. That's a good thing, says Ottawa-based graphic artist and long-time sailor Scott Sigurdson, who for years raced his own Dragon Class keelboat out of the Britannia Yacht Club.
"People who buy a boat without understanding sailing tend to regret their purchase in pretty short order," says Sigurdson. "They realize they don't have the skill or fitness to handle the boat they just bought, or they buy a boat that handles poorly in the conditions they're planning on sailing in."
For that reason, Sigurdson advises aspiring sailors to join a local sailing or yacht club a year or two prior to even considering buying a boat of their own. "Most clubs have some kind of training program where you can take sailing lessons. Most also have crewing boards, which means you can sign up and get out sailing by offering to crew on other people's boats. That's probably the No. 1 way people really learn to sail and get a handle on it. And all of this doesn't cost anything other than a membership."
No boat, no problem
In fact, with a membership, you may never need your own boat at all. When technology consultant Mike Rutherford first joined Toronto's Ashbridge's Bay Yacht Club he did so primarily to keep in touch with a former work colleague who wanted Rutherford to race with him on his boat from time to time.
Since then Rutherford has discovered he can immerse himself in the yachting lifestyle as much as he likes, without ever having to spend time or money on a boat of his own.