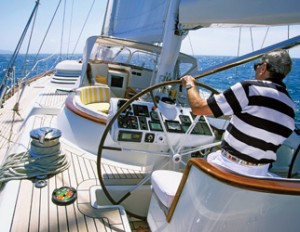 The wind in your teeth, the snap of the mainsail, the magic and romance of carving the waves in a yar little sloop … will be forever out of reach. That's right, you can't afford it. And the sooner you come to terms with the fact that sails and salarymen don't mix, the happier you'll be. So, at any rate, goes conventional wisdom. But then, conventional wisdom is seldom the entire story.
Yes, sailboats can be prohibitively expensive. However, they don't have to be. Initiation into elite yacht clubs can run into the tens of thousands of dollars, whereas membership at other boating clubs can be had for as little as a couple of hundred dollars a year. There are, in short, sailboats and sailing clubs for virtually every income bracket. Even if you have no intention of ever owning your own boat, a yacht club membership can still offer great benefits at a surprisingly affordable price.
Here, then, are a few tips and tricks that will get you out on the water—and into the yacht club—without breaking the bank.
Learning the ropes
Few people wake up one day, decide they want to get into sailing, and drop a bundle on a boat. That's a good thing, says Ottawa-based graphic artist and long-time sailor Scott Sigurdson, who for years raced his own Dragon Class keelboat out of the Britannia Yacht Club.
"People who buy a boat without understanding sailing tend to regret their purchase in pretty short order," says Sigurdson. "They realize they don't have the skill or fitness to handle the boat they just bought, or they buy a boat that handles poorly in the conditions they're planning on sailing in."
For that reason, Sigurdson advises aspiring sailors to join a local sailing or yacht club a year or two prior to even considering buying a boat of their own. "Most clubs have some kind of training program where you can take sailing lessons. Most also have crewing boards, which means you can sign up and get out sailing by offering to crew on other people's boats. That's probably the No. 1 way people really learn to sail and get a handle on it. And all of this doesn't cost anything other than a membership."
No boat, no problem
In fact, with a membership, you may never need your own boat at all. When technology consultant Mike Rutherford first joined Toronto's Ashbridge's Bay Yacht Club he did so primarily to keep in touch with a former work colleague who wanted Rutherford to race with him on his boat from time to time.
Since then Rutherford has discovered he can immerse himself in the yachting lifestyle as much as he likes, without ever having to spend time or money on a boat of his own.
"The people who own the big boats are often older and can use a young, athletic crew person, so you're always getting invited to sail," says Rutherford. "It's a very social sport; no one wants to go out alone."
Right club, right price
Determining which club is right for you will, of course, boil down to budget—and there's no limit to what you can spend. Take Merek Baker, project manager with a Vancouver tech company. He moors his 24-foot Beneteau at the Royal Vancouver Yacht Club, where initiation costs a healthy $40,000 plus some additional annual fees.
While very expensive, Baker's membership grants him entry to a massive network of privately-owned marinas for those fully engaged in the sailing lifestyle. "The big draw to a yacht club like the Royal Vancouver is that it owns property up and down the coast," he says, "so when you go cruising you have beautiful places to stay and don't have to deal with crowded public marinas, hotels and restaurants."
Rutherford and his partner Nicole Worsley, on the other hand, have much simpler needs. They're content with the more modest—and modestly priced—facilities afforded by the Ashbridge's Bay club. Worsley, who owns a small one-person dinghy, pays just $650 a year for her membership, while Rutherford pays a mere $400 for his associate membership.
More than sailing
Increasingly, people are joining yacht clubs for a host of reasons that have nothing to do with boating. "People like the history and romance of belonging to a 120-year-old club like Britannia," says Beverly Brown, a lifelong member at the club. "There's the big lawn, tennis courts and dragon boat bar. There's the waterfront patio where every evening during the summer members gather to chat, have a drink and watch the sunset. The club's motto is 'Your Cottage in the City' and it really lives up to that."
Year-round events and activities also ensure you'll get your money's worth from a membership—even during the boating off-season. This can actually pay dividends in terms of networking opportunities. "Ashbridge's has about 1,500 members, and business networking definitely goes on," says Nicole Worsley. "I got access to a hidden job market I didn't know existed and tips on three or four job opportunities before I started my career with the Ontario Ministry of Natural Resources."
Taking the plunge
Ah, but the day may well come when you're ready to buy a boat of your own. Which model you choose is going to depend on a number of factors: your budget, what kind of sailing you're planning to do, and how many people you'll want to take with you when you set sail.
The least expensive boats, not surprisingly, are the smallest: the so-called dinghies, boats up to 16 feet that are usually sailed solo or with one other person. These use centreboards or daggerboards in place of weighted keels, allowing them to be lifted in and out of the water easily. Even here, though, prices can vary wildly: a new high-performance racing dinghy tricked out with the latest in space age materials and sail designs can run you up to $20,000 or $30,000. Keelboats up to 24 feet or so that can be used for day sailing or overnight trips will run you upwards of $150,000. Finally, there are the true sailing yachts or cruisers, boats that can be taken on extended trips of weeks, months or even years. Here the prices can become truly stratospheric: a new 59-foot Beneteau will run you closer to $900,000.
Dream boats for less
If you can afford a new boat of the size and make you want, by all means buy it: it's as easy as going online, finding the manufacturer, and placing an order. But because boats have a much longer lifespan than cars—30 or 40 years is not unusual—the extensive used boat market usually offers better value for money.
For instance, a used Laser—the world's most popular sailboat—can be had for under $2,000. Larger keelboats can also be found for reasonable prices, provided you don't mind going back a few years. Merek Baker paid a mere $14,500 for his 23.5-foot Beneteau, but the boat was originally built in 1987. For those looking to go even bigger, a 12-year-old Beneteau in the 46-foot range will cost you $200,000.
Buyer beware
Although used boats provide the best value, be prepared to do some serious due diligence before opening your wallet for one. "When you're buying a used boat, gelcoat blisters are probably the No. 1 thing a buyer has to be aware of," says Scott Sigurdson. "Water seeps between the fibreglass layers and creates blisters that weaken the construction and hamper performance by creating drag."
Because they're so expensive and time consuming to fix, Sigurdson strongly recommends prospective buyers hire a marine inspector to check the vessel over. "By using a moisture gauge, the inspector should be able to tell you how the hull's doing, and whether it's prone to gelcoat blistering."
The surveyor will look and identify other potential problems too, like loose keels or structural weaknesses—provided, of course, that he's working for you and not the seller.
"It's really critical that you hire your own independent surveyor, rather than having the boat's broker provide one for you," says Baker. "Sometimes you can just tell that the inspector and the broker are buddies, and you're not going to get an honest appraisal."
Locating good deals
Most sailing clubs have binders or boards listing members' boats for sale. These have the advantage of allowing you to discuss the boat with the owner and take it out on the water before buying—and perhaps even get a break on price if you're friends. Even if you don't know the owner personally, buying locally usually allows you to discover the provenance of a boat, which can give clues as to how it's been maintained over the years. "Buyers will want to see that a boat has been cared for by its previous owner," says Baker. "It's important to spend time and money on regular maintenance if you want it to fetch a good price when you put it back on the market."
If you're looking further afield, boating websites are the primary tools for sourcing boats. "Yachtworld.com is to sailing what the MLS system is to real estate," says Baker. "They have listings from all the brokers, and you can find pretty well any make and model." Sourcing boats from the U.S. can save money, he adds, but you have to be careful. "You can buy boats cheaper in Florida in particular, but then you have to factor in shipping costs, taxes and duties at the border, and the fact you're not going to be able to inspect it as closely as you would a local boat."
That's about it. The barriers to entry in the sailing world aren't as high as you might initially imagine. It's just a matter of making some prudent decisions and finding the boat and yacht club that suit your means—and dreams.
Navigating a sea of overhead
Before launching into your ultimate boating fantasy—carefree days before the mast, evening meals under the stars, nights being rocked to sleep in a cozy cabin—think carefully about ongoing and incidental expenses
Dry-dock dilemmas: Most people purchase a boat, then start looking for a place to put it. You should always do it the other way around—particularly in large cities like Toronto or Vancouver, where space is limited. Put your name on a waiting list well in advance of buying.
Protect your investment: Hulls of keelboats that are in the water all season have to be repainted yearly with a non-fouling paint, and wood surfaces should be periodically sanded and varnished. Since sails cost thousands of dollars, have them repaired or re-cut to make them last longer.
Living large: Big boats come with a raft of supersized expenses. For starters, moorage fees sharply increase for vessels over 22 feet—expect monthly charges of $500. Soaring equipment costs could also knock the wind out of your wallet—upsizing a boat by 20% increases the cost of sails 50% to 100%.