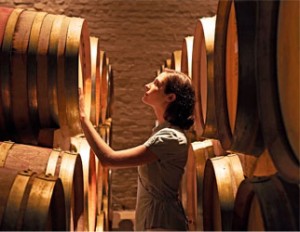 Check out The ultimate wine label decoder photogallery.
Wine used to be easy. You'd buy it when you wanted to impress a girl, and nothing was more impressive than a bottle of sickly sweet Black Tower, because it came in a cool-looking ceramic bottle and had the additional benefit of not costing much more than a six-pack of Molson.
Kid stuff, to be sure, and well rid of now that you're an adult with adult tastes and an adult paycheque. Still, there's something to be said for simplicity and certainty of purpose. March into a full-sized liquor store today, and you're confronted with thousands of bottles from dozens of wine-growing regions, each with a specific style and price point. Where to start? What to buy? How much to spend? Unless you've made a serious study of all things oenological, the array of choices can be daunting, if not downright debilitating. There are, however, a few simple steps you can take to educate yourself, narrow the field and find great bottles at reasonable prices. Here's how.
General listing vs. Vintages
The Liquor Control Board of Ontario is the world's largest purchaser of wines, and for that reason LCBO outlets can be particularly challenging to navigate. Fortunately, management has done consumers a service by dividing stores into two sections: "General listing," which encompasses the vast majority of the bottles on display, and a smaller "Vintages" section. Wines in the general listing are usually mass produced, and are designed for consistency, year in, year out. "They're the Pepsi-Cola of wines," says Quebec-based Veronique Rivest, Canada's top-ranked sommelier in international competition. "They're reliable, inexpensive, you can buy them anywhere in the world, but they won't blow you away." Vintages wines, by contrast, are produced in smaller batches, and are designed to showcase the unique characteristics of individual year classes. "It's the difference between making posters and making art," says Ottawa sommelier Debbie Trenholm, who runs the province's largest wine-of-the-month club, Savvy Selections. "The poster maker aims for consistent reproductions, whereas the artist works with a different palette every year, crafting the best wines possible from what Mother Nature has provided."
Read the label
A wine's label can provide crucial information as to its style and quality. The front of the label typically gives the name of the manufacturer, the year of the bottling, the region and country of origin, and the grape varietal(s) that are used in the manufacture. If you like Cabernet Sauvignons from Argentina, and especially the Mendoza region of Argentina, you may well want to pick up a bottle of 2007 Zuccardi Q. Before you do, though, read the fine print on the back of the label, where you will discover the following: "Sourced from selected hand-picked grapes from low-yield vineyards in the foothills of the Andes Mountains, then vinified and aged for 12 months in new French oak barrels."
What does this tell you? A lot, as it turns out. Hand-picking is more costly and labour intensive than machine harvesting, and indicates a higher-quality product. Low-yield vineyards make for more flavourful and complex wines than high-yield vineyards, because the vines have to struggle harder to produce the grapes. That's also the reason old vines are better than new vines. "You want the roots to dig down deep and bring up the minerals, which gives the grapes flavour," says Trenholm. "Each year the roots go deeper, they're able to pull up more nutrients."
"Foothills of the Andes," means the vineyards are situated on a mountainside—ideal for maximizing sun exposure and minimizing humidity, which can cause grapes to moulder—and oak barrel aging mellows the wine and adds a further layer of complexity. All this information can be garnered from the label, and all of it points to a high quality wine that should be worth the $20 investment.

Check out the reviews
Vintages wines, in particular, will often be accompanied on the shelf by reviews and scores from influential publications like Wine Spectator or Robert Parker Junior's The Wine Advocate. Most bottles will be graded out of 100, with scores of 90 or above indicating top quality. The question is, should you buy wines based on solely on their reviews and scores? "Why not?" says Trenholm. "These wines have been tasted and reviewed by someone, and the best reviews are usually the ones that get posted in the store, so it can be a great indication of quality."
That said, different reviewers have different palates, and their tastes may not agree with yours. "Robert Parker Junior favours big, dark, extracted wines from the New World and Bordeaux, whereas someone like (British wine writer) Jancis Robinson leans more toward old-school European style blends," says Pieter Van den Weghe, who teaches at Algonquin College's sommelier program, and is also responsible for the wine list at Ottawa's toniest restaurant, Beckta Dining and Wine. "The best thing to do is drink the wines they recommend, and see if you agree with their recommendations."
Develop a vocabulary
Do you like your Italian reds to taste like "sweet tea, tamarind spice, plum and leather"? If so, you may want to pick up a bottle of Franco Molino Barolo 2006. If, on the other hand, your tastes cleave toward "raspberry pie, forest floor, dark chocolate, cherry and road tar," the Marchesi Di Barolo Barbaresco 2007 is the tipple for you.
Confused? You're hardly alone in struggling to decipher the increasingly arcane language wine experts use. When it comes to flavours, try focussing less on specific terms—road tar, anyone?—and more on the general impressions. Words like "berry," "grass," and "citrus," denote lighter-tasting wines with a lot of high notes, whereas "plum," "earth," "mushroom," and the like are indicative of deeper, darker wines.
"The point is, you have to develop a basic vocabulary so you can recognize wines that suit your taste," says Van den Weghe.
The acid (and tannin) test
Two terms to become familiar with are "acidity" and "tannins," because they have precise meanings and can point to style, flavour and quality. Too much acidity makes a wine tart, like sucking a lemon, and too much tannin makes a wine dry and astringent, like over-brewed tea. Why should you care? Because understanding the role acidity and tannins play in wine making leads to an understanding of which wines to purchase for different occasions. "Low acid Chardonnays are perfect for drinking on their own, but if you're pairing a white wine with food, you'll want the zip and zing of higher acidity wines, like Sauvignon Blancs," says Rivest. "Red wines with a lot of tannins, like Cabernet Sauvignons and Sangioveses, are perfect for cellaring, because tannins help wines age, whereas you'll want to drink grape varietals like Pinot Noir and Gamay, right away. Also, high tannin wines don't go well with fish, so if you want to drink red, stick with Pinots or Gamays," says Rivest.
How much is too much?
It is possible to spend $1,000 for a bottle of Bordeaux. It will be good. But it won't be 10 times better than a $100 bottle, and it won't be 50 times better than a $20 bottle. In fact, Rivest, Trenholm and Van den Weghe all agree that wines priced between $15 and $35 offer the best value for money. "I think it's wise to set personal limits on how much you're willing to spend on a bottle, and my own limit is $30," says Van den Weghe. Adds Rivest: "You get what you pay for to an extent, but rarely do you need to exceed $50 for a bottle. Spend more than that and you're getting into the luxury, prestige market, and value drops off."

Bang for the buck
As a general rule, established wine growing regions will be more expensive than up-and-coming regions, and popular grape varietals will be more expensive than less popular varietals. So where does one turn for value? "If you have $20 to spend and are looking for value, you can pretty much rule out Burgundy, Napa and Champagne," says Rivest. "Chile and Argentina still represent good value, especially if you appreciate Malbecs, and Greece for me has been an amazing discovery, with 300 indigenous varietals not known anywhere else."
Says Van den Weghe: "Germany is a minefield of terrible wines unless you go to the Vintages section, where $20 can get you a remarkable German wine. You can get a wicked bottle of wine from Languedoc, in the south of France, for $20, and Argentina delivers really great wines at that price."
A good year
There is a popular misconception that older wines are better wines—that a 2006 vintage will be better than a 2007 or 2008. "Most wines aren't released until they're ready to drink, so there's no real advantage to looking for older dates on bottles," says Trenholm. "Instead look for wines from years in which growing conditions were ideal. In Canada, 2007 was Mother Nature's gift to the wine industry, with spectacular growing conditions throughout the country."
To cellar or not to cellar
The vast majority of wines sold in Canada are meant to be drunk immediately, so there's no real need to cellar wines at home. That said, cellaring can be a fun hobby, and can improve the quality of some wines. "You don't need a climate-controlled cellar, but you should store your wines in a cool, dry, still environment. That means not next to the furnace, and not next to a washer or dryer." Some liquor stores use graphics to indicate which bottles are amenable to cellaring: a vertical bottle means drink now, a diagonal bottle means it can be cellared, and a horizontal bottle means it must be cellared. "Also," says Trenholm, "clear glass bottles are meant to be drunk right away, and the darker the bottle, the longer a wine can usually be cellared." There are limits, though: after a decade or so, most wines will actually start declining in quality, losing their youthful character and bright edges.