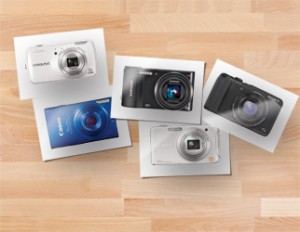 Time was, if you wanted a pocket-portable device capable of snapping pictures and instantly sharing them on the web, you had one logical choice: the smartphone, featuring network connectivity and a camera. But while iPhones and Androids are fine for mobile Internet access, they aren't always the best for photography. Their cameras tend to be relatively basic compared with the advanced feature sets on modern point-and-shoot cameras.
Thankfully, point-and-shoot makers have started offering cameras with Wi-Fi. Now you can capture sharp pictures and videos and wirelessly upload them?. These connected cameras all come with high-definition LCD screens, zoom lenses, face detection, and sensors that consider the ambient conditions and automatically select the best settings. But each camera's Wi-Fi implementation is unique, and some of these devices make better use of the technology than others.
We compared the features, functions and prices of five Wi-Fi cameras: Canon's PowerShot ELPH 320 HS, Nikon's COOLPIX S800c, Panasonic's Lumix DMC-SZ5, Samsung's WB150F and Sony's Cyber-shot HX30V. Prices range from $200 to $450. Our pick for the best deal is neither the most nor the least expensive option—we love it for its feature-heavy internal software.
Canon PowerShot ELPH 320 HS | $200:
This is the lowest-priced Wi-Fi camera on offer, yet one of just two offering a touchscreen for menu access and photo manipulation. (The other is the much more expensive Nikon.) It also adds a neat feature for video capture: technology that counteracts wind noise, making for clear sound quality on full HD footage. It's slightly smaller and lighter than most of the others, so it's particularly portable. But it offers nothing more than a 5x optical zoom—well short of the competition. If you want to use Wi-Fi to send your pictures to a website, you have to access Canon's online cloud service; other cameras connect to websites directly. The 320 HS isn't perfect, but the price is hard to beat. Third place.
Nikon COOLPIX S800c | $380:
Pricey? Yes, but look what it can do. The S800c's major perk: it runs on the Android operating system, which powers legions of smartphones and tablet computers. With Android aboard, there isn't much this camera can't do. It uploads pictures directly to websites, but also provides access to email and to Android apps. The 10x zoom isn't class-leading, but the camera does offer a touchscreen, full HD video recording, a complete complement of photo features (like image stabilization and settings that automatically adjust to ambient conditions) plus built-in GPS so you can easily append geographic information to your snapshots. This isn't a camera: it's a computer. First place.
Panasonic Lumix DMC-SZ5 | $230:
This is our second lowest-priced device, yet it offers a full feature set, including everything a good point-and-shoot camera should have (auto setting selection, continuous autofocus, face recognition), plus a clever Wi-Fi implementation that lets you control the camera from your smartphone—perfect for taking group shots you want in on. It can even invoke the smartphone's GPS capability to affix location information to pictures. It's a bit lighter and smaller than most others, so it's an easier carry. But the DMC-SZ5's 10x zoom is merely average, and doesn't capture full HD video, just 720p. Still, with so many great features at a bargain price, there's plenty of bang for the buck here. Second place.
Samsung WB150F | $270:
Get up close and personal with the WB150F's 18x optical zoom, beaten only by the big-ticket Sony Cyber-shot HX30V. The WB150F has an elegant Wi-Fi interface as well, enabling instant connection with other devices featuring Samsung's Wi-Fi Direct technology. It also features a remote viewfinder that lets you control the camera from your smartphone, so you can take a group picture that includes yourself. The long zoom lens does add weight, however. And, alas, no full HD video—only 720p. Although priced below $300, this is no bargain hunter's first choice. Fourth place.
Sony Cyber-shot HX30V | $450:
Our most expensive competitor features the most megapixels (18), longest optical zoom (20x) and interesting features like built-in GPS, 3D image capture mode, and full HD video recording. But as with the Samsung, the long zoom adds weight, making this the heaviest camera on offer. And it isn't as advanced as the Nikon in terms of software. If you want to save money but need a long zoom, the Samsung is a better choice. Bargain hunters who want built-in GPS can find it in the less expensive Nikon. The Canon has full HD video at a much lower price. If you're in the market for a 3D camera with Wi-Fi, this Sony may be your answer. For everyone else, the HX30V simply presents too short a feature list for the cost. Fifth place.