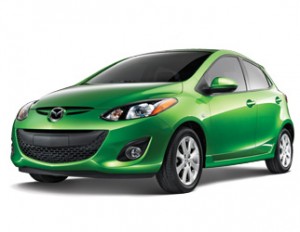 My very first car was a used 1982 Mercury Lynx purchased for $2,000 right after college. It lasted just six months before self-destructing in the middle of the highway. Fortunately, not every previously-owned vehicle is a lemon waiting to implode, but there are enough horror stories out there that many people—both first-time buyers and bargain hunters—would rather just find a good deal on a brand new car.
We asked our expert panel to test drive five of the top-rated entry-level cars on the market with sticker prices below $15,000.
5th
Nissan Versa S | $11,898 
The cheapest of our picks with a base price of just under $12,000, this Versa base model is decidedly no-frills. It has no automatic transmission, nor does it come with an air conditioning option. To get those features you have to step up to the SV model, which is priced more than $2,000 higher. Mohamed Bouchama, however, is a fan of the Versa S, particularly for its roominess: "It has a lot of space inside," he says. With the Versa S (or SV), you get the biggest trunk of any of the cars in this comparison and enough legroom to comfortably seat two to three adults in the backseat.
4th
Fiat 500 Pop | $13,495 
This funky little Italian certainly has powers of attraction, but our critics say there isn't much excitement when you put the pedal to the metal. "I don't like having to ask the little hamsters under the hood to run a little faster," says Nadine Filion. Power aside, the Fiat 500 does get high marks as a top safety pick. Like many of our picks, though, the base model is not available with air conditioning, so if you don't like sticking to your seat in summer you'll have to pay $16,495 for the Sport model. An automatic transmission will add another $1,400, bringing your total with freight and pre-delivery inspection to just under $20,000 before taxes.
3rd
Ford Fiesta S | $12,749
The car that proved North American automakers could still make a sporty compact, the base Fiesta exudes European style and comes well-equipped for its price. "It's cute as a bug" and "doesn't disappoint with the many features that most less expensive cars don't have," says Nika Rolczewski. This one does come standard with air conditioning, but you'll have to hand crank your windows when you want a little natural breeze. Passenger safety is top notch, though, with stability control and seven air bags, including driver's side knee protection. George Iny says the Fiesta ranked well in its comparison testing but faults it for its "smallish cabin."
2nd
Hyundai Accent L | $13,399 
Jil McIntosh calls the Accent "the strongest performer of this bunch," but notes air conditioning is a pricey option that ratchets the sticker price up to nearly the same level as the better-equipped GL model. Still, George Iny rates this Accent as "a capable all-rounder, with good driving dynamics, comfort and reliability." The Automobile Journalists Association of Canada named the Accent "Best New Small Car of the Year (Under $21,000)" in 2012 when its new design debuted. Hyundai also offers the best protection with the longest bumper-to-bumper warranty in this car comparison.
BEST DEAL!
Mazda2 GX | $14,450
Built from the same parts bin as the Ford Fiesta but priced somewhat higher, the little Mazda2 has big pretensions despite its small engine. "It's a sporty driver, even with just 100 hp, and it ranks among the best of these for its fuel economy," says Jil McIntosh. "Light" and "quick" were two common compliments from our experts, who noted the Mazda2 is a breeze to park and is capable of hauling a reasonable amount of groceries with its hatchback design. However, notes George Iny, the backseat is not a place where you'd want to put a full-sized adult. But if you're looking for a little fun in a solidly-built import, the Mazda2 just might fit the bill. With its winning combination of reliability, low ownership costs and sporty drive, this sub-compact has what it takes to get from point A to B with style and safety.
How we came up with the numbers
Vehicle prices reflect the manufacturer's suggested retail price without options or destination charges. For the cost of ownership, we used data from Edmunds.com, converted to Canadian dollars. Remaining scores are based out of 10; the higher the number, the better the value offered. Safety is based on ranking data available from IIHS and NHSTA, the leading authorities in the U.S. Reliability is based on Consumer Reports data gathered from vehicle owner questionnaires. Driving experience is the average score for each model provided by our expert panel. To obtain our overall value out of 100, 20% reflects cost of ownership, 20% reliability, 10% safety and 50% driving experience.
Expert panel

Mohamed Bouchama: Executive Director of Car Help Canada
Nika Rolczewski: Automotive Columnist for the Toronto Star
Nadine Filion: Award-winning automotive journalist
George Iny: President of the Automobile Protection Association
Jil McIntosh: Assistant Editor at Autos.ca