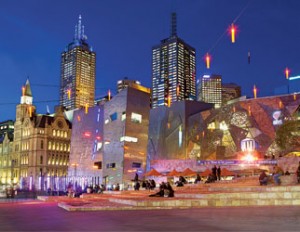 Tired of yet another ear-snappingly icy Canadian winter? Instead of hibernating, throw your boomerang into the heart of an Australian summer. You might never come back, especially if you hit sunny Melbourne and its koala-hugging combo of sports, eye-popping architecture and chatty laneway coffee bars—plus a currency exchange rate that's tastier than a tinny of Victoria Bitter. But before packing for what The Economist recently rated the world's most livable city, you'll need a bonza flight deal. At time of writing, www.expedia.ca and www.travelocity.ca were listing one-stop early December Toronto-to-Melbourne Qantas, Air Canada and Cathay Pacific flights from $1,815 return (taxes included), with two-stop services up to $100 less.
Sign-up for "red e-mail" deals via qantas.com—expect seat sales from the Oz carrier following the recent workers' strike—or book for January, when fares are generally lower. Air Canada's Twitter feed (@ACwebSaver) also gives the inside track on late-breaking seasonal offers.
You'll have forgotten all about winter when you're blinking in the sunlight outside Melbourne Airport. But before working on your tan, you'll need to unpack. Avoid the burn of a $50+ city-bound taxi trip with the handy Skybus shuttle ($59 for a two-adult ticket; skybus.com.au), which zips to downtown's Southern Cross Station before transferring you to your hotel via a network of other buses.
From cabs to dining, Australia is the land of no tipping, making vacation budgeting a doddle here. But to flatten your costs better than a boxing kangaroo, choose your accommodation with a thrifty eye—and don't ignore hostels. Rather than sock-scented backpacker hovels, these well-appointed Australian sleepovers are Melbourne's best budget options.
Ensuite doubles at the modern Melbourne Metro YHA—with its viewtastic rooftop patio—are $99, while red-painted Base ($122), near beach side St. Kilda, is a picturesque 15-minute tram trundle from town. Mid-range alternatives include the city centre Vibe Savoy Hotel ($179) and the apartment-style Alto on Bourke ($168), while chic Hotel Lindrum ($259) is just across from downtown's bustling Federation Square.
Contrasting with the hulking Victorian façade of nearby Flinders Station, the square's asymmetrical contemporary block buildings are a hub for promenading Melbournians: join them for a game on the al fresco big screen, take a free guided tour of the plaza from the Tourist Centre or nip into the gratis art gallery for a spot of contemplative chin-stroking.
The freebie hop-on-hop-off Tourist Shuttle also runs from here to most city attractions, including the must-see Queen Victoria Market. It's a clamorous menagerie of deli and trinket stands, from spongy lamington cakes to souvenir painted didgeridoos.
And if you're still lost, book ahead (through thatsmelbourne.com.au) for a no-cost city walking tour with a gregarious local. They'll likely regale you with tales of the region's rich sporting heritage—including its Aussie rules football teams—and may even help you score tickets to the legendary Melbourne Cricket Ground (MCG). If not, take the $21 behind-the-scenes guided tour: it ends on the hallowed turf itself.
After all that exploring, you'll need more than a pungent jar of Vegemite to perk you up. Hit the city's budget-friendly laneway cafés for brunch or a flat white coffee (especially on Flinders Lane). My favourites include pastries and people-watching at Brunetti and finger-licking Chinatown treats at Camy Shanghai Dumpling Restaurant or the ever-busy Spicy Fish Restaurant.
Save time for a seaside scoff in St. Kilda. Lined with bars, bakeries and indie eateries—especially on Acland Street—try a lazy breakfast at Galleon Cafe. Return downtown for dinner in the gentrifying Docklands area, though, especially for Super Tuesday's two-for-one dinner-and-dessert deals: Bhopa Devi's modern Cambodian cuisine is recommended. Stretch your dining dollars even further with groupon.com.au/deals/melbourne.
You might save just enough for a final big night out. The city is stuffed with bars and clubs, but from January to March the Royal Melbourne Zoo schedules weekend outdoor live music shows, usually of the jazz or big band variety. It's a great way to end your down-under winter warm-up—before returning to the toque-wearing pleasures of home.
Click image to enlarge