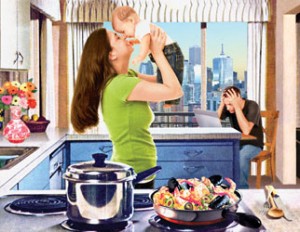 Just two years ago, Walter and Krystal Mumford worked at interesting jobs, kept active with karate classes and entertained friends with lively Friday night dinner parties. Walter, 33, was a mechanical engineer while Krystal worked as an ultrasound technician. Between them, they earned $165,000, a healthy income that allowed them to live in a comfortable condo in Richmond Hill, Ont., and enjoy luxurious vacations in Hong Kong, Singapore and Vietnam. "We used to take wine-and-dine magazines and replicate the recipes at home with friends," says Krystal, 38. "Walter's a great cook—especially Thai food—and it was all great fun."
Life became even more joyous in 2009, when the couple discovered that Krystal was pregnant with their son, Sebastian, now nine months old. It was a complicated pregnancy though, and at 20 weeks the doctors confined Krystal to bed rest for the remainder of her term. Unable to work, her income dropped from $75,000 to just $18,000 in employment insurance benefits. The couple thought the situation would be temporary and that Krystal would go back to work once the baby was a year old. But that won't happen now. "Sebastian was born with respiratory problems and needs constant monitoring," says Krystal, who had to be trained to use the medical equipment required to keep Sebastian active and comfortable. "So I need to stay home with him until he's at least five and able to go to school." That's when he'll be assigned a nurse who will escort him to school and stay with him all day long.
Just before Sebastian was born, the Mumfords (we've changed their names to protect their privacy) had hoped to buy a larger, two-bedroom condo in the same building they live in now. However, soon after their son's birth, Walter was laid off from his $90,000-a-year job. He's now receiving employment insurance too. After seven months of job hunting, he still hasn't found work. "I'm frustrated," says Walter. "I've spent hours in front of the computer, networking and sending out resumes, but it's tough out there. I've had a few interviews, but no job offers."
For now, the Mumfords are living on their combined EI benefits of $36,000 a year. But Krystal's run out in April, and Walter's in October. And while they have about $115,000 in RRSPs and TFSAs, they don't want to dip into their savings unless they have to.
The Mumfords have two priorities. "First, we need Walter to find a job earning close to $90,000 a year," says Krystal. The Mumfords also want to move to a larger condo: a one bedroom was workable for just the two of them, but now they need a two-bedroom unit large enough to contain all of Sebastian's medical equipment and kid's stuff.
Not surprisingly, the family feels completely overwhelmed. They used to be savers who always put aside 12% of their income, but now they're falling further and further into a very deep hole. "We have gone from two solid incomes to both of us being on EI—and we have a new baby at home," says Krystal. "All of this is taking a toll on our relationship. It makes us moody and depressed sometimes. But I strongly feel that with a little financial help we can achieve our goals."
Walter and Krystal both grew up in families where hard work and academic achievement were encouraged. Krystal was born in Vancouver, where her father was an architect and her mother a nurse. "We were taught to save our money for a rainy day and that lesson always stayed with me."
In 1994, Krystal earned a degree in biology from McMaster University in Hamilton, Ont. A year later she went on to complete specialized courses in ultrasound technology and in 1996, she got her first job as a technician in a downtown Toronto clinic, a job she held until just before Sebastian was born.
Walter was born and raised in Guelph, Ont., and both of his parents were high school science teachers. They were also very conservative with their money. "Even though my parents both made good salaries, they were never wasteful," says Walter. "They were into organic gardening and recycling long before it was fashionable, and taught my brother and me to love the outdoors and to be active in our community."
In 2000, Walter graduated from Queen's University, and after working in research and development for a large engineering firm in Toronto, he decided to leave that job in 2007 and join the staff of a small start-up company that specialized in telecommunications. "We had a lot of clients in the United States and when the economy tanked, the contracts just dried up. I was laid off in October and given just two months of severance."
The couple met in September of 2002. Krystal was 30 at the time and Walter was five years younger. "Our best friend was hosting a party and Walter was helping out with the cooking," says Krystal. "I just thought it was the most amazing thing. I don't cook at all, but I love to eat."
The couple married the following year and bought their one-bedroom condo in 2004 for $160,000. It's worth $280,000 today and has an $80,000 mortgage on it. For several years, the couple's financial plan consisted of paying their mortgage and contributing to their RRSPS. Then Krystal's biological clock started ticking.
After trying to conceive for a year with no luck, the Mumfords turned to fertility treatments. Over the years, they had accumulated $40,000 in their "baby fund," but after spending it all on four unsuccessful IVF treatments, the couple stopped. "It was the most stressful thing for me," says Krystal. "So we stopped the treatments and went on vacation. That's when I got pregnant. It was miraculous."
The Mumfords feel they have two options when it comes to their new living space. They can sell their condo (they have about $200,000 in equity) and buy a larger two-bedroom unit, but they expect it will cost $500,000, and they aren't sure they can afford it. Their second option is to rent a larger unit until she returns to work in four years. The rent would be roughly $2,000 a month, compared with the $1,700 they're paying now for their condo (including mortgage, property taxes and condo maintenance fees).
Krystal prefers the latter option. "Selling our condo would give us $200,000 that we could bank for emergencies. Renting just feels safer. But Walter worries escalating prices will leave us out of the housing market forever."
Sometimes the stress of their situation gets them down, but there are lots of happy times too. "When I was in bed all those months pregnant with Sebastian, Walter bought me an electronic keyboard that I could play while in bed," says Krystal. "I played all the way through my pregnancy. Beethoven, Chopin, Mozart—I loved them all. My hope is that one day Sebastian, too, will learn to play the piano. Nothing would make us happier than that."
Sidebars:
How the money is spent
Where does it all go?
Where they stand
What the experts say
Walter and Krystal Mumford have two urgent needs—a high-paying job for Walter and a larger condo for their family. Lenore Davis, a registered financial planner with Dixon Davis & Co., in Victoria, says the couple needs to focus on Walter's job search before deciding on whether to rent or buy. "They need to relieve as much stress in their life as possible right now. The best way to do that is for Walter to find a secure, good-paying job that brings him satisfaction in a reasonable amount of time."
Of course, looking for work is stressful, and job coaches note that depression and moodiness are common among their clients. "When you're out of work, your confidence gets eroded," says Shirin Khamisa, founder of Careers by Design in Toronto. Her advice? "Stick to what you care about and stay focused. The right job will come along."
The truth is that it usually takes anywhere from three to nine months to find a job at Walter's level. Happily, though, most such educated and experienced job seekers can eventually match the salaries they had. Here's how the Mumfords can fast-track Walter's job search and accomplish their housing goal as well.
Network effectively
Meredith Haberfeld, an executive career coach in New York City, says that Walter needs to make face-to-face connections with people. "The biggest mistake job hunters make is hiding behind the computer. Walter needs to get out there and talk to people."
The key question to ask when networking is, "Who do you know that would be good for me to talk to?" Haberfeld suggests that you wait for a clear answer and then act on it. "Or better yet, ask them to make an introduction. Don't let them email you later. Wait for an answer during your conversation."
As well, plan on attending at least one industry event a week. Talk to at least three people while you're there and have a good conversation that includes contact details for future job prospects. "The truth is that success has no relationship to how many business cards you give out. It's about talking to people at just such events. Practice until you're comfortable doing it."
Focus your resume
Most interviewers look at your resume for only a few seconds, so it needs to have an immediate impact. "It should only be one page long," says Haberfeld. "So avoid including every job you ever had. Concentrate on the most important."
Second, highlight the return on investment you provided for your employers. "It may be you were responsible for executing $1.7 million worth of projects a year," says Haberfeld. "Or that you brought about a 40% reduction in costs by increasing efficiency in your department. Ultimately, what the employer wants to know is how you impacted the bottom line and how you can transfer that to them."
Prepare for the interview
Be clear and concise about your career goals during the interview. Practice shaking hands, making eye contact and speaking clearly when answering a question. Don't focus your attention on yourself or you will be missing the most important part of the interview—the meeting of the minds with the person doing the hiring. If you're offered a job making less than your previous job, you may want to take it. But tell your new employer that you're making less than you were, and let him know that you'll be looking to move up in the company as quickly as possible.
Learn from your mistakes
If you had an interview but didn't land the job, call up the interviewer afterwards and ask for their feedback on what you did wrong. Haberfeld says an interviewer told one of her clients that he talked too much. "A light bulb went off in his head. He modified his behaviour and landed a great job six weeks later."
Consider a job coach
Look for a job coach who is certified by the International Coaching Federation, and aim to find one who is a specialist in your industry. Then plan on meeting with him or her regularly—once every week or two—to focus your search, assess your goals and design a career plan. "Most job coaches will prioritize your needs so that it's affordable for almost anyone," says Khamisa.
Rent — for now
If Walter is able to replace his $90,000 salary, the couple will have about $32,000 available annually to finance a $300,000 mortgage on a bigger condo. That would leave only $2,500 a month to live on after debt servicing. "Do they need the extra stress of higher mortgage payments right now?" asks Davis, the financial planner. "What will they do if Walter gets laid off again, or if he gets sick in the near future? There are so many tentacles to the condo-buying plan that could sink them."
Davis feels the right choice is for the couple to sell their one-bedroom condo, take the $200,000 they will net from the sale and invest it in a well-diversified portfolio of index funds.
Then they should rent a two-bedroom unit that fits their needs. "Renting will cost them only about $5,000 a year more than they're paying now for mortgage, condo fees and property taxes. And it will still leave them with about $8,500 a year for emergencies or other investments," says Davis. "Plus, the $200,000 in investments will leave them with some wiggle room for emergencies until Krystal goes back to work."
In four years, the couple will have two incomes again, Sebastian will be healthier and buying a two-bedroom condo of their own will feel right. That's when they should get back into the housing market."

Would you like MoneySense to consider your financial position in a future Family Profile? Drop us a line! If we use your story, your name will be changed to protect your privacy.