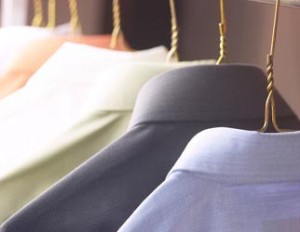 When Steven Savard needed a dress shirt, he used to trudge down to a men's clothing store and buy whatever fit him best. Only problem: no shirt fit him well. "The collar would be okay, but the rest would be baggy," he says.
Savard, 33, works in investment banking in Toronto. It's a job where suits and ties are mandatory, and looking good matters. Two years ago, fed up with his ill-fitting clothes, Savard found a tailor to make a shirt to fit his exact measurements. "I haven't bought anything else since," he says, estimating he now has around 20 custom-made shirts in his closet.
Until I spoke with Savard, I had never considered buying a tailored shirt. Isn't that reserved for rich guys who own yachts and drive Ferraris?
Not really. As I discovered, custom shirts are more affordable than you may think. A good one costs around $200, which is two to three times the price of a decent off-the-rack shirt. But a custom shirt will also last far longer than a cheap shirt and look much better.
The path to owning a custom-fitted shirt starts with finding the right tailor. There are three ways to go: The first is to visit a high-end men's clothing store, such as Harry Rosen, which will make you a custom shirt starting at $285. Nothing wrong with that, but it's more expensive than other options.
A more economical alternative is to attend a traveling tailors show. These are operated by shirtmakers based in places such as Hong Kong or Singapore. They tour North America, setting up shop in hotel rooms to take orders. (A typical traveling tailor is Maxwell's of Hong Kong. You can see its touring schedule at www.max wellsclothiers.com.) Though shirts ordered this way cost less, they may not be quite the deal they appear. Savard tells me the shirts he's bought from these outfits wore out faster than his other tailored shirts, so he now tends to avoid them.
I take his advice and go for a third option: a local tailor who specializes in nothing but custom suits and shirts. One of my better dressed friends suggests I try House of Salgado, a tailor in Toronto's financial district that's frequented by Bay Street executives.
I make an appointment and meet Antonio Salgado in his store, lined with wooden shelves full of rich-looking fabrics. "So you want a shirt?" Antonio asks in a thick Spanish accent. He's 78 and looks like a tailor out of central casting — short, stout and impeccably dressed in a white shirt, dark pinstripe vest and matching pants. A measuring tape dangles around his neck. "The relationship you have with your tailor is like the relationship you have with a barber," he tells me. "A barber knows how you like your hair cut and we know how our clients like to dress."
Antonio has been a tailor all his life. He grew up in a small town outside Barcelona. His entire family were tailors and seamstresses. Antonio started working in the business when he was 12. Ten years later, in 1953, he came to Canada. He was penniless but he still dressed more like a bank president than a pauper. Before he left home, his family made him two suits. One he wore on the trip, the other lay in his suitcase — next to a set of tailored pyjamas.
Pulling the tape from his shoulders, Antonio begins to take my measurements, starting with the neck, then the chest and waist, then the arms and sleeves. "You only need eight measurements for a shirt. If you go to a tailor and they do more, they're just trying to impress you," he says with a grin.
As Antonio wields his tape, the flaws in my $60 off-the-rack shirt are revealed. "You're wearing a 16-inch collar?" I nod. "It's a bit loose," he says. He's right. Whenever I put on a tie, there's an unfashionable gap between the collar and tie. To make it look good, I have to tighten the tie too much, but usually I just give up and leave it loose. I've tried shirts with 15-1/2 collars but they strangle me. I don't mention any of this to Antonio but he's already figured it out. "I'm going to give you a 15-3/4 inch collar. You wouldn't be able to buy that size in a store, but we can make it for you." Perfect. Then it's on to my sleeves. They're too long and bunch up on the forearm. "Your shirt is 37 inches here," Antonio says after running his tape from the middle of my back to my wrist. "I'm going to give you 35 inches. It'll be a much better fit."
I see what Antonio means when he talks about the personal relationship between a tailor and a client. A good tailor asks questions and has a keen eye for personal habits. If he notices that a client likes to smoke cigars, he can make him a shirt with a wide front pocket to store a couple of fat Cubans. In my own case, Antonio notices that I wear a big silver wriswatch. "If you always wear that," he says, "I'll make the cuff in your left sleeve a half inch bigger than the right." I'm impressed with his attention to detail.
All of Antonio's shirts are hand-cut from fabric chosen by the client. The best fabrics are cotton or cashmere and come from mills in Italy, England or Switzerland. Each thread in the best fabrics is actually made of four strands, two wrapped around an-other two. It's called two-ply. Most off-the-rack shirts are one-ply, but a tailored shirt should always be two-ply. You can gauge the quality of the fabric by the thread count, measured by the number of vertical and horizontal threads per square inch. A dress shirt should have a thread count of at least 100. The best shirts are 170 and up.
I can feel the difference between fabrics when Antonio passes me off to his son Mark, who pulls down a few rolls of fabric for me to inspect. A touch or two are enough to convince even a non-clothes-horse like me that the higher the thread count, the silkier the material. A 170-thread count shirt will feel like silk but wear like iron, especially at places such as elbows, collar and cuffs that wear out quickly in lesser shirts. A good custom shirt should last for three years of weekly wear.
Before I choose the fabric for my shirt, Mark offers some guidance: "A shirt should get more interesting the closer you get to it." I'm not sure what he means until I examine a bright blue herringbone cotton from the respected English label Thomas Mason. From a distance it looks like solid blue. But close up it's two-tone: blue on blue. Under a light, it's practically electric. "I like that one," I tell Mark.
The fabric chosen, Mark leads me through a list of options: five different collar styles, seven cuffs, three pocket and three button styles. He's tolerant of my less-than-exciting choices. Blue shirt, two button cuffs, a standard pocket. When it comes to fashion I've got about as much pizzazz as an accountant's convention in Cleveland. I shouldn't feel bad, though. Mark tells me that most men are cautious when they buy their first tailored shirt.
Okay, so maybe I'll grow more adventurous with my next shirt. But first I must wait for number one to arrive. In an age where you can get just about anything shipped to your door in 48 hours or less, a fine shirt is one of the few things that still requires time. It takes the Salgados a month to finish mine.When it's finally ready to be picked up, I understand why patience is a virtue. My new shirt feels incredibly soft, but fits as if it's been moulded to my body — ready to make me look good in a boardroom battle or over a three-martini lunch afterwards. "When you're well-dressed, when you're really put together, you feel more confident and everyone around you can sense that," Mark Salgado says before handing over the $175 shirt. He's right. I don't own a yacht or a Ferrari but when I put on that shirt, I feel like I do.