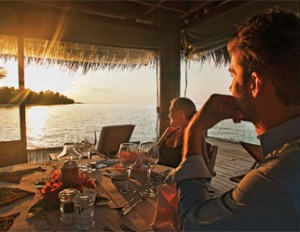 When the thermometer drops and the snow flies, when the doors of the car are iced shut and the dog sniffs the air, shivers, and refuses his morning walk, the migration begins. For tens of thousands of Canadians the mid-winter sunspot vacation is an annual rite, less a luxury than a necessity; a brief, blissful reprieve from dark days and windswept nights.
But where, exactly, to go? And how to ensure you get the most out of your time in the sun? The options are legion: a hundred-plus inhabited islands (along with Mexico) winking like emeralds in a tropical sea. Each of these islands boasts its own unique culture, together with a range of resorts, accommodations, attractions and price points. Faced with this bounty, deciding where best to thaw one's frozen toes can be daunting. Yet for most of us it comes down to a few favourite spots.
The big four
Together, Cuba, the Dominican Republic, Mexico and Jamaica soak up the vast bulk of traffic to the Caribbean—and for good reason. "The larger islands are going to be the cheapest. They have well-developed tourist industries and infrastructure, and there's lots of competition between resorts and lots of flights in and out," says Sarah Greaves-Gabbadon, deputy editor of Caribbean Travel + Life magazine. "Small islands like Anguilla and Provo, where there are more villas than resorts, are not going to be cheap. They can't compete on cost, so they cater to a more up-scale clientele."
Understandable, then, that cost-conscious travellers looking to vacation in the sun flock en masse to the Caribbean's four populous land masses. At these four destinations, in particular, the all-inclusive resort is king, rolling flights, ground transportation, lodging, meals, and drinks into an affordable, easy-to-book package.
What you want
While a resort in the Dominican might bear a striking resemblance to a resort in Cozumel, Mexico, the destinations and what they have to offer are not interchangeable. "It depends on what's important to you," says Janice MacIsaac, who vacations in the Caribbean for pleasure, and also books conventions there for the Canadian Association of Emergency Physicians. "The Dominican is famous for its beautiful beaches, but the food in Mexico is a little nicer."
To further complicate matters, there are significant regional differences within countries: Cancun, Mexico, is a notorious party spot, whereas further south along the Mayan Riviera the resorts are quieter and more family oriented. Likewise, tourists in Veradero, Cuba, can take advantage of day-trips into Havana, while those booking into more remote Cayo Coco are effectively resort-bound.
Before you even start shopping for an all-inclusive, suggests MacIsaac, make a wish list of what you absolutely must have, and what you're willing to compromise on. "You might not be willing to bend on a great beach or nightlife, but you might not care as much about wind surfing or golf courses."

Do your research
"If you don't do your research you will be disappointed," says Greaves-Gabbadon. "There's a common misperception that all-inclusives are the same everywhere. They're not. Some low-end all-inclusives charge extra for certain brands of liquor and for restaurant meals, while others offer daily massages and spa treatments. You can now get luxury all-inclusives that hold their own with the best hotels in terms of quality. So do your homework and figure out in advance exactly what all-inclusive means at different resorts."
Nor can you judge the quality of a resort solely by the number of stars it's been accorded. "I'd be careful with the stars," says MacIsaac. "They're largely based on the amenities that you may or may not be interested in taking advantage of, like gyms or kids clubs." Instead, MacIsaac says she relies heavily on websites like Tripadvisor.com, to see what previous guests had to say about their resort experiences. "You have to put the negative comments in perspective, since people are more likely to write in to complain about something rather than to praise a particular resort. Still, if you see a whole bunch of negative comments you might want to shy away."
Value for money
Different resorts come with different price points. "When cost is the sole consideration, you're going to notice it in the food quality and the service quality," says Calgary travel writer Joanne Elves. "If you don't care about those things, if your primary consideration is sun and sand, go for the deals."
Not to suggest that the bargain resorts are shoddy. "If you just want a beach and a lounge chair you can get that for $99 per day at an RIU resort, which cost about as much as if you stayed at home," says Greaves-Gabbadon. "They're not luxury, but they are well-managed."
Club Med, Beaches and Sandals resorts, on the other hand, are somewhat higher-end. "They're a little pricier than the real budget resorts, but the quality shows in the dining, the rooms, the upgrade options, the kids clubs and the staff, who are well screened and trained," says MacIsaac. "In general, I spend as much as my budget allows, rather than going for the cheapest possible option and not being entirely satisfied. After all, you're investing a lot of money and a precious week or two of vacation time to get there."
Booking and deals
Nowadays, most travelers bypass agents and book directly online. "Watch the newspapers for seat sales, and subscribe to newsletters from Air Canada and WestJet," suggests Elves. "The deals show up in your inbox before they hit the newspapers."
Book early, because prices can increase on a day-to-day basis the closer one gets to the actual departure date. On the other hand, you can find heavy discounts if you're ready to depart at a moment's notice, and you're not too picky about where you go. Various websites, such as lastminute.com, list weekly deals; the options aren't necessarily extensive, but the savings can be substantial.
Also consider booking during the so-called shoulder seasons. "December to April is the high season, and you're going to pay more," says Greaves-Gabbadon. "But you can usually find substantial savings by booking the shoulder seasons on either side, like late November or early May. It's a balancing act between getting the great weather and low prices."
Speaking of weather…
Horror stories abound of arriving on a Caribbean island only to discover the climate not much improved from Canada. "Pick your islands well," advises Greaves-Gabbadon. "Bahamas can get chilly, as can any of the northern islands. Most people don't swim in Jamaica in December or January because the water's too cold."
JoAnn Hennigar, who's family hails from Barbados and who has travelled widely in the Caribbean, says that to ensure warm weather she simply avoids the northern islands. "We pick islands that are far enough south that cold weather isn't generally an issue. Anything south of the Grenadines is going to be warm." That said, islands such as Dominica and St. Lucia are prone to rain, even if it is a tropical rain. At the other end of the spectrum, travelling to the Caribbean in the summer can be iffy for other reasons. "It can be unbearably hot, packed with children, and there's the additional danger of hurricanes," says Greaves-Gabbadon. "Some resorts provide hurricane guarantees, refunding some of your money, moving you to another resort, or offering you a return trip if your vacation is interrupted by a hurricane. Otherwise, I take out travel insurance if I'm vacationing during hurricane season."
Upgrading
Many resorts offer upgrades to their baseline packages: for a little more money you can get a bigger room or suite, a better location—say, ocean side versus pool side—increased access to the resort's restaurants, or premium liquors. But with a little effort and creativity, you can often get the same benefits without paying for them. Buying a bottle of top-shelf rum or tequila for your room is less expensive than upgrading to a premium booze package. Being friendly toward the restaurant managers or staff will often see you welcomed back—even if you've technically already used your allotment of restaurant vouchers. "If something isn't to your liking, speak up," advises Greaves-Gabbadon. "They won't refund any money, but they may offer an upgraded room or free restaurant meals. The squeaky wheel gets the grease, and as long as you squeak nicely, you can usually get something."
Romance, adventure and kids
Some islands are better-suited than others when it comes to specific needs and desires. In terms of romance, Greaves-Gabbadon says it's hard to beat St. Lucia, especially the southwest part of the island. "It's lush, mountainous and magical, and resorts like Jade Mountain feature rooms with only three walls, the front open to a view of the Pitons."
Two other romantic destinations are St. Barts—"a little piece of France in the Caribbean," says Greaves-Gabbadon—and the British Virgin Islands, because the best way to visit them is by boat, "and there's something terribly romantic about sailing between tropical islands with your sweetheart."
For adventure, try Jamaica for zip-lining, bobsledding and river rafting, and the Dominican for windsurfing, kite boarding and cascading (climbing waterfalls and sluicing back down).
For children, Elves recommends the Franklin D resort in Jamaica, and any number of Beaches resorts. "Some resorts pack kids of all ages into the same camps, and an 11-year-old doesn't have much in common with a four-year-old. The Beaches resorts, on the other hand, have really tight age groupings."
The Caribbean really does offer something for every taste and price point. And so, with the leaves dead on the ground and the snow beginning to swirl, who can resist the lure of baby powder beaches, palm trees, marimbas and margaritas?