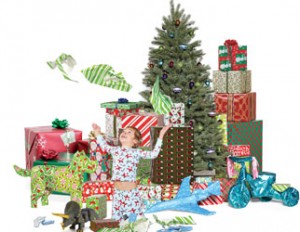 Last Christmas, an array of brightly wrapped parcels dwarfed the tree at Sophia Kalogeros' grandparents' house. The pile extended about three times the width of its branches. Among the 30-plus gifts that little Sophia received from her relatives were: a toy train, a space-hogging farm door activity centre, several Cabbage Patch dolls, some wheeled animals (that have gone untouched since), a toy vacuum, a toy mop, two strollers, and a bike that the child has yet to ride because she can't reach the pedals.
"You could fill a small room with the presents," says Sophia's mom, Heather Kalogeros of London, Ont. "I would estimate that they cost about $500." The clincher: Sophia was just 18 months old.
While few kids would turn their noses up at masses of presents, overloading them with gifts may actually be doing harm. "They feel entitled to the same haul next year," says child psychologist and McGill University professor Jeffrey Derevensky.
Not only does overspending put financial pressure on the family unit, says Vancouver financial planner Diane McCurdy, it can be part of a pattern of overindulgence that leads to young adults spiraling into debt, because they expect to have the latest and greatest of everything.
Want to dial down the conspicuous consumption? Focus less on the spoils of the holidays and more on traditions, such as cutting down the tree, lighting the menorah, or baking cookies with the holiday music blaring.
McCurdy suggests preparing your kids for the idea that they're not likely to get everything on their wish list. "I think that's a life lesson as well," she explains. "In the real world, everyone has to make trade-offs."
If overindulgent grandparents are a factor, consider asking them to make a donation to the kids' RESP rather than contributing to the orgy of consumption. Helping to pay for their education is something that will last much longer than the latest battery-powered gadget. If you know they're going to go overboard anyway, cut back a little yourself. Kalogeros, for example, shies away from buying Sophia toys for Christmas. Instead, she wraps up clothing, books and bedding to put under the tree. "At her age, she doesn't care what's inside the wrapping as long as she gets to tear off the paper," she says.
What you don't want to do, says McCurdy, is get into a competition with relatives, friends or (most commonly) an ex-spouse over who's spending more money on the kids. "Remember, that is not a measure of who loves them more," she says.
Finally, when relatives do make the effort to buy for your offspring, help instill a habit of gratitude by making sure your kids write or call to thank them, suggests Derevensky. "It encourages them to think about the fact that someone cared enough to give a gift."