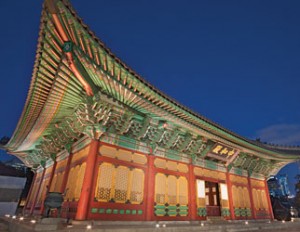 An intriguing fusion of futuristic and ultra-traditional, Seoul is often overlooked by travellers flocking to more glamorous Asian cities. Which is a shame, because the South Korean capital is easy to explore, has some fascinating sights and—thanks to the strong Canadian dollar and Korea's low-cost attractions—is invitingly affordable.
But before launching your kimchi-flavoured odyssey, you'll need a flight to the city of skyscrapers and terracotta-topped palaces. Summertime Air Canada and Korean Air departures from Toronto average an eye-watering $2,100 return (taxes included), but shopping around via cheapflights.ca and itravel2000.com uncovered one-stop Finnair flights for $1,700.
On arrival, swap the $60 cab ride from shiny Incheon International for the slick, faster AREX train—one-way $12—to arrive at bustling Seoul Station in 43 minutes. From here, snag a taxi to your welcoming bed—preferably north of the Han River in the historic hanok-lined Insadong or Bukchon neighbourhoods. Alternatively, the Itaewon district is studded with Western-style restaurants and hotels.
Budget-wise, friendly Beewon Guesthouse (doubles from $43) and charming Tea Guesthouse (from $87) are justifiably popular, while you can also book a culturally immersive homestay through the Korean Tourism Organization's website (www.visitkorea.or.kr) starting from $90. Further up the budget chain, Metro Hotel (from $98) and Ibis Seoul Myeong-dong (from $125) are recommended, while Itaewon's swish IP Boutique Hotel (from $140) offers mod rooms and a contemporary art aesthetic. Check hotels.ca for deals.
Once unpacked, take one of the free guided tours offered by the city (reserve ahead via www.visitseoul.net), then hit Seoul's cheap, efficient and English-signposted subway system with a T-money transit card. Available at vending machines and convenience stores for $2.20 plus as much as you want to load onto it—subway trips cost around 90 cents each. (Unused portions are refunded at the end of your trip.) For shorter hops, Seoul taxis are also well-priced.
Your first subway jaunt (Line 3 to Anguk station) should be to the flare-roofed Changdeokgung Palace Complex. English tours are offered (excluding Mondays) for $2.60 and the tranquil gardens are a highlight. Close by is the equally impressive Gyeongbokgung Palace with its thrice-daily free English tours and hourly changing of the guard ceremonies. Gratis cultural attractions abound throughout the city, including the superb National Folk Museum and the huge National Museum of Korea.
Need some fresh air? Avoid the overpriced two-minute cable car ride up tree-lined Namsan Hill and take one of the one-hour walking trails to the summit. Or join the cheering locals at a K-League FC Seoul soccer game at the landmark Seoul World Cup Stadium. Tickets are $9 to $17 ($1 discount if booked via www.fcseoul.com) all summer.
Speaking of tours, the weirdly intriguing Demilitarized Zone (DMZ) separating North and South Korea is a must-see—book ahead for a $40 bus trip via www.vviptravel.com. Take the morning option and you'll be back in time for the labyrinthine Namdaemun Market, a sprawling bazaar where you can eat cheap (try the noodleries near gate six), haggle for potent ginseng capsules (I paid $20 for 100) and measure-up for a perfectly fitted handmade suit (mine cost $350).
If you're still hungry, try the sizzling fish ball carts and chatty neighbourhood eateries along Mukja Golmok Street. Or, consider Café Soban's contemporary takes on bibimbap (a signature Korean rice dish) or the fancy traditional meals at Hanmiri where the lower-cost lunch is recommended. And when you're finally craving some Western grub, go for the weekend $12 brunch at Suji's: it's almost as fortifying as ginseng.
Sample budgets for two
7 days for $5,000
Return airfare (Toronto-Helsinki-Incheon): $3,400 (Finnair, itravel2000.com)
Double-occupancy, 6 nights: $522 (teaguesthouse.com)
Food & drink: $950
Attractions & Transport: $70.20 ($48 for AREX Airport Express transfers and $22.20 for two T-money transit cards with 10 trips on each)
7 days for $6,500
Return airfare (Toronto-Seoul): $4,200 (Air Canada)
Double-occupancy room for 6 nights: $730 (metrohotel.co.kr)
Food & drink: $1,350
Attractions & Transport: $150.20 ($48 for AREX Airport Express transfers, two $40 DMZ tours and $22.20 for two T-money transit cards with 10 trips on each)