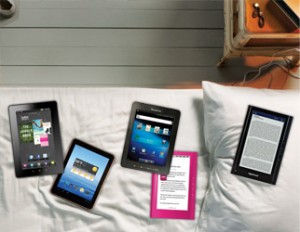 When it came out last year, Amazon's Kindle Fire set the e-reader market ablaze with its colour touch screen, wi-fi connectivity and multimedia services. This was a new class of e-reader. Unfortunately, Kindle Fire isn't available in Canada yet, but all is not lost. A number of near-tablet e-readers aiming to compete with Amazon's offering have made their way north of the border.
But which of these potential Kindle killers is king? We considered five: Ematic's eGlide Reader 2, Hipstreet's 7" Wi-Fi Touch Screen HD Media Player, Kobo's Vox, Nextbook's Premium 8 and Pandigital's SuperNova. All share essential features: headphone jacks and speakers for video, music and audiobook playback, as well as access to software in app stores and markets.
These devices have received some flak for paling in comparison to the iPad, but what do you expect for the price? The iPad can cost as much as $800, while these souped up e-readers ring it at less than $200. In fact, our "best deal" costs even less.
Kobo Vox | $180
Kobo puts a social media twist on the e-book experience. The Vox connects you to an online community where you can see how many other people are reading the same book, and which passages they've commented on. The Reading Life monitor tracks how many pages you read per session. Built-in dictionary, built-in Scrabble—all this, plus nice-to-hold quilted material on the back and a wide viewing angle (great for reading with the kids) set the Vox apart. It's also easily customizable, providing direct access to a wide range of Android applications. Too bad the 800 MHz processor isn't as zippy as the 1 GHz chips in competing products. Still, none of the others even come close to the Vox's social media richness. This device gives you the best bang for your buck. First place.
Nextbook Premium 8 | $200:
The Premium has it all—nearly. It features a bright, clear screen that responds well to touch. It's slightly larger than most, too, with an 8-inch screen, and a rubberized external shell that's easy to hold. And the on-board e-reader app is easy to use. It comes with 25 books already loaded, and sports an Office Suite Viewer, so you can use it to look at documents in standard Microsoft file formats. But what's missing? For starters, you can't access the Android Market on this device. Users say that means you can't get some of the most popular apps, such as Angry Birds. Some also find the Premium 8's apps menu difficult to navigate. Still, it's considered an excellent e-reader, even if it's not the best tablet. Second place.
Pandigital SuperNova | $200:
With its dual front- and rear-facing cameras, video recording functionality and an HDMI port, the SuperNova may be the closest thing to a full-featured tablet computer in the running. Users praise the relatively low price and say it performs well for an inexpensive tablet. The touchscreen responds quickly, the on-screen keyboard is a joy to use, and it doesn't weigh much compared with full-fledged tablets. On the other hand, it's heavy for an e-reader, and some say the e-book software doesn't display text properly. Others complain the screen can be difficult to see when you're outdoors, and with no direct access to the Android Market app selection is somewhat limited. The SuperNova may be a bargain tablet, but it's not the best e-reader. Third place.
Ematic eGlide Reader 2 | $78:
At $78, Ematic's device is hands-down the least expensive of the five contenders. Yet the eGlide Reader 2 is the only one that comes with a stylus, so if you prefer to keep grubby fingers off the screen, you have an optional input mechanism. It's also one of just two devices with an HDMI output that lets you connect the device to a TV for video playback on a larger screen. Some users say it's a fine and dandy machine considering the cost. Critics, however, are less kind to the eGlide. They complain it's difficult to load e-books onto the device, the screen doesn't register touches reliably, and the battery drains quickly. Despite its ultra-low price, Ematic's product just doesn't compete with the others on our list. Fourth place.
Hipstreet 7" Wi-Fi Touch Screen HD Media Player | $100:
Price-wise, it's hard to beat Hipstreet's offering. And while its name may be a mouthful, it's a fairly simple device for straightforward e-book, music and video access. Don't expect any extra frills like an HDMI output, camera or built-in dictionary here. A few users are content with this minimalist approach and say it's as good as one could expect from a bargain-basement colour touch-screen e-reader. But the majority of reviewers castigate the product for poor hardware quality. One user said he could select on-screen icons by pressing the back of the unit—it's that flimsy. Another major gripe is that the auto bookmarking feature sometimes dog-ears the wrong page. What should you expect for $100? A lot more, it seems. Fifth place.
Best Deal
It's the mid-priced option, yet Kobo's device blows the competition out of the water with rich social media features that connect solitary readers with a wider community. For bringing the e-book experience to a new level, the Vox is our best deal.