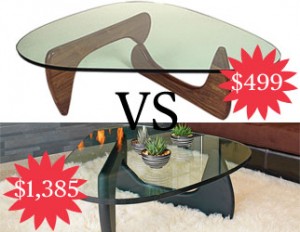 Legendary Japanese-American artist, designer and sculptor Isamu Noguchi famously said: "Everything is sculpture." That is why his iconic namesake piece—a glass and wood coffee table—stands out as both centerpiece art and fully functional furniture.
The Noguchi coffee table consists of three pieces: A curved triangular ¾-inch glass top and two identical wooden legs that lock together to form a tripod base. Designed in 1947, it was produced a year later by American furniture manufacturer Herman Miller. An original Noguchi, which goes for $1,385 at online Canadian retailer Gabriel Ross, has the designer's signature etched in the edge of the glass, along with a medallion on its solid wood base, which comes in cherry, white ash, walnut and black. The pieces are manufactured in Grand Rapids, Mich., and distributed worldwide.
You can find imitation Noguchis at Modern Furniture Knock Off in Toronto. They vary in size, and the material used to build them isn't quite as high grade. However, the shape and design closely mirror the original. The largest model, which sells for $449, stands at 16 inches, slightly taller than a real Noguchi. The small version, which goes for $349, has a hard plastic base instead of wood. It's the same height as the original, though slightly more compact in length and width. Both versions are made in China and come in black, walnut, natural and espresso.