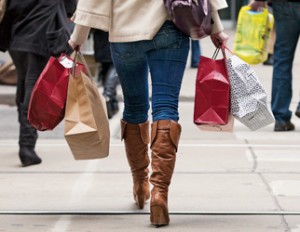 I own perhaps a hundred dress and casual shirts. But I wear the two that don't require ironing. In my closet reside, dusty and undisturbed, a half-dozen suits that no longer fit, and an equal number of sport coats that have seen better days, threadbare and shiny from wear.
Of the three pairs of pants that continue to fit my ever-expanding waist, one is four inches too long, one three inches too short, and the third has a ripped seam in the back: I wear it with matching underwear in the hope nobody notices.
Stylish? Eh, not quite. Flair and I parted ways more than a decade ago, after I gave up my office job and started working from home; after middle age began its predictable, irrevocable spread. And yet there are times when I yearn to turn back the clock, to rejoin the ranks of the chic and the fashion-forward. In this, I'm sure, I'm hardly alone: who among us—man or woman—doesn't want to look our best when we walk into a board meeting or nightclub?
Here's good news: unlike catastrophic hair loss or failing eyesight, style can be regained easily and inexpensively. All you have to do is follow these expert tips and tricks.
Leaving Frumpville
If you don't have style, how can you recognize it, let alone acquire it? This, of course, is the paradox that bedevils anyone looking to make the move from Frumpville to Chic Street. There are solutions.
"Pay attention to trends, as they will keep your look current," says stylist Alexis Honce of Toronto-based Plutino Group. "I love looking at street-style blogs for inspiration. Some of my favorite are thesartorialist.com and a-gentlemans-row.com."
You can also look for help closer to home. "Invite a friend whose fashion sense you admire to come shopping with you," advises Ottawa-based style consultant Erica Wark. "People who've been wearing the same clothes for 30 years are often stuck in a rut, afraid to try something new, and it takes a bit of a push to break old habits."
Finally, if all else fails, you can go the professional route. "Personal stylists can be found in all the major cities in Canada now," notes Julia Cyboran, editor of Loulou Magazine. "They'll go through your closet and purge all the stuff that no longer fits or is out of style, and put you on the right path toward a fresh new look." Some might balk at paying for expert help, she admits, but there are times when calling in the pros makes sense. "For women going back into the workforce after a maternity leave, or men who've gotten a promotion or are changing companies or cities, it's an excellent time to get a little extra style advice."