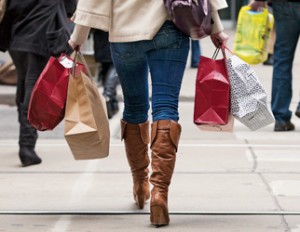 I own perhaps a hundred dress and casual shirts. But I wear the two that don't require ironing. In my closet reside, dusty and undisturbed, a half-dozen suits that no longer fit, and an equal number of sport coats that have seen better days, threadbare and shiny from wear.
Of the three pairs of pants that continue to fit my ever-expanding waist, one is four inches too long, one three inches too short, and the third has a ripped seam in the back: I wear it with matching underwear in the hope nobody notices.
Stylish? Eh, not quite. Flair and I parted ways more than a decade ago, after I gave up my office job and started working from home; after middle age began its predictable, irrevocable spread. And yet there are times when I yearn to turn back the clock, to rejoin the ranks of the chic and the fashion-forward. In this, I'm sure, I'm hardly alone: who among us—man or woman—doesn't want to look our best when we walk into a board meeting or nightclub?
Here's good news: unlike catastrophic hair loss or failing eyesight, style can be regained easily and inexpensively. All you have to do is follow these expert tips and tricks.
Leaving Frumpville
If you don't have style, how can you recognize it, let alone acquire it? This, of course, is the paradox that bedevils anyone looking to make the move from Frumpville to Chic Street. There are solutions.
"Pay attention to trends, as they will keep your look current," says stylist Alexis Honce of Toronto-based Plutino Group. "I love looking at street-style blogs for inspiration. Some of my favorite are thesartorialist.com and a-gentlemans-row.com."
You can also look for help closer to home. "Invite a friend whose fashion sense you admire to come shopping with you," advises Ottawa-based style consultant Erica Wark. "People who've been wearing the same clothes for 30 years are often stuck in a rut, afraid to try something new, and it takes a bit of a push to break old habits."
Finally, if all else fails, you can go the professional route. "Personal stylists can be found in all the major cities in Canada now," notes Julia Cyboran, editor of Loulou Magazine. "They'll go through your closet and purge all the stuff that no longer fits or is out of style, and put you on the right path toward a fresh new look." Some might balk at paying for expert help, she admits, but there are times when calling in the pros makes sense. "For women going back into the workforce after a maternity leave, or men who've gotten a promotion or are changing companies or cities, it's an excellent time to get a little extra style advice."
Pre-shop prep-work
Before you hit the malls and boutiques, decide exactly what you're looking to buy, set a budget, and stick with it—impulse shopping has long been the BFF of retailers and credit card companies, but rarely works in your favour. "If you set out with a plan, you're less likely to return home with items you either don't need, that duplicate pieces you already own, or that you've grossly overpaid for," says Ryan Cheung, assistant digital editor at Flare Magazine. How much should you be spending on your new stylish wardrobe? Less than you might think: if you shop smart, say the experts, quality suits and dresses can be had for $200 to $400; skirts, pants, sport coats and shoes for under $200; dress shirts and blouses for $60 to $100; ties, scarves, belts and jewelry for $30 to $50.
The basics
Regardless of who you are, there are a number of key foundational items that should be in every closet, "classic pieces you can dress up or down depending on the occasion," says Cyboran. For men, the starting point is a really good suit; for women, the classic little black dress. Both sexes should also invest in fashionable summer and winter coats, she adds, because "coats are what people notice first when you enter a room."
Honce says the next item both men and women should own is a great pair of dark-wash jeans in blue, black or chocolate denim. "Go for a straight leg, it looks good on everyone." Her favourite high-quality brand, she says, is Jack & Jones.
After that, she advises men to purchase a modern blazer in grey wool with a two-button closure. "This style of blazer looks great paired with jeans or dress pants to maximize your wardrobe, and its classic tailoring elevates your style."
Plaid shirts are also perennially in style. "A plaid shirt is a great casual look for evenings and weekends and will pair nicely with most everything in your closet," Honce says. Just be sure, he adds, to get it in slim fit and in cotton.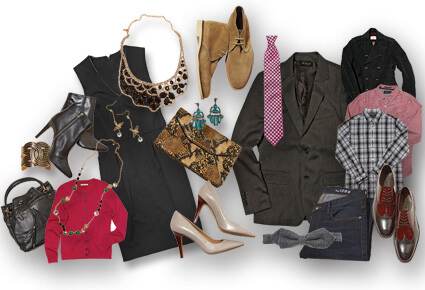 Bespoke suits at off-the-rack prices
The most expensive designer duds won't confer style and sophistication if they don't fit right. Indeed, more than any other factor, the difference between someone who appears stylish and someone who looks vaguely hoboish comes down to tailoring, says Wark. "Men in particular often wear clothing that's a little misshapen, or a little too big. Over the years they grow a bit of a beer belly, so they buy jackets two sizes larger to hide it, but then the shoulders are too big. Or they buy clothes to fit their broad shoulders, and they end up baggy at the waist."
The traditional solution has been to invest in made-to-measure shirts, trousers, jackets and suits—clothes built from scratch by master tailors. If you don't have $5,000 or so to drop on a bespoke suit, however—and really, who does?—there's an easy fix. "Buy your clothes off the rack, and then take them to a tailor for a $40 adjustment," says Wark. Same holds true for women's clothing. "When it comes to looking stylish on a budget, a good tailor will be your best friend."
There is, however, a third way. Vancouver-based manufacturer Indochino has developed a system whereby you can order suits and shirts made to measure, without ever leaving your home. "You have a friend measure you out and you plug those numbers into one of their online templates, and they produce a suit that'll fit your body based on those measurements," says Cheung. "You end up with a tailored suit for under $500, and the quality is surprisingly on par with some of the big names, like Burberry."
Deal season
As the seasons change from spring to summer, or fall to winter, retailers are forced to clear shelf space for new weather-appropriate merchandise, offering a window of opportunity for savvy shoppers. "The transition period between seasons is a really good time to shop, because prices are often slashed by 40% to 60%, and usually you can still wear those items for a month or more before the season actually changes," says Wark.
Sign up for savings
The best way to get deals year-round is to sign up for electronic newsletters at your favourite retailers, says Honce. "This way you can get email notices of upcoming sales and exclusive shopping discounts for returning or preferred customers." Banana Republic, Club Monaco, Gap and J.Crew are just some of the stores that offer exclusive deals frequently throughout the year, she adds.
Signing up for e-newsletters is also the best way to access increasingly popular "flash" sales, whereby a retailer offers steep discounts on a small range of items—say Calvin Klein shirts for $20—for extremely short periods of time, often no more than an hour or two at lunchtime or after work. "It's definitely one of the ways working men are shopping right now, but if you're not signed up for retailer newsletters, you'd never know when the flash sales are," says Cheung.
Buying online
Speaking of the Internet, more and more people are buying their clothes online—and taking advantage of great savings in the process. "I'm a huge supporter of online shopping, especially for people who don't have a lot of extra time in their days," says Cyboran. "There are so many deals to be had, and if you're not someone who gets to go to New York every two weeks, it's a great way to access some of the covetable retailers in the States." Of course, there is the issue of duty when buying from the U.S., but Cyboran says most retailer websites now calculate that up front, so you're not unpleasantly surprised when the delivery man arrives with your parcel and an additional bill for duty.
Luxury labels at discount prices
Thanks to the 2008 recession, designer labels are turning up in the darnedest places, and at the craziest prices. "All the higher end designers have taken a hit, which is why you're seeing a lot more collaborations happening with mass market retailers," says Wark. H&M and Target in particular have been offering designer labels like Marni, Jimmy Choo, Anna Dello Russo and Proenza Schouler at massively discounted prices. "You can buy a designer suit for $150 that would normally set you back $5,000 at a high-end retailer, or a skirt that might cost $3,000 at a designer boutique for $150," notes Wark. "Obviously you're not getting the same quality material. It might be a wool blend and viscose as opposed to cashmere and silk, but you're still getting similar prints and cuts."
If you are shopping at a high-end retailer like Harry Rosen or Holt Renfrew, look for either entry-level designers like Tiger of Sweden, or so-called diffusion lines from name-brand designers. "We all love Alexander McQueen and his tailoring and everything that comes with that label, but there's the McQ line that does exactly the same thing at a lower price point," says Cyboran. "It's about going into the high-end retailers and looking at the range of designers they have available."
The best you can be
Remember, says Wark, buying fashion isn't about slavishly following trends, it's about presenting the best version of yourself to the world. "Appearances and how you're put together do matter," she says. "Deep down fashion is about feeling great and having confidence, and it's amazing how upgrading your style can help your self-image."
There you have it. Pick up a fashion magazine. Sign up for an e-newsletter. Read a style blog. Get shopping. The best version of yourself—the new, fashion-forward you—is but a flash sale away.